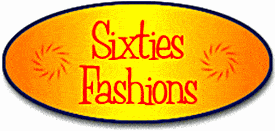 1960s Fashion – Mod fashion was innovative, creative, bold and brash. Sixties fashion belonged to London, England. The Brits set the tone and the world followed.
What we wear has always defined us to some degree. At the very least, it can indicate economic status, but always before within certain confines of convention. Historically, a uniformity of dress created a homogeneous population.
The 1960s ushered in an attitude of "anything goes" and reflected the shifting politics of the day. "Do your own thing" applied to clothes as well.
The fashion revolution was youth oriented and youth driven and began in the streets rather than the old line couture houses. The Baby Boomers were coming of age.
The boutique clothing store emerged in the 1960s as "the happening" place to shop. They were fun and hip and young people felt more comfortable shopping there. No geography was more famous for swinging boutiques than Carnaby Street and Kings Road in London. Not to be left out of the trend, Paraphernalia opened in 1965 on Madison Avenue in New York and was an instant smash.
Color played a big role in defining the look. The muted and pastel palette of Fifties fashions gave way to bright, bold color often splayed in geometric patterns. From daywear to Day Glo in less than a decade.
Art, usually Pop Art infiltrated fashion as works of art translated from canvas into fabric. Below left, Yves St. Laurent's interpretation of Pier Mondrian's rectangles.
A word about the word – Mod. Mod for modern, which in its purest use meant minimalist. Arguably there is nothing minimal about most Mod fashion, but that is the origin.
Pompon trimmed pantdress. Arnel acetate, rayon. Large white collar edged with braid. $14.00

A-line shift daintily trimmed with cotton lace at hemline, sleeve edges. Sleeves have gathered detail – slightly flared. Round neckline. Fortrel polyester. $9.00
Mary Quant
Where a Victorian woman not only would cover her own legs but those of her piano as well, a hundred years later in the Sixties women exposed as much of her legs as her body shape permitted.
Some controversy surrounds who invented the miniskirt, but Andre Courreges usually gets the credit. Yet it was Mary Quant who popularized the swinging Sixties look and edged the miniskirt to mainstream.
Miniskirt lengths tended to vary by continent. In America the more conservative 4-5 inches above the knee reigned but in London, 7-8 inches or more was considered hip.
Mary Quant opened a boutique named Bazaar in Chelsea back in 1955. This is the beginning of what would be called the "London Look." Her miniskirts and colored tights challenged the fashion world to move in a new direction.
By entering into an agreement with J.C. Penneys to do four collections a year, from which these four pictures derive, she made mod fashions affordable and available to the masses. Mary Quant is also responsible for hot pants and the "Lolita" or baby doll look seen in the phot at the top of this page.
From London, the mod look spread around the world's fashion centers.
Below, Mary Quant having her hair done by stylist Vidal Sassoon, who originated her hairdo, known as the bob, a short, angular hairstyle cut on a horizontal plane. (See also Hair Style)
two-tone crepe dress of acetate-rayon. Sleeveless bodice bonded to acetate tricot for shape retention. White cowl collar, box pleated skirt. $13.00
Boat neck a-line dress has contrast stitching at neck and down fornt. Diagonal weave Fortrel polyester. $20. Hat $6.89
Twiggy
Twiggy
Dubbed "The Face of 1966" Twiggy dominated fashion photography. She was on the cover of every major fashion and teen magazine. Her boyish look was the one to emulate.
Young Leslie Hornsby was teased as a child about being skinny – thin as a twig, they said. Thus the name, Twiggy.
Click for more Twiggy photos
Leslie Hornsby (Twiggy)
Rudi Gernreich
Austrian Rudi Gernreich first came into public view in 1964 with a daring topless swimsuit, not pictured here for obvious reasons. The dress at left displays the 1960s fascination with cutouts and vinyl, while the one at right is a wool maxi-dress, as they were called.
The model is Peggy Moffit and she worked exclusively for Gernreich in the 60s and 70s.
There were also maxi-coats, a neccessity to keep all the 1960s exposed legs warm!
Pierre Cardin
Along with Courreges, Pierre Cardin was known for his "space age" styling. Born in Italy but relocated to Paris, he was also famous for hoop dresses, asymmetrical styles and collarless jackets for men.
Many in the Haute Couture world believed that Cardin sold out when he turned his attention to the average buyer with a ready-to-wear line, and then to branding of household items through licensing agreements. He was in fact a pioneer whose merchandizing genius was imitated by all those who once criticized.