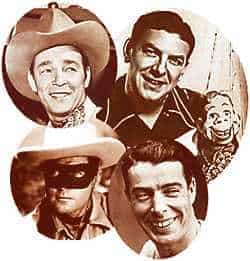 Welcome to our Dead Celebrities section of FiftiesWeb, a tribute to the legends who have left an indelible mark on our lives through their talents and contributions.
A friend of mine once said "All the great men are dying and I don't feel too well". That was a joke of course but unfortunately a lot of the great ones have passed away and from what I see of today's offerings they can never be replaced.
In the following pages I have attempted to keep up with some of the more memorable celebrity deaths. In answer to the question, where have you gone Joe DiMaggio…well, he died. I get a lot of mail asking what happened to this one or that, and sadly, the response too often is – dead!
Not everyone who ever lived is on these lists. Just people we cared about, people who impacted our lives to some degree.
People who were part of the culture from the Fifties onward. I tried to list a popular credit for many of them in case the name was familiar but you needed a helpful hint to bring a face into focus.
For each of the celebrities featured on our website, I've tried my best to meticulously curate biographical information to give you an understanding of who they were. Learn about their birthdate, place of birth, and the memorable moments that defined their careers.
You'll come across iconic figures who have left an indelible mark on history. Take, for example, Elvis Presley, the King of Rock 'n' Roll, whose electrifying performances and chart-topping hits continue to captivate audiences worldwide. Elvis's passing in 1977 marked the end of an era, but his music and charisma live on. Then there's John Wayne, the quintessential American hero of the silver screen. Known for his roles in classic Westerns like 'Stagecoach' and 'Rio Grande,' Wayne's rugged on-screen persona and patriotic fervor made him a beloved symbol of American values. Then of course the beautiful Elizabeth Taylor, the glamorous actress of 'National Velvet' and 'Cleopatra' fame, was not only a cinematic icon but also a dedicated advocate for AIDS-related causes. Who could forget the classic tv show of Lucille Ball in 'I Love Lucy'? These are just a few that we celebrate on our Dead Celebrities section.
This section is a labor of love, dedicated to preserving the memories of those who have enriched our lives through their talents and contributions. I invite you to explore our pages, learn more about these unforgettable figures, and join in celebrating their enduring legacies. In a world where time marches forward, we make sure to remember those who will forever hold a special place in our hearts. We'll miss them. A nation does turn its lonely eyes toward them. Because many were people who rightly could be called heroes.
I personally value your voice and memories. Share your own stories, tributes, and memories related to these legendary individuals in the comments section below each page. Your contributions will help create a community of shared appreciation.
Don't forget to stay connected with us by signing up for the newsletter (The signup box is in the bottom of the page). Receive regular updates on new content, additions to our website, and exclusive insights.
Your search for information about dead celebrities has led you here, and we are honored to be your source of knowledge, inspiration, and connection to these iconic figures.
Thank you for visiting!