1950s Men's Fashion –  fashions for men in the 50's are often thought of in terms of the Fonz and Grease. Well, forget that. These picture are a far more mainstream view of how men actually dressed.  I've started with someone who typified looking sharp.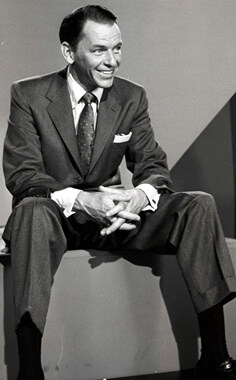 Frank Sinatra was the 50's coolest cat
(Credit: Getty Images)
Suits were cut fuller and more comfortable. The prevailing design inspiration was being able to take virtually any man's body type and make it look good through proper tailoring.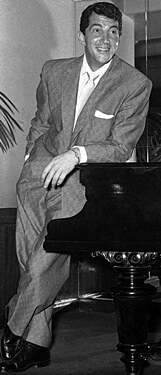 Rat Pack member and singer Dean Martin (Credit: Getty Images)
Men didn't have many workplace choices for color. Dark blue, dark brown, and charcoal. Even the ties, traditionally men's flamboyant touch, were uniform and dark. Some time would have to pass before men began to reclaim the sartorial splendor which has been historically theirs.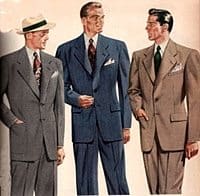 Blue, grey and brown were the choices.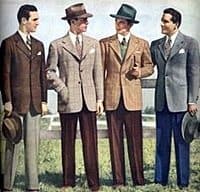 Sports coat and slacks outfits had a little more color leeway
Dressing to go to your office job in the 50's meant that you were wearing a conservative sport coat outfit or a suit.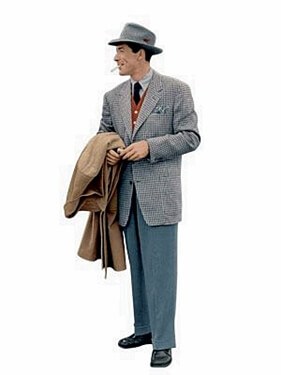 (Credit: Esquire Magazine)
As a rule the bigger your job was the more expensive your clothes should be. You had to look and act like the executive that your company expected.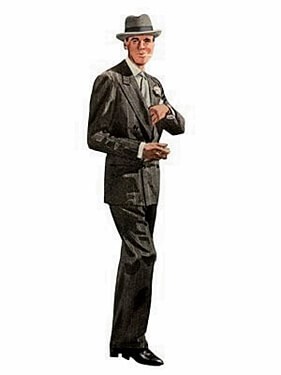 (Credit: Esquire Magazine)
Notice both of these illustrations show the men smoking cigarettes.
Men would also follow the rules when it came to seasonal attire but less so than the women did.
The suit below would be considered a summer color and it was also made of a lighter weight fabric.

Now, this outfit would definitely not be worn to work. Actually this was considered casual nice.  This guy was perfectly dressed for the daytime outdoor party he was at.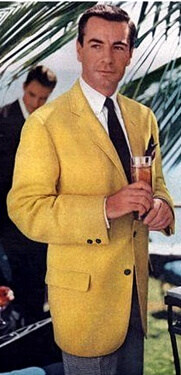 You didn't have to wear a tie to a party. James Dean showed how to pull off a very cool casual look and made quite a few women swoon at the same time.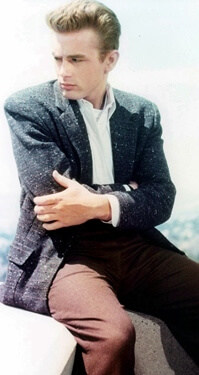 (Credit: Getty Images)
Yes, there were young men at school who looked just like the Fonz, but not many and they didn't have motorcycles. And truth be told, most girls wouldn't have gone out with any of them anyway.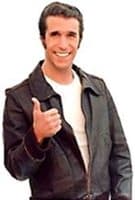 These two guys are probably seniors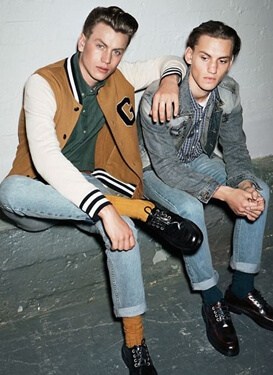 Here you see the kind of guy you'd introduce to your parents. A conservative fella. Which was how most guys looked in the Fifties. If you want to know how men dressed, you need to think about Ritchie and Mr. C – not the Fonz.
This 1950s men's fashion look was often called "Ivy League" or preppy and was definitely the preferred look if your date was meeting your Dad for the first time.
The cardigan sweater seen here was a popular style which was used for the "letter" sweater so cherished among athletes.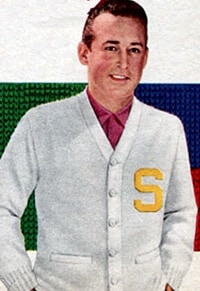 When men weren't wearing jackets or suits they were wearing sweaters or vests. Some businesses would allow the man to wear a sweater with a tie, sort of a 1950s "casual Friday" thing.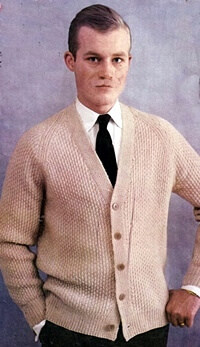 Cardigan sweaters also made for a nice casual look. These guys are not at the office and they are the perfect showcase for the 1950s casual look.
They are two famous 1950s crooners, Dean Martin and Perry Como.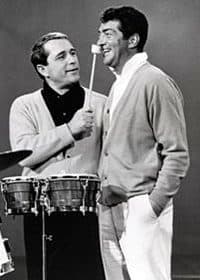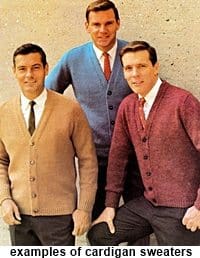 Even Dad wanted to be a cowboy. Influenced by the dominance of the TV Western, eveybody went a little Yehaw. Although only kids wore the cookskin caps, menswear was adapting nicely to the "home on the range" look.
Another popular style was the military look. Most men in the 50's had recently been in the military during WWII.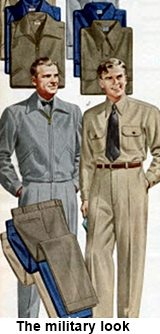 Vest were popular because of their versatility. They were worn under suit or sport coats but could also be worn by themselves for a more casual business look.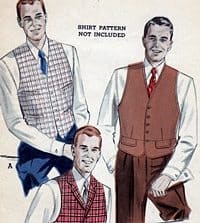 The next fashion must for men in the 1950's was a hat. You were not dressed for work without a hat. They had hat stores, men would own several hats. I remember my Dad had a hat rack in the closet.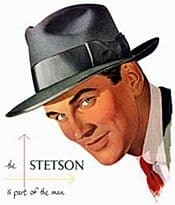 Straw hats were popular for more casual outings but would not be worn to work and not at night.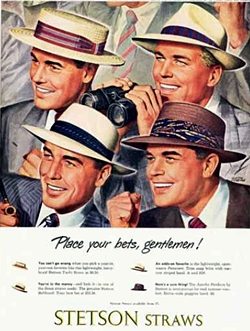 Some more hat styles.
Men of the 50's were accessorized from head to toe. A stylish hat, suit, handkerchief, coordinated tie, socks and wingtip shoes.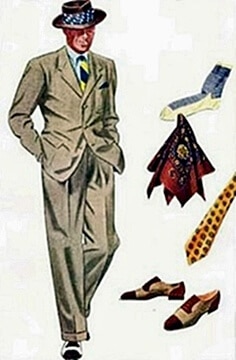 Now, on to the shoes. No sandals or flip-flops here, men wore real shoes. They were expensive and men took care of them. My Dad had his lined up in the closet with shoe trees in every pair and they were shined. There were shoe shine chairs on every corner downtown, airports, train stations pretty much anywhere you were dressed for business.
You also had a shoeshine kit at home to keep up with those investments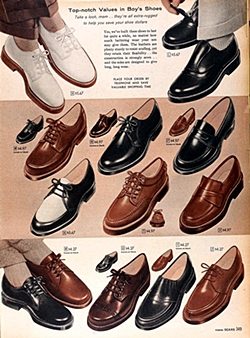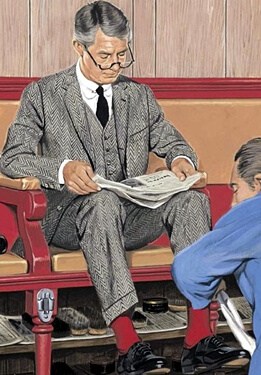 Men didn't work all the time. In the summer pool and beach parties parties were common family fun.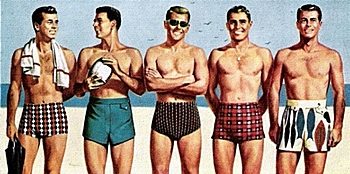 If you weren't swimming you might wear something like this.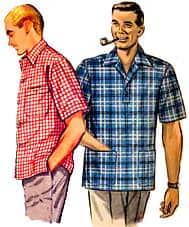 One final piece that completed the 1950's man was a pipe. I certainly wouldn't suggest it for today but in the 1950s we didn't have a clue as to the health risks. That aside smoking a pipe was distinguished. Robert Young on "Father Knows Best" smoked one and how much more 'Middle-America' can you get.