Welcome to FiftiesWeb.com, your #1 online resource for factual and engaging content about the 1950s, 1960s, and 1970s. Established in 1996, this decades-old website is dedicated to sharing quality information about mid-20th century history.
Meet Mimi Anderson, Editor-in-Chief
I'm a true child of the 70s, and my fascination with the 50s, 60s, and early 70s began in my formative years. Listening to the stories my parents and grandparents shared about the music, 50s fashion, and historical events of these decades ignited a lifelong passion within me.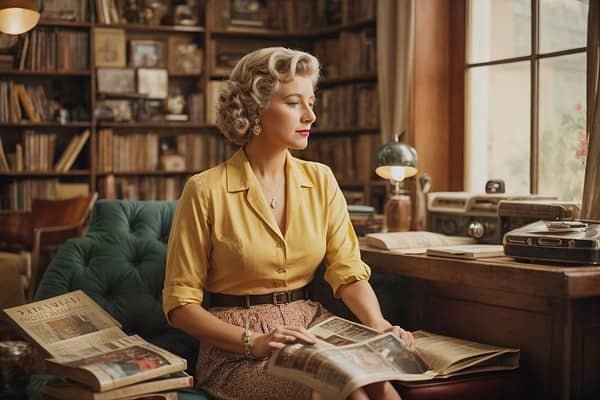 For several decades, I've been on a relentless quest for knowledge, meticulously researching, writing, and curating content about these transformative decades. My pursuit has taken me through the pages of books, magazines, interviews, and the collection of tangible relics from the era, such as photographs, videos, and other invaluable historical artifacts.
My goal is to provide you, our valued visitors, with engaging, entertaining, and factually accurate content that explores the music, fashion, cars , television, movies, and the ever-changing pop culture of these extraordinary decades. Oh, there were so many inventions and discoveries made!
At FiftiesWeb.com, you can trust that the information you receive is reliable and meticulously vetted. I am unwavering in my commitment to uphold the integrity and legacy of this decades-old website, maintaining standards of expertise, relevance, and accuracy in all the content I curate and create.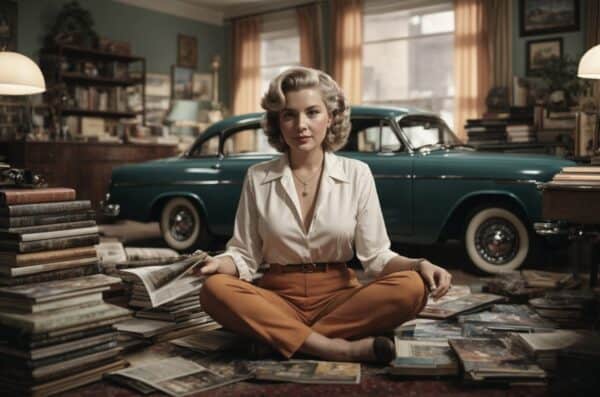 Whether you lived through these remarkable eras or simply yearn to experience them vicariously, I am excited to share my extensive knowledge and resources with you. As you browse the website, if you have any questions or feedback, you can always send me a message.
Why FiftiesWeb.com?
I operate this website to debunk the myth that "nothing cool happened" in the 50s, 60s and 70s. These decades represent an era of profound innovation and progress across music, fashion, technology, and culture.
From the advent of Elvis and the Beatles to the interstellar adventures of Star Trek, the dawn of video games, man's first steps on the moon, the birth of the computer era, and the electrifying rise of rock 'n' roll.
In addition to my passion for the 50s to 70s, I bring to the table a wealth of experience as a writer and publisher. On this website, I combine my passion for this era with my publishing skills to create content that is well-researched, engaging, and enjoyable. My goal is to offer visitors a unique blend of historical facts, nostalgic reminiscence, and delightful entertainment.
Whether you have fond memories of these times or simply yearn to discover the magic of the past, I invite you to explore FiftiesWeb.com, where this journey is just beginning!
A Tribute to the Creators
FiftiesWeb.com owes its inception to the visionary Candace Rich, whose boundless love for the 50s inspired the creation of this platform. Following her, her brother Michael Rich carried on the torch after her passing. She has moved on to new challenges and opportunities, a place which no doubt has both a soda fountain and a jukebox.
Candace dedicated years to meticulous research, and her legacy lives on through this website. This website serves as a heartfelt tribute to Candace's passion for learning, teaching, and preserving the spirit of the 1950s.
Notable Mentions
They say I need to add personal kudos to this, well instead of listening to me bragging, how about listening to a few others who think enough of FiftiesWeb, to link to, or reuse our content:
Mentioned on Wikipedia.org 218 times
Mentioned on ehow.com 484 times
Mentioned on 4teachers.org 222 times
Mentioned on ancestry.com 94 times
Mentioned on Washington Post 30 times
Mentioned on N.Y. Times 12 times
Mentioned on BBC.com 28 times
Mentioned on CNN.com 10 times
Mentioned on theverge.com 24 times
Mentioned on wikihow.com 36 times
Mentioned on britannica.com 5 times
Mentioned on fandom.com 25 times
Mentioned on nbcnews.com 2 times
Mentioned on vox 2 times
Mentioned on aol 91 times
Mentioned on buzzfeed 1 time
Mentioned on thetimes.co.uk 1 time
Mentioned on washington.edu 6 times
Mentioned on NPR.org 2 times
Mentioned on ABC.net 10 times
Mentioned on Examiner.com 27 times
Mentioned on teacherweb.com 44 times
References
In addition to hundreds of articles and websites mentioned throughout the site, when I started my quest, many books were used in the creation of this site.
Some are listed here. Quite a few are now out of print. But not to worry I have included links to Amazon.com where you can find most of them.
General Fifties & History
1950s Housewife: Marriage and Homemaking in the 1950s by Sheila Hardy. A fact filled look into typical 50s family.
Culture & Style
Television
Music
Cars
Disclaimer: As an Amazon Associate, I earn from qualifying purchases made through the links on this page, at no extra cost to you. This helps pay the bills and keep this website online.