1960s Fashion prior to the British invasion in 1964  was a continuation of the late 1950s. But with the Beatles came a new and very different fashion influence not Paris or Milan but "swinging" London.
The brand new post war "babyboomer" generation was proving that it was a power to be reckoned with. They had energy and sheer numbers on their side and they turned the designers away from catering to the old and wealthy to creating fashions specifically for young adults.  As the phenomenon continued teens and even pre-teens were also included for the first time.
Mary Quant out of her small boutique in London hit upon the winning combinations and created a fashion feeding frenzy starting with the mini skirt and crowning with major fashion houses the likes of Chanel and Dior following suit. Styles which were previously driven by the necessities of the middle class were now being designed for young people who constituted a newly empowered buyers market.
In one fashion camp were the social anarchists rebelling against the establishment as well as mainstream styles. The Hippie movement favored relaxed, comfortable and natural clothing styles. The norm for most college age kids was bluejeans and a tee shirt (tie-dyed or not).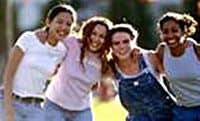 Relaxed hippie clothing  

The other 1960s fashion style was in a lot of ways much more of a departure from what had been the status quo. Featuring bright colors, leg revealing lengths, and hyper tailored designs Mod Fashions were a must for the "in crowd". Designers like Cardin, Emilio Pucci and Paco Rabanne jumped on this fashion trend to showcase their talents.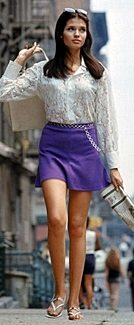 Two other very popular styles of the sixties which proved to be more enduring were the mini skirt and bell bottom pants.
The mini was the most seen fashion modification of the decade. It was worn by everyone from the trendiest celebrities to office workers, to housewives. Along with the birth control pill nothing else empowered women as much. The mini embodied the growing woman's movement portraying both their individuality and sexuality.
Bell bottom pants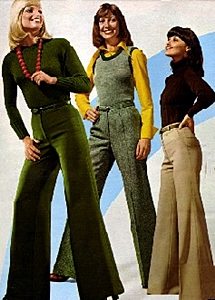 Several conservative styles from JC Penney
A bell bottom outfit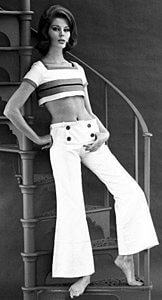 A sailor outfit designed by Mary Quant 1966

Magazine ad from the 1960's
By the late sixties Mod fashions had gone couturier and were heavily influenced by the European Design Houses.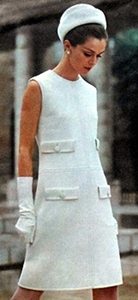 Notice the European influence
Meanwhile in California the hippie movement was gaining popularity.
Hippie fashion was relaxed, easy, inexpensive and best of all anti-establishment. Its relevance in fashion was fairly narrow but the impact the youth who wore it had on society, music, culture and politics was substantial.
The one thing that went well with all of the 1960s fashions was a pair of good looking boots.


Various sixties boot styles
These girls had the whole Nancy Sinatra "these boots were made for walking" thing going on.