1950s Men's Fashion –  fashions for men in the 50's are often thought of in terms of the Fonz and Grease. Well, forget that. The picture to the right is a far more mainstream view of how men actually dressed. Pretty drab, eh?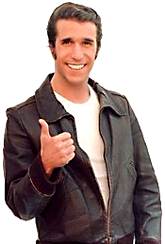 This image of men, all attired identically, is what fostered the book and movie, Man in the Gray Flannel Suit, a story about conformity.
Men didn't have many workplace choices for color. Dark blue, dark brown, and charcoal. Even the ties, traditionally men's flamboyant touch, were uniform and dark. Some time would have to pass before men began to reclaim the sartorial splendor which has been historically theirs.
But yes, there were young men at school who looked just like the Fonz, but not many and they didn't have motorcycles. And truth be told, most girls wouldn't have gone out with any of them anyway.
Here you see my kind of guy. A conservative fella. Which was how most guys looked in the Fifties. If you want to know how men dressed, you need to think about Ritchie and Mr. C – not the Fonz.
This 1950s men's fashion look was often called "Ivy League" or preppy and was definitely the preferred look if your date was meeting your Dad for the first time.
The cardigan sweater seen at right was a popular style which was used for the "letter" sweater so cherished among athletes.
There was some flexibility in casual wear. Cowboy look became popular for a while and plaid was a style that just hung on.
Even Dad wanted to be a cowboy. Influenced by the dominance of the TV Western, eveybody went a little Yehaw. Although only kids wore the cookskin caps, menswear was adapting nicely to the "home on the range" look.
Men wore hats in the Fifties. Not sometimes. All the time. There was some variation as to style, but no man was dressed unless a hat adorned his head.