AND MORE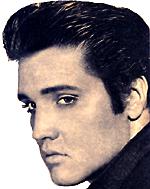 HAPPY 84th BIRTHDAY ELVIS!
January 8, 2019 would have been Elvis Presley's 84th birthday.
Yet to fans,Elvis will always be the sleek fellow with the wild hips and the mellow singing voice. Fifties Web pays tribute to Elvis Presley, the true King of Rock and Roll.
While this site includes his whole life, there is special emphasis on his early years, when he began his career in music. When the world fell in love with the handsome guy from Tupelo Mississippi.

Elvis Aaron Presley
January 8, 1935 – August 16, 1977
Elvis Presley is the best selling solo artist In U.S. History
Charted more songs on Billboard's Hot 100 than any other artist. (149)
Spent more weeks at the top of the charts than any other artist. (80)
Had the greatest number of consecutive #1 hits. (10)
Is second only to the Beatles in total of #1 hits. (18)
According to the RIAA:
Elvis is #2 for overall album sales (117.5 million)
(The Beatles sold 166.5 million; Led Zeppelin, 106 million)
Has the most Multi-Plaintum albums (25)
(The Beatles have 24; Led Zeppelin and Barbra Streisand have 13)
Has more Platinum albums than any other artist (55)
(The Beatles have 37; Barbra Streisand has 30)
Has the most Plaintum singles (27)
Has more Gold albums than any other artist (97)
(Barbra Streisand has 51; The Beatles have 42)
Has the most Gold singles (24)
No wonder they call him The King.


You would never have guessed any of this back in 1953 when a young worker from the Parker Machinists Shop wandered into the Memphis Recording Service on his lunch hour to record two songs as a belated birthday present for his mother. Okay, maybe that's just folklore as this was summer and Gladys' birthday was in April. Maybe he just wanted to record. That's okay. Whatever the motivation, it was worth the $3.98 shot. Presley choose to record two Ink Spots tunes, "My Happiness" and "That's When Your Heartaches Begin." What's interesting about the choices is that Sam Phillips, the owner, also owned Sun Records, an independent record label, and was known to be looking for a white man who could sing in a black R&B style.However, Sam Phillips wasn't impressed then or when the young Presley tried again in January of 1954, when he recorded, "Careless Love" and "I'll Never Stand In Your Way." (Some say the song was "Casual Love Affair, but the Sun site says "Careless Love" and that's good enough for me.)
In July of 1954 Elvis was back in the studio singing "That's Alright Mama" only now at Phillips suggestion, he has Scotty Moore playing guitar and Bill Black on bass. Phillips, finally recognizing the potential, knew he had the breakthrough star he had been looking for. Specifically, Phillips had found a white guy who had the sound and feel of the black R&B artists he had been recording.
Elvis joined Sun Records and what would come to be called Sun's "Million Dollar Quartet" – the foursome of Jerry Lee Lewis, Carl Perkins, Johnny Cash and Presley.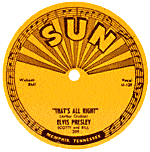 By 1955 Elvis had recorded 5 songs for Sun Records and gained some popularity in the South. What he also acquired was a new manager, Col. Tom Parker. Giving Parker his due – the man knew how to market. Parker launched a campaign aimed at garnishing national exposure for him.
 Elvis Presley's Five Sun Singles
That's All Right/Blue Moon of Kentucky
Baby Let's Play House/I'm Left, Your Right, She's Gone
Good Rockin' Tonight/I Don't care If The Sun Don't Shine
Milkcow Blues Boogie / You're A Heartbreaker
Mystery Train/ I Forgot To Remember To Forget
Elvis first appeared on CBS' Dorsey Brothers Stage Show. On The Steve Allen Show, he sang "Hound Dog" to a real dog. From his performance on Milton Berle's Texaco Star Theatre he got the nickname Elvis the Pelvis – which worried the family minded Ed Sullivan. By the third performance, Sullivan decided to "crop" Elvis. Thus, the now famous "from the waist up only" appearance on the Sullivan show. It is estimated that one of these Sullivan performances was viewed by 52 million people – one out of every three Americans.
Did you know…Ed Sullivan had a nasty auto accident which caused him to miss five shows, including the one on September 9, 1956. Actor Charles Laughton filled in as guest host, and it was he who first introduced Elvis on the Ed Sullivan Show.
Ed Sullivan Show
The Elvis Presley Appearances
Elvis Presley was paid $50,000, a huge amount for the time9/9/1956
"Don't Be Cruel," "Hound Dog," "Reddy Teddy" and "Love Me Tender."10/28/1956
"Don't Be Cruel," "Love Me Tender" and "Hound Dog."1/6/1957
This is the only "above the waist" performance
"Hound Dog," "Love Me Tender," "Heartbreak Hotel," "Don't Be Cruel," "Peace in the Valley" "Too Much" and "When My Blue Moon Turns to Gold Again."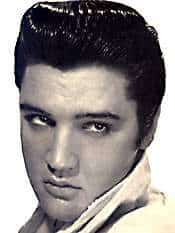 Parker wanted to move Elvis away from Sun so he began some fancy negotiations. According to the legend, Parker hawked the contract to Decca, Mercury, Columbia and Atlantic – pitting them against one another to get progressively higher bids. Ultimately, RCA bought Elvis' Sun contract for $40,000, a huge sum for that time. Because he was under 21 and therefore, still a minor, Elvis' father, Vernon had to sign the contract.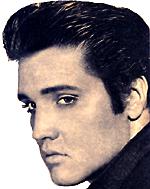 In February of 1956 Elvis recorded his first five songs for RCA. Among these was Heartbreak Hotel, which quickly rose to the top of the charts to become Elvis' first Number 1 hit.
The second half of the decade was good to Elvis. Amazingly, eight of his lifetime Top Ten songs are from the Fifties. This in spite of the fact that from 1958 through 1959, Elvis was in the U.S. Army.Elvis Presley: The Missing Years by Elvis Presley
(Rare Army footage) – DVDWith the advantage of hindsight, we all know what the future would hold for Elvis Presley. Circumstances would catapult Elvis into a stardom unknown before or since by any single artist. And, the road would wind into a sad and tragic end. Beyond the Fifties we would never again have the intimate, close feeling that Elvis evoked. It would be the last time that we felt we could touch The King.
Elvis Aaron Presley
Which is correct? Aron or Aaron?
Both and neither!
Elvis' middle name was to honor his father's friend, Aaron Kennedy. But the Presleys (Vernon and Gladys) chose the spelling Aron. His stillborn twin brother Jesse was named to honor Vernon's father, Jessie Presley, but again with a slightly different spelling.
In his later years, Elvis wanted to change the spelling of his middle name to the more biblical Aaron. He was surprised to find that unlike his birth records, the official state records already had it as Aaron.
Knowing Elvis' preference for Aaron, that is the name his father ordered to be placed on Elvis' tombstone. And it is the officially recognized spelling by the Presley estate today.
It is unclear why the marker at Graceland for Elvis' brother is spelled Jessie. The baby was buried in an unmarked grave in Tupelo because the family was poor. Today the Presley estate uses Jessie as the official spelling.