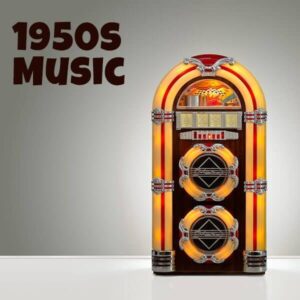 The decade of the Fifties gave birth to Rock and Roll. When Bill Haley's Rock Around the Clock became popular in 1955, the nation learned to swing to a whole new sound. Prior to that the Big Band Era from the 40's was still the the driving force in music.
But, Rock wasn't the only music of the Fifties. Other artists with other songs had folks hummin' for much of the decade.
Pat Boone, Perry Como and Patti Page – just to mention the "Ps".
The feel-good innocence of a lot of the Fifties music reflects on the post World War II optimism in America. The young people of the time, an emerging force called teenagers, hadn't struggled through the war years. They were looking for something more exciting. They discovered that vitality in Rock and Roll.
During the Fifties both styles of music co-existed quite nicely.
Some of the music you associate with the Fifties was actually recorded in the Sixties. Blue Moon, by the Marcels, for example. And all of the "girl groups" are from the 60's. When you look at the dates, musically the styles tend to break off mid-decade. The tunes from '55-'64 are pretty much alike. Things don't change much until the British musical invasion of U.S. and the U.S. military invasion of Viet Nam, from around '64-'74.
In fairness, however, I should tell you that my musical definitions probably differ from those of everybody else you know. I classifiy musical periods thusly:
1. Bubblegum – 1950-1954
2. Early Rock – 1955 to 1964
3. Serious Rock – 1965 to 1974
4. Disco – 1975 to 1980
5. Beats The Heck Outta Me – 1981 to Present
This area of the site is subdivided as listed at left. There's lots to see. For each year there is info and song lists. Then there's Elvis, natch. The American Bandstand pages talk about the Regulars. The Day the Music Died gives an account of the plane crash that killed Buddy Holly, Ritchie Valens and the Bopper, plus an annotated American Pie. At The Hop relives those sock hops of years gone by. And drool a bit over those dreamy Teen Idols. Tap your feet and join in!
Number #1 Music Hits By Year
1950

1951

1952

1953

1954

1955

1956

1957

1958

1959

1960

1961

1962

1963

1964

1965

1966

1967

1968

1969

1970
April 25, 2000 The Day My Music Died
Due to a Cease and Desist letter from the Harry Fox Agency, all the Oldies music in midi format has been removed from this site. Also all Oldies lyrics. I am deeply saddened. Both the Patriotic Songs, Irish Tunes and Christmas Songs remain as they are public domain. And if not, I'm sure some damn lawyer will write to tell me about it.