Hey there, groovy cats! Welcome to the hip slang words of the 70s, where slang's the name of the game. Slang has always been the language of the youth, man. Words come and go faster than a record on a turntable. The slang was sure as funky as a 70s disco beat.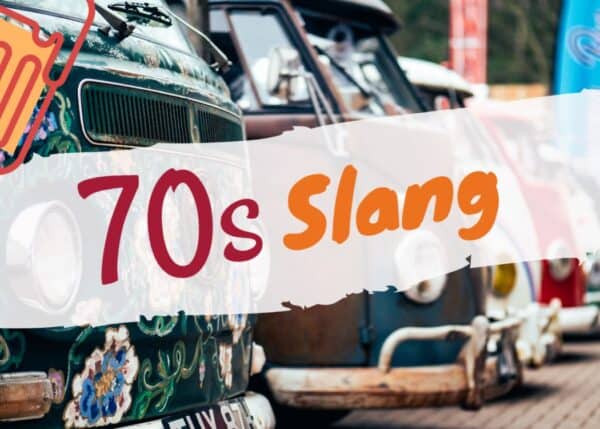 Speaking of cool cats, that term was still swinging in the 1970s. It was all about being a "cool cat," someone who had style, confidence, and was in the know. Picture John Travolta in "Saturday Night Fever" – the definition of a cool cat. And don't forget the "daddies," those older cats who were still groovy.
Once the college crowd catches onto a word, it's like yesterday's news. And seniors? They're not into sounding like freshmen, you dig?
Now, 1970s slang, that's where the action's at. Forget the Fifties, man. The Sixties had the whole drug and protest scene going on, making slang a total trip.
Stay groovy, my fellow time-travelers of the '70s!
Here is a list of 70s slang terms in alphabetical order with examples of how they were used:
Got it, starting over with examples for each slang term:
70s Slang Starting with Numbers
10-4, good buddy:Used to confirm you've heard someone, often associated with CB radio talk. Example: "10-4, good buddy. I hear you loud and clear."
10-4: A radio code for "message received," popularized during the CB radio craze in the '70s. Example: "10-4, good buddy, I'm on my way."
4-sho – For sure, or for real. "4-sho I'm coming to the party tonight!"
70s Slang Starting with A
A.F.A. – Instead of signing letters, photos,etc. sincerely we would sig A.F.A., which stood for A Friend Always. "I'll sign this pic A.F.A."
Ace – Just another groovy word for funky and awesome. "Those bell bottoms are so ace!"
Airhead – Stupid person, usually a woman, usually blond. "Don't mind her, she's just an airhead."
All Right – That's awesome. "All right, you got us front row tickets!"
Alute – Being at one with nature and it's properties, and not being uncool. "I'm just alute in this field, go with the flow."
Are You Decent? – Are you fully dressed? "Are you decent? Can I come in?"
Are You Jivin' Yet? – I wanted to know when my peers would stop talkin' so serious. "Are you jivin' yet? Lighten up!"
Audi 5000 – It means to leave now, depart quickly. "Let's audi 5000, I'm bored at this party."
Awe Sooky Sooky – Expressing excitement, like "oh yeah baby" or "something looks really good". "Awe sooky sooky, check out that car!"
Awesome – Cool. "That concert was awesome!"
Awsome Possome – Very cool. "This 8-track is awsome possome."
70s Slang Starting with B
BAM!!!! – Super cool! "BAM!!!! Check out those platform shoes!"
Baby – A sexy, groovy person or someone you love. "Come here baby."
Backatcha! – "You too". "Peace out." "Backatcha!"
Bad – It means good, nice, cool. "That was a bad concert, so good!"
Bail – To leave quickly. "Let's bail from this lame party."
Bangin – Means it is good. "This pizza is bangin!"
Beat The Drag – Driving up and down the 'loop' or the designated driving area as defined by the cool kids with cars.
Bitch'n – Awesome. "Your Camaro is bitch'n!"
Black Saber – You're finished. "Try and cross me again, black saber."
Blazin – On fire, totally hip or hot. "She looks blazin in those go-go boots!"
Blood – Used for like a greeting to a friend. "Hey blood, what's happening?"
Blow Off/blew Off – To skip, avoid or ignore someone or something. "Let's blow off chemistry and go to the mall."
Bogart
– To hog something, keep it for yourself. "Don't bogart that joint, pass it down!"
– To hold on to a joint too long without passing it. "Quit bogarting and pass the
jay!"
– Greedy. "Stop being a bogart and share!"
– Don't be selfish with an object. "Don't bogart the nachos, pass them over here."
Bogue – Disgusting, repulsive. "That casserole tastes bogue."
– Bad, like "That food was really bogue tonight." "The tacos were bogue, don't eat them."
– Phony,false, or an imitation. "That designer purse is bogue, it's definitely a knock-off."
Bogus! – Dang it! Annoyed with something. "Bogus! I got a flat tire."
Bomb – Fantastic, cool. "The Runaways new album is the bomb!"
Bomb Dude – That's sweet, awesome, something very cool. "Bomb dude, you got us backstage passes!"
Bone Jacked – Stealing the style of one who is dead. "He's bone jacked Jimi's look but doesn't play near as good."
Boo-yah – An excited term of joy and happiness. "Boo-yah! AC/DC is coming to town!"
Boob Tube – Television, TV. "There's nothing good on the boob tube tonight."
Book – To leave or move in a hurry. "Time to book it on home now."
Boss! – Cool, awesome. "Those wheels are boss!"
Bouge – If something sucks it's Bouge! "This party is bouge, let's split."
Brawl – To engage in a heavy fight, often to the death. "Let's take this outside and brawl if you wanna go."
Bread – Money, cash. "Can you loan me some bread til payday?"
Break Foul – Don't embarrass me. "If you see my mom, break foul and pretend you don't know me."
Brick House – To describe someone's body as well-proportioned and attractive. "That girl is so fine, she's a brick house."
Brother – Mate, buddy, good friend. "How's it going, brother?"
Buff – Physically well built. "He's gotten really buff this summer."
Buggin Out, Bugged Out – Meant something freaked you out or was a wild trip. "That movie totally bugged me out, too creepy."
Bummer – Bad news, not good. "Bummer, I failed that test."
Bummer – A depressing, negative event or thing. "Getting dumped was a total bummer."
Bummer For Ya! – A synonym of sympathy, like "Tough break!" or "Too bad!" "Bummer for ya, your car won't start."
Bunk – Low quality stash or anything felt to be cheap or untrue. "That stuff he's selling is bunk weed."
Burn – To make fun of someone, to crack a joke at someone. "Oooh, he just got burned in front of everyone!"
Burn – To embarrass someone verbally as in a put down. "She burned him hard for wearing socks with sandals."
Burn Out – A regular user of drugs. "Be careful or you'll end up a burn out."
Burn! – You've been dissed, proved wrong, or defied. "Burn! He showed you up real good!"
Busted! – You've made a mistake! "Busted! I saw you cheat off my test!"
Buzz Off – Get lost. "Buzz off loser, we're busy here."
70s Slang Starting with C
C.B. Radio Slanguage – The on air language used over cb radio, one of the memorable fads of the 70's. "We got a bear in the air on the flipside."
Can Ya Dig It??? – Are you cool with that, is that okay? "I'm crashing here tonight, can ya dig it?"
Can You Dig IT!!!!! – Do you like it, do you understand, do you agree? "Van Halen rocks, can you dig it!?!?"
Caposhi – It means it was really cool, stylish and sexy. "That jumpsuit is caposhi baby!"
Casanova – Boys who were unusually smooth with the girls. "All the foxes swoon over Gary, he's a real casanova."
Catch My Drift? – Get it? "I can't stand her, catch my drift?"
Catch U Up – Seeing you later. "Gotta jet, catch u up!"
Catch You On The Rebound – See you later, like see you on the flipside. "Hey I gotta split, catch you on the rebound."
Catch you on the flip-side: See you again tomorrow. "I got to run, but I'll catch you on the flip side."
Cats – People. "Those cats are getting down on the dance floor!"
Check You Later – I will see you later. "Check you later, time for me to jam."
Check ya later. – See you later. "Check ya later, I'm outta here."
Cheese Weasel – An annoying or obnoxious idiot. "Stop acting like a cheese weasel and chill out."
Cheesier – Used in the Bronx to describe kids who sucked up to grown ups. "Paul is so cheesier around teachers, it's lame."
Cheeto – Cheesy, or not being yourself. "Quit being such a cheeto and just be real."
Chick – Girl. "Check out those chicks in their tube tops."
Chicks – Pretty girls. "Look at those foxy chicks!"
Chill – Stay cool. "Just chill man, everything's copasetic."
Chillaxin' – Resting somewhere, chilling with my friends. "I'm just chillaxin' with my bros, what's up with you?"
Chilln' At The Pad – Relaxing at your house or home. "I'm chilln' at the pad if you wanna stop by."
Choice – That was really cool man! "Choice wheels dude, she's a beauty!"
Choke n' Puke – Means a diner at a bus stop. "Let's grab a bite at the Choke n' Puke up the road."
Chump – A loser, a fool, a rube. "Don't be a chump, she's playing you."
Close The Shades – I don't want to listen to you, shut up. "Close the shades, I've heard enough."
Closet Disco Queen – Somebody who dances at home to disco but is afraid to go to clubs. "Tracy is a total closet disco queen, it's hysterical."
Colder Than A Deuce!!! – No real meaning just a cool thing to say for anything. "That track was colder than a deuce!!!"
Confab – To talk, have a conversation. "Let's confab later after algebra."
Convention – Used as a diss, like "Is this some sort of psycho convention?" "What is this, a nerd convention?"
Cook, Ah Cook – You can dance! "Cook, ah cook, check out those moves!"
Cool – The same as now – great! "That's so cool you got us backstage passes!"
Cool Beans – A reply to something that is cool or awesome. "We're going to see Kiss tonight." "Cool beans!"
Cool Cat – A good friend like a homie. "Hey cool cat, good to see you."
Cool Cat – A streetwise person much like Huggy Bear on Starsky and Hutch. "Here comes Jimmy, he's a real cool cat."
Cool Dude! – That's cool! "Cool dude, love the custom van!"
Cool Man! – Like saying right on or sweet. "We're going surfin' tomorrow morning bright and early cool man!"
Cool-o-roonie – Something really cool. "That 8-track player is cool-o-roonie daddy-o!"
Cooler – Means prison or jail. "He got caught boosting and is headed to the cooler."
Coolie – Cool, awesome, fabulous. "It's coolie hanging with you brother."
Copacetic – All right, cool, safe. "Everything's copacetic around here."
Couch Potato – Someone who spends too much time watching TV, often lounging on the couch. "He's such a couch potato; he hasn't left the living room all day."
70s Slang Starting with D
Damn It Jim – A phrase from Star Trek that Captian Spock all ways says. "Damn it Jim, I'm a doctor not a bricklayer!"
Damn It Jim. – That phrase is from Star Trek, said by Dr. McCoy not Mr. Spock! "Damn it Jim, we need to get out of here!"
Dang – Mightyfine. "Dang, that car is cherry!"
Deadhead – A Grateful Dead fan. "All the deadheads are following the tour this summer."
Decent – Very cool, something you are excited about. "We got front row tickets, decent!"
Decent – Cute, good-looking, foxy. "That new guy in class is decent."
Decent! – You forgot this very used word meaning great or fantastic! "We're going to see Zeppelin tonight, decent!"
Decent! or Way Decent! – Means great or really great! "I got an A on my exam, way decent!"
Deep-Six – When you want to get rid of something or forget about it. "Let's deep-six those old records; they're too scratched to play."
Dig – To understand, get something. Can be used as a question or reply. "Can you dig it man?" "I dig."
Dig – A show of approval or understanding, like "I really dig you" or "I can dig it." "I really dig your style."
Dig – To thoroughly enjoy something or someone. "I dig listening to Deep Purple."
Dig – Do you get it? "It's far out here, dig?"
Dig It – Like it. "Dig it, we got the day off school."
Dig It – Know about. "Dig it, rumors spread fast around here."
Dig It – I understand. "Dig it, I'll cover for you tonight."
Dig It – Got it? "We meet here at nine, dig it?"
Dig It or Dig? – Understand or you like something? "I'm crashing at Jeff's tonight, dig it?"
Dig?/ Dig It? – Do you get it? "Class is canceled, dig?"
Dig? – Do ya get it? "We're going to the rally, dig?"
Disco – Really cool or something resembling coolness. "That shirt is real disco."
Do It/score – Have sex. "I heard they did it after the dance last weekend."
Do Me A Solid – Asking for a favor. "Can you cover my shift tomorrow, do me a solid?"
Do That! – You're looking good, you have it going on! "Do that! Love your platforms!"
Do You Copy? – Do you understand what someone is saying? "We meet at the usual spot, do you copy?"
Doees Anybody Remember Laughter? – A celebration, like when waiting to get into a concert. "Does anybody remember laughter? KISS tonight baby!"
Doggish – Cruel, like a harsh diss. "That was a doggish thing to say about her outfit."
Don't Be A Bunny – Don't be stupid. "C'mon, don't be a bunny. Of course she digs you."
Don't Bogart – Don't be selfish. "Hey, don't bogart that doobie, pass it down!"
Dont Have A Cow Man – There's no need to get upset about it. "Take it easy dude, don't have a cow man."
Doobie – A marijuana cigarette, joint. "Let's burn a doobie before the concert."
Doofus – A dim-witted or socially inept person. "Quit acting like a doofus and ask her to dance."
Dope – Really cool. "Those platform shoes are dope!"
Dork Or Dorky – A dull or slow-witted person. "The dorky new kid tripped in the cafeteria."
Down With. – I understand, like, relate to. "I'm down with skipping class today."
Drag – As in, "What a drag!" meaning, "man, that's lousy." "Getting grounded is such a drag."
Dude – Man, guy, person. "Later dude, see you tomorrow."
Dude – Cool. "Dude, your car is cherry!"
Dude – Awesome, sweet. "Dude, you got us backstage passes?!"
Dude – A way to address someone. "Dude, what's up?"
Dude – Rock on. "Dude! Rock on!" \m/
Dude – Guy or girl. "Hey dude, wait up!"
Dude – Friend, homeboy. "How's it going dude?"
Dude – A male surfer. "That dude can shred some waves!"
Dude! – A term for man. "Dude! Killer waves today!"
Dude!!! – A cool, sweet guy or girl! "Dude!!! Did you see Blue Oyster Cult?!"
Dude!!!! – A girl or a guy! "Hey dude!!!! Let's jam."
Dude, Dudet – Man and girl. "Later dude, later dudet."
Dunny – Another word for toilet. "I gotta hit the dunny, be right back."
Dy-no-mite! – Great! "We got front row tickets, dy-no-mite!"
Dyno-mite! – Inspired by JJ Walker on Good Times, it meant something was terrific. "There's a party tonight, dyno-mite!"
Dynomite – Cool slang words in the 70's. "We're using lots of dynomite slang today!"
Dynomite – Awesome. "You got the new Zeppelin album? Dynomite!"
Dynomite!!! – Great! How could you forget? "We're going cruising tonight, dynomite!!!"
70s Slang Starting with E
Emery – Defining something hip or a cool kid. "He's so emery, look at those bellbottoms!"
Ends – Money. "Can you loan me some ends til payday?"
70s Slang Starting with F
Fag Hag – A David Bowie fan or a female attracted to homosexual males. "She's obsessed with Bowie, total fag hag."
Fake Me Out – To trick or deceive someone. "He faked me out, I thought we were going cruising."
Faloupoo – When someone is acting spaced out. "You feeling okay? You're acting all faloupoo."
Famoo – Something very appealing. "New Led Zeppelin album? That's famoo baby!"
Far Out – Cool, righteous. "Surfing all morning was far out."
Far Out – Really cool. "That guitar solo was far out!"
Far Out Man – So cool, awesome. "We got backstage passes, far out man!"
Far Owt!! – Neat, cool! "Your tie dye shirt is far owt!!"
Fauncy – Means it's a bit cool. "That stage dive was pretty fauncy."
Fillet – That chick is attractive and sexy. "Check out the fillet in the mini skirt."
Flash Back – A sudden memory of the past. "Hearing that song gives me a flash back."
Flat Leaver – If you ditched friends to hang with cooler kids, you were a flat leaver. "Once he started varsity football he became a real flat leaver."
Float (v.) – To get lost, leave, go away. "I'm gonna float for a while so you cats chill."
Flower Power – Choose peace over war. "Make love not war, baby. Flower power."
Fooey – Something rubbish. "That movie was a lot of fooey."
For Rizzle – Really or I didn't know that. "You're joking, for rizzle?"
For Sure – You're correct, I'm hip, I dig, etc. "That album is stellar, for sure."
Fox – Good looking dude or chick. "Check out that fox over there."
Foxy – Adj. Good looking. "He's one foxy dude."
Foxy Mama – Hot chick, hot girl. "Look at that foxy mama shake it!"
Freak-me-out – That really surprised me! "Whoa, that freaked-me-out when you snuck up on me."
Freak-out – An event with psychedelic drugs where people freak out. "I saw a guy freak-out on shrooms last night."
Freaky-deaky – Very weird. "That movie was freaky-deaky."
Fruit – Adjective meaning stupid or nerdy. "Don't be such a fruit, ask her to dance."
Funk – Cool. "I'm feeling the funk, baby."
Funk-it-out – To make something or someone cooler, hotter or sexier. "Time to funk-it-out with some glitter and sequins."
Funkadelic – Awesome, cool! "This party is funkadelic!"
Funkadelic – Awesome and funky at the same time! "You look funkadelic in those platforms."
Funky – Cool. "I like your funky style."
Funky – Weird. "He's acting all funky tonight."
Funky – Not good, like a smelly bathroom. "P.U., something funky in there."
Funky – Cool and different. "This jam has a funky beat."
Funkydorae – Something is funky. "Those clothes are mad funkydorae."
Fuzz – Cops, police, law enforcement. "Let's split before the fuzz shows up."
70s Slang Starting with G
Gag Me With A Spoon – Something weird, ugly or disgusting. "That outfit is so last year, gag me with a spoon."
Gas – Fantastic! "Scoring front row tickets was gas!"
Gearhead – A person interested in cars. "My brother is such a gearhead, he's always working on cars."
Gee Wiz – Oh wow! "Gee wiz, we're going to see Led Zeppelin!"
Geek – A loser breed of nerdy, tragic person. "The geeks sit at the reject table in the cafeteria."
Get Bent – Get messed up. "I'm gonna get bent tonight with some boom shaka laka!"
Get Real – Get a life or get lost. "Get real, you'll never get a chance with her."
Get Real! – Pay attention or face reality. "Get real! There's no way you'll finish that tonight."
Get-go – From the beginning. "It's been wild from the get-go, right?"
Ghetto Fabulouse – Awesome or neat. "Those shoes are ghetto fabulous!"
Gig – Job. "I got a gig working at the record store."
Gimme Five – Slap hands with someone. "Gimme five for that killer wave!"
Gimme Some Skin – Shake hands with someone. "Gimme some skin brother!"
Glow Worm – To be very shiny. "Your sparkly outfit makes you glow worm under these lights!"
Gnarly – Cool, awesome, very good! "Surfing those big waves was gnarly!"
Gnarly – Cool, that club was gnarly.
Gobs – Lots of something. "There were gobs of hotties at the disco."
Going Around – Two people dating each other. "I heard Amy and Jeff are going around now."
Good Look – Thanks for helping me out. "Good look hooking me up with those concert tickets."
Good Vibes – Positive energy. "Peace and good vibes man."
Goon – A nerd. "Here comes Dwight and the rest of the math goons."
Gravy – Sweet, cool, excellent. "We're going to see Deep Purple tonight, gravy!"
Grit – Dirty person. "After working on the car he was covered in grit."
Groovey!!! – Really cool, far out! "The tunes tonight are groovey!!!"
Groovy – Cool. "That's a groovytie dye shirt."
Groovy – Cool, hip, wicked. "The club was groovy last night."
Groovy – Cool. "It's groovy you can make the concert tonight."
Groovy Baby – That's hotness! Something is cool. "We're going streaking tonight, groovy baby!"
Groovy Baby! – Good job baby or that's a good idea. "Groovy baby, love the Elvis costume!"
Gross – Anything disgusting, rude or unpleasant. "That guy picks his nose, gross!"
Grouse – Good. "The waves were grouse this morning dude."
Gully – Really good. "Scoring tickets to see Bowie was gully!"
Gunshot! Gunshot! – Far out, very cool, good! "Got an A on my Chemistry test, gunshot! gunshot!"
70s Slang Starting with H
Hairy Eyeball – A suspicious, disapproving look from someone. "My dad was giving me the hairy eyeball when I got home late."
Hang – To exist with someone in a place. "Let's hang at Jeff's place tonight."
Hard Core – Extreme, not for lightweights. "He's hard core, he parties every night."
Harsh Bong – Something bad happened. "Harsh bong, I just got dumped."
Heads – What pot smoking hippies were called. "The heads are following The Dead tour again."
Heads And Jocks And Nerds – Categories of high schoolers – stoners, jocks and nerds. "The heads, jocks and nerds all have their cliques."
Heavy – Important, serious, or depressing. "Whoa, we need to have a heavy talk."
Heavy – Really cool. "That new Zeppelin track is heavy, man!"
Heavy – Means a bad scene. "Bailing on your friends is a heavy scene, man."
Heavy – Intense. "That kiss was heavy, baby."
Heavy – Something that weighs on your mind. "My grades are a real heavy burden."
Hep -cat – One grooving mammal. "Look at the hep cat with the sax."
Heres The Skinny – The lowdown or catch. "Here's the skinny on her new boyfriend…"
Hippi Letace – Slang for weed, smoke it if you dare. "Let's burn some hippi letace and chill."
Holla At Me – Talk to me later, try to hook up. "Holla at me after class, we'll confab."
Honkey – A rude term for a white man, from The Jeffersons. "Get outta here honkey!"
Hood – A bad boy your mom wouldn't like. "She's dating a real hood now."
Hot Pants – Look at her, she's cute or sexy. "Check out the hot pants on that chick."
Hotdog! or Hot Dog – When you are amazed at something! "Hotdog! KISS tonight baby!"
How's It Hangin' – How are you, how are things going? "How's it hangin' babycakes?"
How's It Hangin' – Hi, how are you, what's up? "How's it hangin' my brother?"
How's It Happening – What are you doing? "How's it happening dude?"
Hubba Hubba – Used when an attractive person walked by. "Hubba hubba, check out that fox!"
Hunk – Girls' term for a handsome or attractive boy. "Look at that hunk with the feathered hair!"
70s Slang Starting with I
I Am Out To Lunch – I am confused. "I am out to lunch on these algebra problems."
I Can Dig It – I'm feeling something, dig it. "I'm catching a buzz, I can dig it."
I Dig It! – That's awesome, good idea! "Skip school and go to the beach? I dig it!"
I Dig Ya – I like you! "We vibe real well, I dig ya."
I Gotta Skittty – I have to hurry. "I gotta skittty or I'll miss the bus!"
I Hate It! – A response to bad news, like "Tough break!" "I lost my wallet, I hate it!"
I Hear That. – I accept your decision. "I'm not going tonight, I hear that."
I Like Cheese!! – That's excellent! A popular phrase. "We're going streaking tonight, I like cheese!!"
I'll Call You Out! – Let's fight! "Keep talking smack and I'll call you out!"
I'm Audie – I'm leaving, I'm out of here. "This party's lame, I'm audie."
I'm Bad – I'm real cool, slick, the tops. "All the ladies want me cuz I'm bad."
I'm Hip – I agree with you. "No more war, make love not war, I'm hip."
IYD – In your dreams. "I'll go out with you, IYD."
Im On A High – High on drugs or something. "I'm on a high from that stash we smoked."
Im Trippin – Going nuts on drugs or something. "I'm trippin after doing shrooms last night."
Inky – Suspicious, like slipping something inconspicuously. "He was being inky when he put that stuff in her drink."
It's Casual – Things are okay, don't worry about it. "It's casual man, I got the cash I owe you."
It's Old School – That's an old style or way of being. "Rotary phones are so old school now."
It's So Tubular, Man! – Tubular/radical means awesome, cool, excellent. "That concert was so tubular, man!"
70s Slang Starting with J
Izz – A fun way to say stuff like cool cash or fo' shizzle. "Izz we gonna jam tonight or what?"
Jack Squat – Nothing. "I got jack squat done today."
Jap/jap – Unfair, tricky, or a ripoff. "That price is a real jap."
Jeepers Creepers – An exclamation like oh my God or far out. "Jeepers creepers, check out his afro!"
Jell – To hang out, get stoned, or a wasted person. "Let's jell at my place tonight."
Jelly Brain – Someone slow from too many drugs, especially LSD. "He fried his brain with acid, now he's a jelly brain."
Jiggy – Dance in a funky way. "Let's get jiggy at the disco tonight!"
Jing – Money. "Loan me some jing til payday bro."
Jinkies – An exclamation of surprise like oh my God! "Jinkies, I aced that test!"
Jive Turkey
– A white guy. "Here comes Todd, that jive turkey."
– Full of it, crazy. "Don't listen to him, he's jive turkey."
– A detestable person. "Knock it off jive turkey!"
Jive Wise – Being hip or cool. "Me and my crew are jive wise, ya dig?"
Jive or Jiving – To talk nonsense or be deceptive. "Don't listen to him, he's just jiving."
Jock – Very popular guy like a football player.
The Joint – Something really cool or happening. "That concert was the joint!"
Jonesin' – An obsession or craving. "I'm jonesin' for that new Zeppelin album."
Joshin – You're kidding me. "You got us backstage passes, you're joshin me!"
Jump Back! – Are you serious, wow! "We're going streaking, jump back!"
Jump Back! – When someone's bugging you, you'd say "Hey man, jump back." "Jump back dude, you're all up in my grill."
Jump Your Bones – To want to have sex with someone. "Gary wants to jump your bones, he's got it bad for you."
Just Because …get You – Paranoid people aren't always wrong. "Just because you're paranoid doesn't mean they aren't after you."
70s Slang Starting with K
Kangblabla – Used anywhere, like I'm having a kangblabla day. "I'm having a real kangblabla morning trying to find my keys."
Keen – Another word for cool. "Those bellbottoms are keen!"
Keep On Keepin On – Have a good day or hang in there. "Keep on keepin' on brother."
Keep On Steppen – You're not worth my time. "Keep on steppen jive turkey."
Keep On Truckin – Keep moving. "We got a ways to go still, so keep on truckin'."
Keep On Truckin' – Keep doing what you've been doing, don't stop being you. "Just keep on truckin' baby, you're a star!"
Keep On Truckin'… – To persevere despite difficulties. "Keep on truckin' even when times get tough."
Keep On Trucking! – Move along, keep doing your thing. "Keep on trucking hippie!"
Keepin' It Real – Keepin' it cool. "I'm just keepin' it real."
Kicks – Shoes, running shoes. "Just got me some new kicks, what do you think?"
Killer – A way of saying very cool or dead animal. "Those shades are killer, man!"
Killer Diller – Something totally cool or righteous. "Scoring backstage passes was a real killer diller!"
Kipe – To steal or take. "Someone kiped my lunch money."
Kiss My Wrist – Another way to say kiss my butt! "Tell Ronny to kiss my wrist."
Kitty – A friend or group. "Me and my kitty are hitting the disco tonight."
Kosher – Cool, sweet. "We're going to the rally man, it'll be kosher."
70s Slang Starting with L
La La – A stupid idiot. "Don't be such a la la."
Laker – A rude, cruel person. "I don't want to deal with that laker today."
Lame-O: Refers to someone who's socially disappointing or uncool. "He didn't even show up at the party; what a lame-o."
Later – See you later. "Hey man I gotta jam, see you later."
Later Days – Goodbye. "Later days man, catch you on the rebound."
Later Scater – You're out, see ya! "I'm audi, later skater!"
Latered – Left, past tense of "to later" someone. "He latered me at the party last night."
Let It All Hang Out! – Go for it! "Let it all hang out baby!"
Let's Blow This Taco Stand. – Let's leave. "This party is really bogus, let's blow this taco stand."
Let's Blow Up The Cheese – Let's leave. "I'm not feelin' this scene man, let's blow up the cheese."
Let's Book – Let's leave this place. "Let's book y'all, I'll give you a ride."
Lets Boogie On Down – Let's dance, like drop it like it's hot. "Let's boogie on down tonight at the disco!"
Lets Get The Groove On – Let's dance. "Let's get the groove on baby!"
Lightweight – 1. Not hardcore 2. Can't handle substances well. "He's a lightweight, he barfed after two beers."
The Lowdown – The truth, facts, inside info. "What's the lowdown on their relationship?"
70s Slang Starting with M
Macking – Chilling, hanging out, relaxing. "Just macking with my bros tonight."
Maintain – Stay calm, keep composure. "Maintain man, everything's copasetic."
Make groceries. – Go shopping for food. "I need to make groceries before everyone comes over."
Man – Dude, guy, an abundant phrase replaced by dude. "Hey man, what's happening?"
The Man – The stupid cops. "Cheese it, the man is here!"
Mellow Out – Chill out, calm down, relax. "Mellow out guys, everything's copasetic."
Mind Your Potatos – Mind your own business. "Mind your potatoes Ronny, it's none of your concern."
Mint – Great, excellent condition. "My Camaro is mint, just got it washed."
Mondo Cool – Cool, awesome. "These ABBA platforms are mondo cool!"
Moofy – Slut! What a moofy! "Did you see her outfit, what a moofy!"
Mr Natural – A cartoon by R. Crumb of a bearded guy walking with the words "Keep on Truckin'". "Mr. Natural is my favorite underground comic."
Mr. Natural – A little fat bearded character associated with truckers and rolling papers. "I got some Mr. Natural rolling papers, let's blaze!"
Mucho Wackoid – Fantastic, very good! "Scoring Aerosmith tickets was mucho wackoid!"
Mulah – Money, cash. "Let me hold some mulah til payday."
My Mellow – My friend. "This is my mellow Jeff, we go way back."
70s Slang Starting with N
Nanoo, Nanoo – The greeting from Mork and Mindy. "Nanoo, nanoo my brother!"
Narc – A loser or goody-goody. "Here comes the narc, put out your doobies."
Narc – A tattler or snitch. "Don't tell Steve, he's a total narc."
Nark – To snitch or the snitch themselves. "If you nark I'll clock you one!"
Narly – Cool, sweet! "Hooking us up with tickets was narly!"
Naughty – Incredibly cool. "I like to get naughty on the dance floor."
Neat – This is cool. "Neat shoes, dude!"
Neato – Cool! "We got front row seats, neato!"
Nia – A greeting between black males in the 70's. "Nia brother, what's happening?"
Nifty – Neat, cool, interesting. "That's a nifty tie dye shirt!"
Nifty And Dorky – Neat or cool, dorky means nerdy. "Bellbottoms are nifty but calculator watches are dorky."
No Duh – A response to the obvious. "Water is wet, no duh."
No Fake – Similar to no foolin'. "We're going streaking, no fake!"
No Way, Jose – I disagree. "No way, Jose am I going out like that!"
Nowhere – Boring, clueless, or foolish. "That guy's opinions are nowhere man."
Nurkin' – Cool or in style. "Platform shoes with fishnet stockings, how nurkin'!"
Here are some examples for 70s slang terms O-S:
70s Slang Starting with O
Off The Hook – Cooler than cool. "This party is off the hook!"
Off The Hook – That's cooler than cool. "Those platform boots are off the hook!"
Operator – A guy who cheats on girls without getting caught. "Jeff is a real operator, dating two girls at once."
Out Of Sight – Cool, it defines itself! "These bell bottoms are out of sight!"
Out Of Sight – Out of this world, it defines itself! "That guitar solo was out of sight!"
Outta Sight – Very cool, good. "It's outta sight that you can make the gig tonight."
70s Slang Starting with P
P.O.W. – A degrading term, piece of work. "Don't go out with that P.O.W."
Pad – House or home. "Let's go chill at my pad."
Pad – Where you lived like an apartment. "I got a sweet pad near the beach."
Pansey – Sissy, coward. "Don't be a pansey, ask her to dance."
Pardy, Hardy – To party until dawn. "We're going pardy hardy tonight!"
Pass The J – Pass the marijuana cigarette. "Puff puff pass, don't bogart the jay!"
Peace – Relax, chill. "Peace bro, just go with the flow."
Peace – Peace, don't forget the two fingers. "Peace out man!" \../
Peace – Goodbye, see you later. "Okay man, I'm gonna split. Peace."
Peace ,Love and Granola – What we green peacers said when leaving. "Peace, love and granola man!"
Peace Out – Gotta go. "Alright y'all, I'm out. Peace out."
Peace Out Home Free. – Goodbye friend. "Peace out home free, catch you on the rebound."
Peace, Man! – Meaning hello or goodbye, with the peace sign. "Peace, man!" \../
Peel Out – To leave quickly, usually on a vehicle. "Let's peel out before the fuzz shows up."
Peelers – Police. "Cheese it, the peelers are here!"
Phasing – To leave. From Star Trek. "I'm phasing outta here, later."
Pictures Of Clothing – Your 70s fashion page needs photos of the clothes! "Right on, I'll add some pictures of the cool threads."
Pig – Police. "Step on it, I see a pig in the rearview."
Pigs – Cops. "Watch your speed, don't want the pigs to pull us over."
Pimp – Stud. "After he started varsity football, he became a real pimp."
Pimp Juice – Something Devontae doesn't have, he has a big butt! "Devontae wishes he had pimp juice."
Pimpin' – To show you got all the women, you the man! "He's pimpin' with two foxy ladies tonight."
Pinkpolo'd! – Refers to a guy with good fashion sense. "Did you see Jake's bellbottoms? He got pinkpolo'd!"
Pissah – Mad cool yo. "Those platforms are pissah baby!"
Plastic – Fake, phony, not real. "Don't listen to her, she's so plastic."
Plastic, man, plastic! – It's cool, dude, cool! "That story is, like, plastic, man, plastic!"
Po-ta-toe – It means strict, like your parents are po-ta-toe! "Mom is so po-ta-toe, I can't go out!"
Pop – Look. "Pop, I got a bite!"
Pop A Wheelie – Lifting the front bike wheel while rear stays down. "He can pop a righteous wheelie on that bike."
Powerful – That's strong, amazing! "Your band was powerful last night!"
Preps – Wannabe popular people who took forever getting ready. "Ugh, we can't leave yet, the preps aren't ready."
Primo – Top quality stash or anything excellent. "This hash is primo, man."
– The best, top notch. "We got primo seats for the Zeppelin show!"
– The ultimate, the best. "That surf this morning was primo."
Psych! – When you offer something and then take it away, often playfully. "Oh, you want a piece of gum? Sure, here you go. (pulls it away.) Psych!"
Psyche Out – An intense, astonishing experience. "That Wizard of Oz scene psyched me out as a kid."
Psyched – Fired up, excited, energized! "I'm so psyched for homecoming game tonight!"
Psyched – Excited, like I'm so psyched for this concert! "I'm psyched to see The Who tonight!"
Psychedelic – Awesome, that's a psychedelic fad! "Tie dye shirts are just so psychedelic!"
70s Slang Starting with Q
Quepasa – What's up? "Quepasa dude, how's it going?"
70s Slang Starting with R
R.F.N. – Right freaking now. "Get over here R.F.N.!"
The Rabbit Died – A euphemism for being pregnant. "The rabbit died so now they're getting married."
The Rabbit Died – Saying someone is NOT pregnant. (Correction, it always died!) "Don't worry, the rabbit didn't die this time."
Rad – Radical, cool, wicked. "That skateboard trick was rad!"
Rad – Cool, awesome. "Your van is rad, dude!"
Rad – Another word for cool. "Those platforms are rad!"
Rad / Radical – Cool. "That concert was radical!"
Radical – It means cool. "That new album is radical."
Radical – Really cool, like that's radical man! "Scoring front row tickets was radical!"
Radical – Cool, awesome, sweet! "It's radical you can come to the concert tonight!"
Radical Dude or Radical – Something cool. "Radical dude, love the threads!"
Radical! – Awesome, neat! "We got the day off school, radical!"
Raggin' or Rag On – Putting someone down or cutting them. "Quit raggin' on me for wearing stripes and plaid."
Rah Rah – Uncool jock or square. "Here come the rah rahs."
Raha – What Yooper's call money. "Can you loan me some raha?"
Rasta Biz – Rastafarian greeting, like aloha. "Rasta biz my brother."
Raza Unida – Races united. "Soul, R&B, funk – raza unida baby!"
Raza Unida – We're united in everything. "Raza unida, we can change the world!"
Real – Cool, hip, with it. "He's real, not plastic."
Reamed – To get the crap beaten out of you. "If you try to cut class again, you'll get reamed."
Relevant – Worth paying attention to. "Their music is socially relevant, you dig?"
Restracto – Dark, cool, different, and often violent. "He's into that restracto stuff, bit of a hood."
Right – To disobey or dislike something. "Don't tell me what to do, I got a right."
Right Arm/ Farm Out – Making fun of slang. "Right arm farmer brown!"
Right On – Correct, cool man. "Right on bro!"
Right on! – Good, accepting something. "You got the tickets? Right on!"
Righteous – Meaning groovy or really cool. "Your guitar playing was righteous!"
Ringin' – Cool, hip, hot, chic. "Her threads were ringin' at the disco."
Rip-off – Getting less than promised, a scam. "That dealership totally ripped me off."
Ripped Off Or Rip Off – Having something stolen from you or getting ripped off. "My 8-track got ripped off last night."
Rite Quick – Really quick or right now. "I just need to make a call rite quick."
Rock On!!!! – That's awesome, cool, far out dude! "We're going streaking, rock on!"
Rockin – Cool. "That guitar solo was rockin!"
70s Slang Starting with S
Say Brotha – Like hi, hey, what's up. "Say brotha, what's happening?"
Say What? – What are you talking about? "Huh, say what? That makes no sense."
Say What? – An exclamation when you don't believe something. "You got us backstage passes, say what?!"
Say, Jack? – Excuse me, to get attention. "Say, Jack? Can you help me out?"
Say-bra – What's up, what's going on. "Say-bra, let's go smoke a J."
Say-bro – What's up, what's going on. "Say-bro, I'm just chillin'."
Scarf – To eat with appetite and gusto. "Let's scarf down this pizza, I'm starving!"
Scooby – Don't be so clumsy, don't be a scooby. "Quit being a scooby and hold the door open for her."
Scoping (scope On) – Working your crush on someone. "He's been scoping on her all semester."
See ya on the flipside – See you later. "Later gator, see ya on the flipside."
Shag – To have sex! "Those two were shagging at the drive-in last night."
Shag Wag – A cool looking ' 70s Ford car like a bug but different. "Check out Benny's shag wag!"
Shagadelic – Very hot or sexy. "He looked shagadelic in those bellbottoms."
Shagadelic – Cool, a cool person. "Greg is pretty shagadelic."
Shaggin' Wagon – A customized van for partying and sex. "We're taking the shaggin' wagon to the concert!"
Shick – Hot, like that girl is shick. "Ginger is looking mad shick tonight."
Shine It On – Disregard as insignificant. "Just shine it on when Ronny bugs you."
Shotgun – Calling dibs on the front seat! "Shotgun!"
Shrimp Farming – Neat. "We're going to a Zeppelin concert, shrimp farming!"
Shuck – To fool or make a fool of someone. "He's just shucking you, don't listen to his jive."
Signed, Sealed, And Delivered – Been there, done that. "Finished with my homework, signed, sealed and delivered."
Sike. – Said after joking or faking someone out. "You actually thought that, sike!"
Silver Bullet – Male virgin, from a Coors ad. "Don't worry man, lose the silver bullet."
Sit On It – Made popular on Happy Days, means shut up. "Why don't you just sit on it Ronny."
Sit On It' – Shut up, get lost. "If you don't stop complaining I'll say sit on it."
Sit On It. – A breezy dismissal, I don't agree. "If you think I'm skipping school, you can sit on it."
Slam Dunk – Emphatic basketball shot coined in the 70s. "He slammed that ball home, what a slam dunk!"
Slammin' – Like cool or awesome. "This 8-track is slammin!"
Slap Me Some Skin – Give me a high five, man. "Slap me some skin bro!"
Slick – Sneaky, like that boy is slick. "Paul is slick, he never gets caught cheating."
Slide – To give something, like slide me some bread. "Hey dude, slide me a slice of pizza."
Smoke – Marijuana, like got any smoke? "Let's go smoke some smoke."
Smoke It Or Hand It – Smoke the joint and get high or pass it to me! "Puff that jay or smoke it and hand it over here."
Smokey – Cop, from CB lingo like hey, smokey on our tail. "Floor it man, smokey's on us!"
Smooch-ya-too – Love you too sweetie. "Love you babe." "Smooch-ya-too darling!"
Smooth Move Ex Lax – Rude comment. "Farting during dinner, smooth move ex lax."
Smooth Play Shakespeare – Did something really stupid. "I crashed my dad's car, smooth play Shakespeare."
Snaps – Oops, my bad, or you're saying sorry. "Snaps, didn't mean to do that."
So Radical – That is so sweet. "Getting out of school early today is so radical!"
Solid – A gracious, friendly, or obliging act. "Thanks for giving me a ride home, solid!"
Solid On Down – A loyal person. "Jeff's solid on down, had my back."
Sound As A Pound – Very good, like sound as a pound up a tree top tall. "You're performing tonight was sound as a pound."
Space Cadet: Originally used for someone engaged in space travel, in the '70s, it described someone disconnected from reality due to drug use. Example: "After that acid trip, he's become a total space cadet." Could also be used to describes someone who's not all there mentally, lost in their own world. Example: "Take a look at that space cadet. She's in her own little world."
Spiffy – Looks or sounds good, like that sounds spiffy. "That track sounds spiffy, who is it?"
Split – To leave, like I'm bout to split. "This gig is lame, I'm gonna split."
Split – To leave. "It's getting late, time to split."
Spoot – Sprung. "I'm spoot on that girl."
Square – Not cool. "He's a total square, still listens to Pat Boone."
Square Biz – In agreement or unison with someone. "Me and my bro are square biz about ditching class today."
Stash – Your personal supply of contraband. "Grab some papers so we can dip into the stash."
Static – Nonsense, like quit talking all that static. "I don't want to hear your static, just chill out."
Stella – A rude term for a disco chick. "Check out the stella shaking it on the dance floor."
Stellar – Cool! "These Pink Floyd tickets are stellar!"
Step Into The Past – A phrase meaning the past. "Step into the past for some far out threads."
Stoked – Feeling happy and excited, like I was so stoked he called! "I'm so stoked about homecoming tonight!"
Stomp! – Dancing all night, like at a disco. "Let's stomp all night long!"
Stone Fox – The ultimate cute guy. "Look at that stone fox over by the Camaro."
Stone Groove – Something so cool it's etched in stone. "This streaking adventure will go down in stone groove history!"
Stoned – High on dope. "We got stoned before the concert."
Stop Dipping In My Kool-aid – Stay out of my business. "You need to stop dipping in my Kool-Aid and mind your own."
Streak – To run nude in public. "Let's go streaking through the quad!"
70s Slang Starting with T
T.C.B – Take care of business, used among soul brothers. "I gotta t.c.b. tonight and finish this paper."
T.C.C.I.C – Take care cause I care. "T.c.c.i.c., call me when you get home safe."
T.C.F.S – Too cool for school. "Check out Jake strolling in late, he thinks he's t.c.f.s."
T.T.Y.L. – Talk to you later! "T.t.y.l., I'll call you tonight!"
Take A Chill Pill – Calm down, come down. "Simmer down, take a chill pill."
Take A Chill Pill – You're too hysterical, calm down. "You're freaking out, take a chill pill!"
Talking Jive – Making no sense when speaking. "I can't understand your jive talking."
Tattered – Beat really bad. "If you try to nark, you'll get tattered."
Ten-four Good Buddy – From CB lingo, means I got your message. "Ten-four good buddy, see you at 7pm."
Tighty-Whitey – Slang for men's briefs, used to describe underwear. "He accidentally flashed his tighty-whiteys at the pool party."
That Was 'the Joint'. – An outstanding event, movie, party or song. "That concert was 'the joint'!"
That's Bogus. – That's unfair, a raw deal. "Suspending me is bogus, I didn't do it!"
That's Cool – Sure or no thanks. "Wanna go to a rally this weekend?" "That's cool, man."
That's Old School – That's an old way of being. "Actually writing letters instead of texting? That's old school."
That's So Tubular, Man! – Tubular means awesome, cool, excellent. "That concert was so tubular, man!"
That's Wacked – That's screwed up, weird, or wrong. "Your folks won't let you out, that's wacked!"
Thats Jive Man – Something uncool that someone did. "Stealing from a friend, that's jive man."
Thats Smashing – That's awesome, cool, great! "We're going to see Bowie tonight, that's smashing!"
This Is Wicked, Man – Cool or righteous. "You cats party every night, this is wicked, man!"
Threads – Your clothes. "Check out her threads, pretty fly!"
Threads – Clothing. "I'm getting some new threads this weekend."
Tight – Cool! "Those bell bottoms are tight!"
Tight! – Awesome, cool, excited! "We got front row tickets, tight!"
Tighten Up. – Admitting a smarter student was right. "Alright man, you got me. Tighten up."
To Go Bananas – To go crazy! "When I heard 'Dancing Queen' I went bananas."
To The Bone – Completely, totally, to the max. "I dig you to the bone, baby."
Toads – Parents. "The toads said I can't go out tonight."
Token Up – Smoking weed. "Let's token up before the concert."
Totally – Yeah, sure. "Can you give me a ride? Totally, man."
Totally Hot – Means fashionable. "Her jumpsuit is totally hot."
Totally Man – That's so cool man! "We're going to see Led Zeppelin? Totally man!"
Totaly – This cool word, like totaly. "Staying out past curfew was totaly not allowed."
Totaly Awesome – Totally cool, absolutely! "Getting front row tickets was totaly awesome!"
Tough – Cool or impressive, like that's a tough car! "He's driving a tough Trans Am."
Tough – Very, very cool. "Making out with her was tough, man."
Tough – Great, terrific, really cool! "Scoring backstage passes? Tough, dude!"
Tripping – Deemed an insane action or comment. "You want to drop out and join the circus? You're tripping!"
Trippy – Cool, like the music is trippy. "Hendrix has some trippy guitar riffs."
Tru – That's true. "School lunch tastes nasty, tru that."
Truck – To leave, move or go. "Time to truck on outta here."
Truckin – Moving along, taking off, splitting. "We been here all night, time for truckin."
Tube It – Let's leave and smoke weed. "This gig's lame, let's tube it."
Tubular – Way cool, like you're tubular. "These bellbottoms are tubular!"
Tubular – Great, awesome! "Disco night was tubular!"
Tubular – Good, cool! "Scoring tickets was tubular!"
Tubular! – Way cool, awesome! "Getting out of school early today is tubular!"
Tuff – Cool or sharp. "His leather jacket is tuff."
Tunes – Music. "Let's tune in some Creedence Clearwater Revival."
Turkey – A jerk or idiot. "Knock it off turkey!"
Twitchin' – Cool, awesome, or far out. "Your guitar playing is twitchin'!"
70s Slang Starting with U
Unreal – Odd, weird, unique in a weird way. "That guy is unreal, he wears a cape!"
70s Slang Starting with V
Veg Out – To relax. "I just want to veg out tonight."
70s Slang Starting with W
WBS – Write back soon, from notes you'd pass in school. "I'll WBS tonight after homework."
Wall-a-go – A few minutes ago. "I just saw him wall-a-go."
Wally Wally Blood And Dolly – Being crazy about someone irrationaly. "He's wally wally blood and dolly over that chick."
Wango – Cool, sweet, like that car is wango. "Look at his wango Camaro."
Wanker – A penis. "He's such a wanker."
Wassup – Hello. "Wassup dude, what's happening?"
Wassup – Hello. "Wassup baby, where you been?"
Way Cool – Very cool, like wow man! "We got front row tickets, way cool!"
Waz Up – What's going on? "Waz up tonight, got any big plans?"
Wedgie – When someone pulls another person's underwear up sharply, usually as a prank. "He gave his little brother a wedgie for annoying him."
Well Excu-u-use Me! – From Steve Martin on SNL, also overused. "Well excu-u-use me for not liking disco!"
What A Fry! – Freaky, wild, or weird, often said when high. "Whoa, I'm frying hard, what a fry!"
What A Goof!!! – Bizarre, wacky, unusual! "He wore golf pants to school, what a goof!!!"
What A Grueler! – An obnoxious, stressing person. "Dealing with him is such a grueler."
What A Nightmare! – How something wrong was defined in the Midwest. "Flunking Chemistry, what a nightmare!"
What Is Hip! – An expression agreeing something is cool. "Platform shoes are in, what is hip!"
What It Is?!? – What's up, what's going on? "What it is my brother, how you living?"
What It Iz? – A greeting, like what's happening bro? "What it iz playa, what's the deal?"
What It Was, What It Is, What It Will Be…. – Things will work out for the best. "What it was, what it is, what it will be…."
What's Happenin' – See What's Up Dude. "What's happenin' tonight, got any big plans?"
What's Happening – What are you doing? "What's happening buddy, how you living?"
What's Popin – What's going on with you? "What's poppin homie, what you into?"
Whats The Skinny – What's up, what's going on? "What's the skinny dude, what's happening?"
Where Ever You Go, There You Are – Showing revelation at a situation. "Where ever you go, there you are. Might as well make the best of it."
Wicked – Freakin' awesome! "Scoring Stones tickets was wicked!"
Wicked – Something very cool, like that's wicked cool! "Bellbottoms are wicked!"
Wicked (wicket) – 'Cool' in Boston or 'real' like it's wicked cold. "It's wicked cold out today."
Wild – Crazy. "Last night got wild, I'm so hungover."
Wipeout – When separated from your surfboard by a wave. "I got worked on that last wave, major wipeout."
Whippet – Originally a dog breed, but in the '70s, it referred to inhaling nitrous oxide from whipped cream cans. "They had a wild night doing whippets and dancing at the disco."
Wired – High. "We got wired at Jeff's place last night."
Wizard – Another word for cool or awesome. "You fixed my 8-track player, you're a wizard!"
Word – I agree. "Bellbottoms are out, flares are in." "Word."
Word – That means you agree! "The new Sabbath record slaps, word."
Wowzers – Unbelievable! "We're going to see Led Zeppelin live, wowzers!"
wuddup – Hi. "Wuddup y'all, let's get this party started!"
70s Slang Starting with Y
Ya Baby – Of course, sure! "Can you give me a ride to the concert? Ya baby!"
Ya Ya – That's right, I understand! "Don't tell mom we cut school, ya ya!"
Yagalistic – Boring, like let's roll, this party is yagalistic. "C'mon, this place is yagalistic, let's bounce."
Yank My Chain – Waste my time, mislead me, be dishonest. "I know you're yanking my chain about the concert tickets."
Yeah – Right on dude! "Yeah man, rock on!"
Yeah, Baby! – Oh yeah, great! "We're going streaking tonight, yeah baby!"
Yo 'sup? – Hi, what's up? "Yo 'sup? Just finished band practice."
Yo All Stop Jivin'! – Quit, this is serious! "Yo all stop jivin', we gotta get this done by morning!"
Yo G Trippy Style – Awesome skating move. "Did you see Mikey's yo g trippy style? So rad!"
Yo, Wazzup G-unit! Welcome To The Hood Home Slice. – Hey rapper, welcome to the community friend! "Yo wazzup g-unit! Welcome to the hood home slice."
You Ain't Just A Woofin' – Agreeing with. "Bellbottoms are out, you ain't just a woofin'."
You Wanna Fight? Then Fight These Tears! – I don't want to fight. "You wanna fight? Then fight these tears!"
You're Harshing My Mellow! – You're annoying me or making me mad! "Knock it off Ronny, you're harshing my mellow!"
Youngblood – Young man or boy. "How's it going youngblood?"
Your Groovy – You're cool. "Hey, you're pretty groovy for a teacher."
Your Mother – You had sex with their mother, not serious. "Oh yeah, your mother!"
70s Slang Starting with Z
Zappy – When someone is acting crazy. "She's been zappy all day, I think she skipped her meds."
Zen – At peace, chill like Steven Hyde on That 70s Show. "I'm feeling very zen right now man."
Zetus-Lapeduz – Expressing disbelief, like are you serious, no way! "You got us tickets to see Bowie? Zetus-lapeduz!"
Zipperhead – Disco guy with short hair. "Look at that zipperhead in his polyester suit."
Zipperhead – A white person acting black. "He thinks he's jive just because he zips up his pants, what a zipperhead."
Zippy – Fast, like dang you are zippy. "You zipped through that test, zippy!"
Zoinks – Amazing! "Zoinks, check out his afro!"
Zoinks! – Shocked, scared, horrified! "Zoinks! Busted trying to sneak out!"
Zomba – Something really cool. "That concert was zomba!"
Zooky-zooky – Very awesome and amusing. "Her dance moves were zooky-zooky!"
Zoot – To go flailing outwards, shouted during the action. "Zoot! I just face planted!"