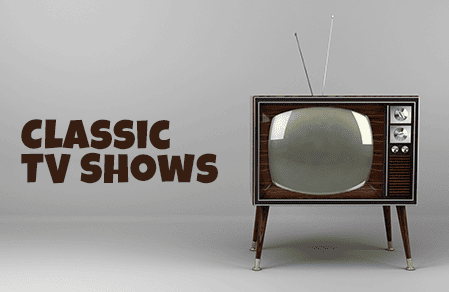 Hello classic TV buffs! Ready for a blast from the past? Here you will find the golden era of old TV shows that made us laugh, cry, and everything in between. From iconic hits like "I Love Lucy" to the thrilling "Twilight Zone," we've got your all-time favorites covered.
We've also compiled the ultimate A-Z directory, featuring shows from "12 O'Clock High" to "Wagon Train" complete with pics and YouTube clips. Grab your popcorn and let's time-travel together through the unforgettable world of classic TV shows. Trust me, it's gonna be a nostalgic ride you won't want to miss!
Understanding the cultural impact of old TV shows can greatly enrich your viewing experience. For instance, "I Love Lucy" was groundbreaking in its portrayal of a strong female lead, challenging the gender norms of its time. Similarly, characters like Archie Bunker from "All in the Family" have become cultural icons, adding another layer of engagement when you watch these classic episodes. These shows didn't just entertain; they also left a lasting imprint on society.
When it comes to quality, awards and critical acclaim can be reliable indicators. Shows like "The Twilight Zone" have won multiple awards for their innovative storytelling, making them a safe bet for high-quality entertainment. On the other hand, "The Sopranos" received widespread critical acclaim for its intricate characters and plotlines, offering not just entertainment but also artistic depth. High ratings can also guide you toward a rewarding viewing experience. For example, "M*A*S*H" had one of the most-watched finales in TV history, signaling its enduring popularity and quality.
Finally, the availability of spin-offs and adaptations can extend your enjoyment of a classic series. If you're a fan of "Star Trek", you might also enjoy its various spin-offs like "Star Trek: The Next Generation," which offer new adventures while staying true to the original's essence. In today's digital age, streaming platforms have made it easier than ever to access these classics. Shows like "Friends" are readily available on platforms like HBO Max, allowing you to binge-watch episodes at your convenience.
All these aspects collectively contribute to a more informed and enjoyable experience as you delve into the world of classic TV shows.
List of Old TV Shows Alphabetically
Numbers
12 O'Clock High
240-Robert
$64,000 Question
77 Sunset Strip
87th Precinct
A
A-Team
Adam 12
Addams Family
Adventures in Paradise
Adventures of Robin Hood
Adventures of Superman
Airwolf
Alfred Hitchcock Presents
Alice
All in the Family
American Girls
American Bandstand
Amos N' Andy
Andy Griffith Show
Andy Williams Show
Andy's Gang
Angie
Ann Sothern Show
Anna and the King
Arrest and Trial
Art Linkletter
Arthur Godfrey and Friends
Assignment: Underwater
Avengers
B
Baa Baa Black Sheep
B.J. and the Bear
Bachelor Father
Banacek
Baretta
Barnaby Jones
Barney Miller
Battlestar Galactica
Batman
Beat the Clock
Ben Casey
Benson
Betty Hutton Show
Beverly Hillbillies
Bewitched
Bionic Woman
Bob Cummings Show
Bob Newhart Show
Born Free
Bourbon Street Beat
Brady Bunch
Bronk
Buck Rogers
Burke's Law
Burns and Allen
C
C.P.O. Sharkey
Cades County
Cannon
Captain Kangaroo
Car 54 Where Are You?
Carol Burnett Show
CBS News
Charlie's Angels
Checkmate
Chico and the Man
CHiPS
City of Angels
Columbo
Combat
Concentration
Cosby Show
Courtship of Eddie's Father
D
The D.A.
Daktari
Dallas
Danny Thomas Show
Dark Shadows
Dating Game
Dean Martin Show
Defenders
Dennis the Menace
Dick Van Dyke Show
Diff'rent Strokes
Dinah Shore Chevy Show
Ding Dong School
Dobie Gillis
Donna Reed
Doris Day
Dr. Kildare
Dragnet
Dukes of Hazzard
E
Ed Sullivan Show
Eight Is Enough
Ellery Queen
Emergency
Everglades
F
F-Troop
The Facts of Life
Family
Family Affair
Fantasy Island
The Farmer's Daughter
Father Knows Best
F.B.I.
Fish
Flintstones
Flipper
Flying Nun
Flicka
Fugitive
G
Gentle Ben
George Gobel Show
Get Smart
Ghost & Mrs. Muir
Gidget
Gilligan's Island
Girl from U.N.C.L.E.
Gomer Pyle
Good Times
Gray Ghost
Green Acres
Green Hornet
H
Happy Days
Harry O
Hart to Hart
Hawaii Five-O
Hawaiian Eye
Hazel
Highway Patrol
Hogan's Heroes
Honey West
Honeymooners
House Calls
Howdy Doody
I
I Dream of Jeannie
I Love Lucy
I'm Dickens – He's Fenster
The Incredible Hulk
Invaders
I Remember Mama
Ironside
I Spy
It Takes a Thief
I've Got a Secret
J
Jack Benny Show
Jackie Gleason Show
Jeffersons
Jetsons
K
Kojak
Kolchak: The Night Stalker
Kung-Fu
L
Land of the Giants
Land of the Lost
Lassie
Laugh-In
Laverne & Shirley
Lawrence Welk Show
Leave It To Beaver
Little House on the Prairie
Lost in Space
Lou Grant
Love American Style
Love Boat
Love on a Rooftop
I Love Lucy
M
MacGyver
Magnum P.I.
Make Room for Daddy
Mama
Man From U.N.C.L.E.
Mannix
Many Loves of Dobie Gillis
Marcus Welby M.D.
Mary Tyler Moore Show
M*A*S*H
Maude
Mayberry R.F.D.
McCloud
McHale's Navy
McMillan & Wife
Medical Center
Meet the Press
Miami Vice
Mickey Mouse Club
Milton Berle
Mission Impossible
Mod Squad
Monkees
Mork & Mindy
Mothers-in-Law
Movin' On
Mr.Ed
Mr.Novak
The Munsters
My Favorite Martian
My Mother, The Car
My Three Sons
N
NBC News
Newlywed Game
Night Gallery
O
Odd Couple
One Day at a Time
One Step Beyond
Outer Limits
Ozzie and Harriet
P
Partridge Family
Patty Duke Show
People Are Funny
Perry Mason
Peter Gunn
Petticoat Junction
Peyton Place
Phyllis
Please Don't Eat the Daisies
Police Story
Police Woman
Price is Right
The Prisoner
Q
R
Rat Patrol
The Real McCoys
Red Skelton Show
Rhoda
Robin Hood
Rockford Files
The Rookies
Route 66
S
The Saint
Sanford and Son
Sea Hunt
Secret Agent
See It Now
Six Million Dollar Man
Sixth Sense
Sky King
Smilin' Ed O'Connell's Gang
Star Trek
Superman
Surfside 6
S.W.A.T.
T
Tab Hunter Show
Tarzan
Ted Mack's Amateur Hour
That Girl
Time Tunnel
Today Show
Tom Terrific
Topper
To Tell The Truth
This is Your Life
Twenty One
Twilight Zone
U
V
Voyage to the Bottom of the Sea
W
Wanted Dead or Alive
Welcome Back Kotter
What's My Line
Wild Wild West
Y