Elvis Presley started his career in the 50s. He is often referred to as the "King of Rock and Roll" was an American singer, musician, and actor. He was born on January 8, 1935, in Tupelo, Mississippi, and passed away on August 16, 1977, in Memphis, Tennessee. Presley is one of the most significant cultural icons of the 20th century and had a profound impact on popular music.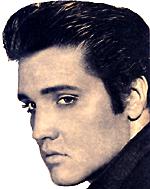 Elvis will always be the sleek fellow with the wild hips and the mellow singing voice. Fifties Web pays tribute to Elvis Presley, the true King of Rock and Roll.
While this site includes his whole life, there is special emphasis on his early years, when he began his career in music. When the world fell in love with the handsome guy from Tupelo Mississippi.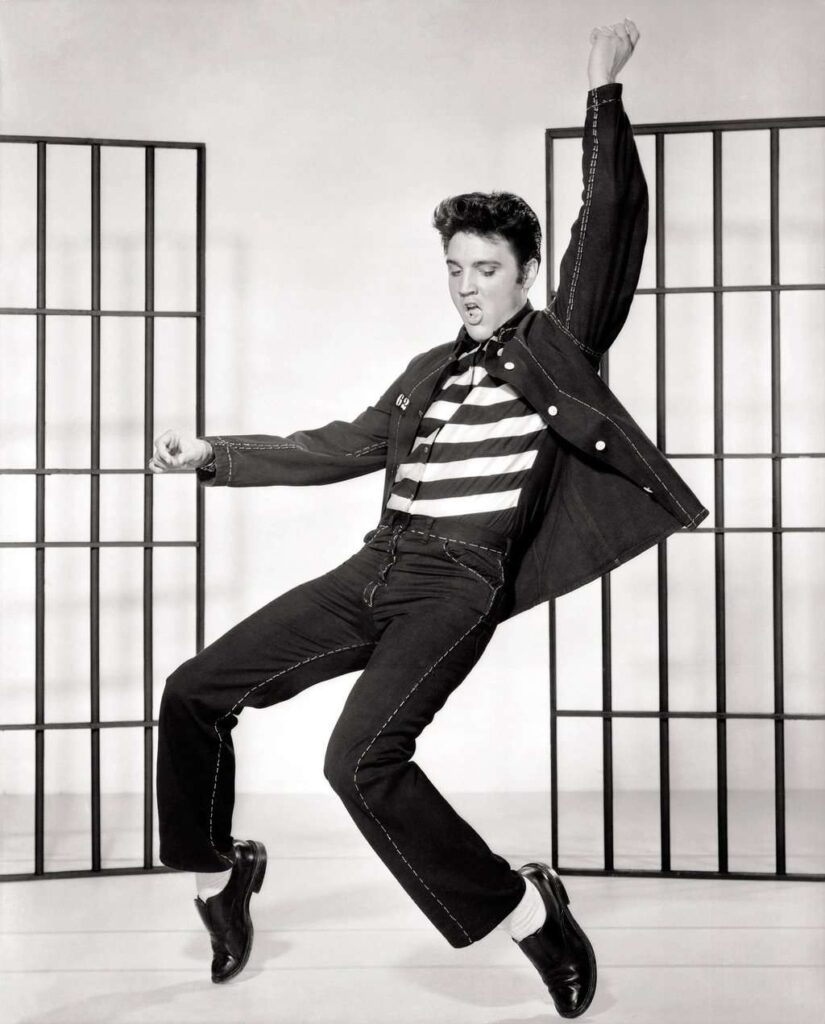 Elvis Aaron Presley Statistics
January 8, 1935 – August 16, 1977
Elvis Presley is the best selling solo artist In U.S. History
Charted more songs on Billboard's Hot 100 than any other artist. (149)
Spent more weeks at the top of the charts than any other artist. (80)
Had the greatest number of consecutive #1 hits. (10)
Is second only to the Beatles in total of #1 hits. (18)
According to the RIAA:
Elvis is #2 for overall album sales (117.5 million)
(The Beatles sold 166.5 million; Led Zeppelin, 106 million)
Has the most Multi-Platinum albums (25)
(The Beatles have 24; Led Zeppelin and Barbra Streisand have 13)
Has more Platinum albums than any other artist (55)
(The Beatles have 37; Barbra Streisand has 30)
Has the most Platinum singles (27)
Has more Gold albums than any other artist (97)
(Barbra Streisand has 51; The Beatles have 42)
Has the most Gold singles (24)
No wonder they call him The King.
Elvis Presley's Career During 1950s
Born January 8, 1935 at 4:35 AM in a two room house in Tupelo, Mississippi. First born twin brother Jesse Garon is stillborn. So which is it? Aron or Aaron?
Parents, Gladys Love Smith (04/25/12) and Vernon Elvis Presley (04/10/16) were married in June of 1933.
Elvis gets his first guitar in 1946. It cost $12.95 at the Tupelo Hardware Store.
The family moves to Memphis in 1948.
In 1953 Elvis graduates from Humes High School.
Summer of '53, Elvis drops into the The Memphis Recording Service (Sun Studios) and records My Happiness and That's When Your Heartaches Begin. Cost? $4.00.
Summer of '54. Sun owner Sam Phillips teams Elvis up with local musicians Scotty Moore (guitar) and Bill Black (bass).
July 5, 1954. The breakthrough recording is Arthur "Big Boy" Crudup's That's All Right. This song, backed with Blue Moon of Kentucky becomes the first of five singles Elvis will release on the Sun label.
July 30, 1954 Elvis makes his appearance at the Overton Park Shell in Memphis. What's important about this night?
October 16, 1954. Elvis' first appearance on the Louisiana Hayride, a popular country radio show out of Shreveport LA.
In August of 1955, Colonel Tom Parker replaces Bob Neal as Elvis' manager. A word about the "Colonel".
By November of 1955, Elvis has signed the now famous RCA contract. The price is an unprecedented $40,000, with a $5,000 bonus for Elvis. RCA soon re-releases the five Sun singles on the RCA label.
June 5, 1956. This is the highly controversial and very sexy performance of Hound Dog on Milton Berle. Also, I Want You, I Need You, I Love You. B00006RCLM Elvis Presley – Rare Moments With the King
In January of 1956 Elvis is paired with the Jordanaires, who would remain his main back-up group until the late 60s.
January 27, 1956. Heartbreak Hotel is released. (I Was the One on the flip). It sells 300,000 copies in the first week and will ultimately be Elvis' first Gold Record by selling over a million.
Between January 28 and March 24 of 1956 Elvis will make 6 appearances on the Jackie Gleason-produced Stage Show, starring Tommy and Jimmy Dorsey on CBS.
On March 13 of that same year, Elvis Presley, his first album is released by RCA. Selling over a million, it will become his first Gold Album.
April of 1956. Elvis appears with Milton Berle. He sings Heartbreak Hotel and Blue Suede Shoes.
April 1956, he signs a seven-year movie contract with Hal Wallis and Paramount Pictures.
In July he does a parody of that sketch on Steve Allen's show by singing to a real Bassett hound. Elvis' ain't happy about it – but he does it. His success on Berle and Allen prompt the previously reluctant Ed Sullivan to sign a three appearance deal for $50,000 – an unheard of amount back then.
August 10 and 11 1956. Elvis appears at the Florida Theatre in Jacksonville, FL. Juvenile Court Judge Marion Gooding attended the first concert to see if all the fuss was warranted. After watching Elvis' jiggle, he asked that the show be toned down. So Elvis only wiggled his little finger as a mild protest.
September 9, 1956 – the first Sullivan show. Charles Laughton subs for an ailing Sullivan. Presley sings Don't Be Cruel, Love Me Tender, Ready Teddy, and Hound Dog. October 28th is the second show and the songs are Don't Be Cruel, Love Me Tender, Love Me and Hound Dog.
November 16, 1956. Elvis' first movie, Love Me Tender premieres.

Buy Music from Amazon

Buy Movie from Amazon

January 6, 1957. The "waist up only" Sullivan show. He does a medley, plus Don't Be Cruel, Too Much, When My Blue Moon Turns to Gold and then closes with Peace in the Valley.
January 1957.Elvis begins filming his second movie, Loving You. Actress Jana Lund will give Elvis his first screen kiss in this movie which will produce the hit, Teddy Bear
Graceland is purchased in March of 1957.
Jailhouse Rock begins filming in May of 1957.
Elvis' draft notice arrives December of 1957.
In the early part of 1958 Elvis works on his fourth motion picture, King Creole.

Buy Music from Amazon

March 1958. Elvis Presley is inducted into the U.S. Army at the Memphis Draft Board and is assigned serial number 53310761. Pvt. Presley goes to Fort Hood, Texas for basic training and is stationed there for six months.
Gladys Presley dies on August 14 of 1958 of acute hepatitis. Elvis is able to get back to see her before she dies.
In September of 1958, Elvis boards the USS. Randall and sails to Germany, arriving on October 1. He will be stationed in Friedberg for 18 months, maintaining an off-base residence in Bad Nauheim.
Elvis first meets Priscilla Beaulieu (05/24/45) in November of 1959. She is the only child of a Navy pilot, Jack Wagner, who was killed in a plane crash when Priscilla was an infant. Her mother Ann had remarried to Captain Joesph Beaulieu.
Elvis Presley Songs and Albums from the Fifties (1956 -1959)

Means that the album or single has been awarded Gold status by the RIAA.


Means that the album or single has been awarded Platinum status, sometimes multiple, by the RIAA.
Elvis Presley, had an extensive discography. Having recorded from the mid-1950s until his untimely death in 1977. While the exact count may vary as new releases and compilations continue to emerge, it is estimated that Elvis recorded over 700 songs throughout his career. These songs encompassed a diverse range of genres, including rock and roll, pop, country, gospel, and blues, showcasing Presley's versatility as an artist.
1956
ALBUMS
Elvis
Elvis Presley
Fun Fact! Elvis Presley's 1956 classic "Hound Dog/Don't Be Cruel" becomes one of the top certified singles of all time with sales of four million. It is the only single released prior to "We Are The World" in 1985 to reach quadruple-platinum status.
SINGLES
Heartbreak Hotel – This was Elvis' first big hit and is considered one of the classics of early rock 'n' roll.
I Was the One (with Heartbreak Hotel)
Hound Dog Another one of his signature songs, known for its energetic performance.
Don't Be Cruel (with Hound Dog) Often paired with "Hound Dog," this song became a chart-topping hit.
Love Me Tender A beautiful ballad that showcased Elvis' versatility as a singer.
I Want You, I Need You, I Love You
When My Blue Moon Turns to Gold Again
Anyway You Want Me (That's How I Will Be)
Blue Suede Shoes Originally written by Carl Perkins, Elvis' rendition of this song helped make it a rock 'n' roll standard.
1957
ALBUMS
Peace in the Valley
Loving You
Just For You
Elvis' Christmas Album
Fun Fact! Elvis' top-selling titles, both of which are certified at the 6-million level, are "Elvis' Golden Records," which is the best-selling album of the 1950s, and "Elvis' Christmas Album," the 1970 adaptation of his classic 1957 holiday release.
SINGLES
Jailhouse Rock The title track from his film of the same name, this song is still popular today.
Treat Me Nice (with Jailhouse Rock)
All Shook Up A catchy tune that topped the charts in the US and the UK.
Love Me
Too Much
Teddy Bear A sweet and upbeat love song
Loving You (with Teddy Bear)
1958
ALBUMS
Elvis' Golden Records
King Creole
Fun Fact! On March 14, 1958, the first year the Recording Industry Association of America (RIAA) awards were launched the very first Gold plaque was awared to Perry Como for his hit single, "Catch A Falling Star". Four months later, the cast album to Oklahoma! sung by Gordon Macrae became the first official Gold album.
SINGLES
Don't
I Beg You (with Don't)
Wear My Ring Around Your Neck
Doncha Think It's Time (with Wear My Ring Around Your Neck)
Hard Headed Woman
I Got Stung
One Night (with I Got Stung)
1959
ALBUMS
Fun Fact! On March 25, 1958 Elvis was inducted into the U.S. Army and assigned serial number 53310761. In September of 1958 he began his 18 month assignment in West Germany, where in late 1959, he met Priscilla Ann Beaulieu.
SINGLES
(Now and Then There's) A Fool Such As I
I Need Your Love Tonight
(with A Fool Such As I )
A Big Hunk of Love
My Wish Came True
(with A Big Hunk of Love)
Early Career
You would never have guessed any of this back in 1953 when a young worker from the Parker Machinists Shop wandered into the Memphis Recording Service on his lunch hour to record two songs as a belated birthday present for his mother.
Okay, maybe that's just folklore as this was summer and Gladys' birthday was in April. Maybe he just wanted to record. That's okay. Whatever the motivation, it was worth the $3.98 shot. Presley choose to record two Ink Spots tunes, "My Happiness" and "That's When Your Heartaches Begin."
What's interesting about the choices is that Sam Phillips, the owner, also owned Sun Records, an independent record label, and was known to be looking for a white man who could sing in a black R&B style. However, Sam Phillips wasn't impressed then or when the young Presley tried again in January of 1954, when he recorded, "Careless Love" and "I'll Never Stand In Your Way." (Some say the song was "Casual Love Affair, but the Sun site says "Careless Love" and that's good enough for me.)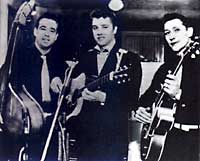 Elvis's Breakthrough
In July of 1954 Elvis was back in the studio singing "That's Alright Mama" only now at Phillips suggestion, he has Scotty Moore playing guitar and Bill Black on bass. Phillips, finally recognizing the potential, knew he had the breakthrough star he had been looking for.
Elvis joined Sun Records and what would come to be called Sun's "Million Dollar Quartet" – the foursome of Jerry Lee Lewis, Carl Perkins, Johnny Cash and Presley.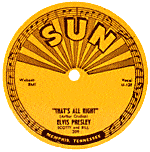 By 1955 Elvis had recorded 5 songs for Sun Records and gained some popularity in the South. What he also acquired was a new manager, Col. Tom Parker. Giving Parker his due – the man knew how to market. Parker launched a campaign aimed at garnishing national exposure for him.
Under Parker's management, Elvis's career skyrocketed. He became a national and then international sensation, breaking numerous records and setting new standards for live performances and album sales.
Facts About Elvis
Elvis Presley was commonly reported to be 6 feet tall or 1.83 meters. This information is widely accepted and documented in various sources, including biographies, interviews, and official records.
Elvis Presley had a net worth of approximately $20 million at the time of his death in 1977. Despite his financial success, Presley faced financial challenges due to extravagant spending and mismanagement of his finances.
Elvis Presley's mother, Gladys Love Presley, had a profound impact on his life and career. She played a key role in shaping his musical interests and supporting his early aspirations. Her passing in 1958 deeply affected Elvis and influenced his music in the years that followed.
Elvis Presley had blue eyes.
Elvis Presley's weight was a matter of concern throughout his life. While he started his career with a slim and toned physique, the pressures of fame led him to develop unhealthy eating habits and gain weight. By the late 1970s, his weight had reached a level that affected his health and ability to perform. Unfortunately, he passed away at the age of 42 due to weight-related health issues.
Elvis Presley's ethnicity is often described as being of mixed heritage. His ancestry includes German, Scottish, Irish, and Cherokee Native American roots.
Elvis was an only child. Contrary to popular belief, there is no evidence to support the idea that Elvis Presley had a twin brother.
Grandchildren – Elvis Presley had four grandchildren: Riley Keough, Benjamin Keough, Harper Lockwood, and Finley Lockwood. Riley and Benjamin are the children of Lisa Marie Presley, while Harper and Finley are Lisa Marie's daughters with her ex-husband Michael Lockwood.
Elvis Presley's Five Sun Singles
That's All Right/Blue Moon of Kentucky
Baby Let's Play House/I'm Left, Your Right, She's Gone
Good Rockin' Tonight/I Don't care If The Sun Don't Shine
Milkcow Blues Boogie / You're A Heartbreaker
Mystery Train/ I Forgot To Remember To Forget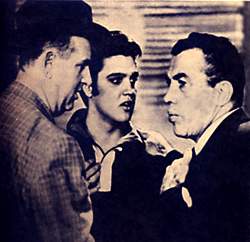 Elvis first appeared on CBS' Dorsey Brothers Stage Show. On The Steve Allen Show, he sang "Hound Dog" to a real dog. From his performance on Milton Berle's Texaco Star Theatre he got the nickname Elvis the Pelvis – which worried the family minded Ed Sullivan. By the third performance, Sullivan decided to "crop" Elvis. Thus, the now famous "from the waist up only" appearance on the Sullivan show. It is estimated that one of these Sullivan performances was viewed by 52 million people – one out of every three Americans.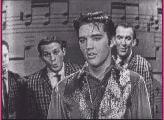 Did you know…Ed Sullivan had a nasty auto accident which caused him to miss five shows, including the one on September 9, 1956. Actor Charles Laughton filled in as guest host, and it was he who first introduced Elvis on the Ed Sullivan Show.
Elvis Presley's TV Guest Appearances
Elvis: #1 Hit Performances includes The Ed Sullivan Shows: The Performances
Parker wanted to move Elvis away from Sun so he began some fancy negotiations. According to the legend, Parker hawked the contract to Decca, Mercury, Columbia and Atlantic – pitting them against one another to get progressively higher bids. Ultimately, RCA bought Elvis' Sun contract for $40,000, a huge sum for that time. Because he was under 21 and therefore, still a minor, Elvis' father, Vernon had to sign the contract.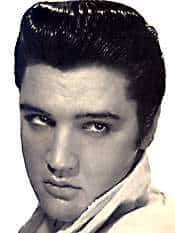 In February of 1956 Elvis recorded his first five songs for RCA. Among these was Heartbreak Hotel, which quickly rose to the top of the charts to become Elvis' first Number 1 hit.
Milton Berle "Mr Television" Collector's Edition – With Elvis
The second half of the decade was good to Elvis. Amazingly, eight of his lifetime Top Ten songs are from the Fifties. This in spite of the fact that from 1958 through 1959, Elvis was in the U.S. Army.
Elvis Presley: The Missing Years by Elvis Presley with Rare Army footage
With the advantage of hindsight, we all know what the future would hold for Elvis Presley. Circumstances would catapult Elvis into a stardom unknown before or since by any single artist. And, the road would wind into a sad and tragic end. Beyond the Fifties we would never again have the intimate, close feeling that Elvis evoked. It would be the last time that we felt we could touch The King.
Elvis Sounds
"Elvis has left the building" is a phrase that originated in the world of entertainment and became iconic. It was commonly used by announcers at Elvis Presley's concerts to inform the audience that the performance had ended and Elvis had left the venue. Over time, the phrase gained popularity and became a catchphrase to indicate that an event or show has come to an end. Today, it is often used in a figurative sense to convey the idea that something or someone significant has departed or concluded.
Elvis saying: Thank you, Thank You Very Much
Elvis answering fan questions in 1956
Elvis talking about Rock & Roll and the Elvis the Pelvis tag
Elvis discusses his Mother
Elvis on acting – A comment on what it was like to show up that first day on the set.
Elvis from Love Me Tender – A romantic clip from the film.
Steve Allen introducing Elvis on his show (Singing Hound Dog)
Elvis Portrait Gallery
This is Elvis Portrait Gallery – These pics are all commercially produced photos (portraits).
Elvis Candid Shots
Elvis Presley Wallpaper
Right Click on the image and choose Set as Background and it will make this picture your desktop wallpaper. Or Click and Save Picture As to save to your computer for later use.