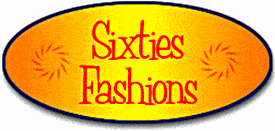 1960s Fashions
Novelty
Paper Dresses, Bra Dresses


The Sixties spawned some novelty dresses. People experimented with the new ease in fashion. Advertisers hopped on the trend to offer these inexpensive items as incentives.
The paper dress to the left was offered as part of a promotion for Johnson's Pies. You paid $1.25 plus S&H. Made by the Scott Paper Company, fire resistant, it tied at shoulder for "easy step-in styling" and had side slits to "let you kick up a sensation." And yes, after wearing, you threw it away.
While the dress below to the left isn't pure paper, you hemmed it with a scissors! From Ac'cent – yes, the meat tenderizer
The outfits below are from Hallmark, the card people. There were matching round paper plates, napkins, and placemats too!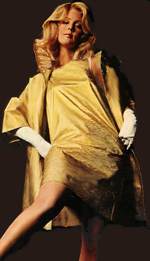 Left
McCalls 1968
It's a throw-away! Sizzling gold dress $1.95 from Ac'cent. It's kicky! A full length dress for partying or discotheque-ing. Soft, new, hand washable material. Scissor hemmed too, cut any length you dare. Send $1.95 and an Ac'cent cap. Dress and all weather coat $4.95 (coat can't be sold without dress.)
Right
McCalls 1968
Blazing Northern-light, neon-bright fun colors spark dazzling new designs. Swinging tent dress in smart mother-daughter styles or a chic jumpsuit.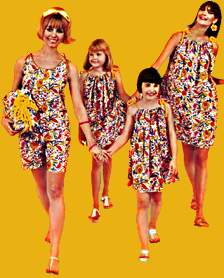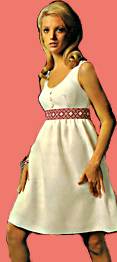 Quite simply, a bra dress had a built-in bra. Like a swimsuit. This way you didn't need to wear a strapless bra but could still keep your girlish fiqure. Not hard to see why this wasn't a long-lived thing.
Left
Montgomery Ward 1969
The Bra Dress – very pretty in a linen-look polyester-rayon that's a breeze to care for. Features its own bulit-in bra with adjustable shoulder straps. Colorful ribbon band trims the bodice, sets off the eased skirt. $9.99
Right
Montgomery Ward 1969
Flower bra pantshift – the greatest way yet to comfort plus top fashion. For the active side of your life, we added culotte styling so right for biking, jogging or just plain relaxing. Low scoop neck, low back. $5.88