1960s Sports – Olympics is possibly the best way for a nation and a people to show their national pride and honor those exceptional amateur athletes who compete to see who will be number one in the world.   It's supposed to be free of politics and hatred and all about competition. It doesn't always succeed at being non-political but it does succeed at holding out promise for even the smallest of countries to prove that their athletes are as good or better than even the Superpowers offerings.
The 1960 games proved this by witnessing a barefoot Ethiopian marathoner win gold or Sprinter Wilma Rudolph a polio victim win three gold medals. Countries like Singapore, Pakistan and Australia all won medals proving that superior athletes can come from any corner of the planet.Rome, Italy
Note: This is the first Olympic Games to be televised, it was carried by CBS in the U.S.
BOXING:
A young and enthusiastic amateur Cassius Clay had won several Golden Gloves championships but was not on anyone's radar as being an Olympic hopeful. Clay (a Baptist)would not change his name to Muhammad Ali until 1964 when he joined the Nation of Islam. Ali is known as probably the greatest fighter ever hence one of his nicknames "The Greatest" of course he gave this name to himself.
TRACK and FIELD: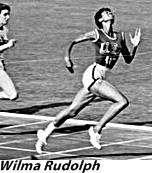 Wilma Rudolph won gold medals in the 100 meters, 20 meters and the 400 metre relay. Rudolph was stricken with Polio as a child and told that she would never walk without the aid of a leg brace. She also suffered from scarlet fever, whooping cough, chickenpox, and measles as a child. she overcame all of this to become a highschool basketball star and college track star at Tennessee State University. She broke one worlds record at the 1960 Games giving her the title "the fastest woman in history".
Abebe Bikila of Ethiopia won the Marathon to become the first black African Olympic champion. He ran the race in his bare feet primarily because Adidas, the shoe sponsor had run low on shoes and he couldn't find a pair that fit properly. He had usually trained barefoot in his home country so this wasn't a big departure for him.
Rafer Johnson of the U.S. defeated his rival and friend C.K. Yang of the Republic of China in one of the greatest decathlon events in Olympic history.
Sprinter Armin Hary, of Germany, won gold medals in the 100 meters and the 400 meter relay setting an Olympic record. He had previously broken the worlds record but it was disqualified for a fast start violation.
BASKETBALL: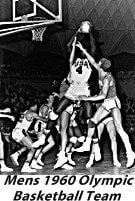 The United States men's national basketball team had won gold in three consecutive Olympics but the 1960 team has gone down in history as the best amateur team of all time.
Future Hall of Fame's Jerry Lucas, Jerry West, Oscar Robertson and Walt Bellamy anchored the team which was coached by Pete Newell of University of California fame. Rounding out the group were four others Terry Dischinger, Bob Boozer, Darrall Imhoff and Adrian Smith who also later played in NBA All-Star Games.
Only the Dream Team of 1992 was considered to be (possibly) better but they weren't ammeter athletes.
GYMNASTICS:
You can sum up Olympic Womens Gymnastics in 1960 by just saying The Soviet Union. Out of sixteen medals up for grabs the Soviets took fifteen of them with Czechoslovakia taking the remaining one. In Mens Gymnastics where 24 medals were awarded the Soviets received eleven with Japan winning nine.
SWIMMING:
One winner stands out, Jeff Farrell of the U.S. won two gold medals after undergoing an emergency appendectomy only six days before he competed in the Olympic trials.
Below are the top five medal winners:
| | | | | |
| --- | --- | --- | --- | --- |
| Country | Gold | Silver | Bronze | TOTAL |
| USSR | 43 | 29 | 31 | 103 |
| U.S. | 34 | 21 | 16 | 71 |
| Italy | 13 | 10 | 13 | 36 |
| Germany | 12 | 19 | 11 | 42 |
| Australia | 8 | 8 | 6 | 22 |
Tokyo, Japan
Note: the Tokyo games were the first to be held in Asia and the first to be internationally televised live via satellite.
BOXING:

This was Joe Frazier's debut to the world. Arriving in Tokyo as an alternate he got his chance when Buster Mathis broke his knuckle sparring with Frazier during practice. Frazier then broke his thumb in his second bout but didn't tell anyone about the injury. He went on to win Gold fighting two more opponents with the broken thumb.
TRACK and FIELD: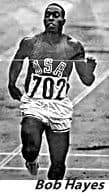 Abebe Bikila won the Olympic marathon for the second time becoming the first person to do so.
American Billy Mills shocked the world by winning the Men's 10,000 m. This was the first and last time an American has won that event.
Bob Hayes won the 100m and tied the world record time as well as winning Gold in the 100m relay. He would go on to play professional football for the Dallas Cowboys. Hayes is the only man to win both an Olympic Gold Medal and a Super Bowl ring.
Edith McGuire won both Gold and Silver for the U.S., Gold was for the 200m and Silver for the 100m, she also received a Gold medal for the 100 meter relay.
SWIMMING:
Don Schollander was the talk of the Olympics, if you were from the U.S. At the age of eighteen he won four gold medals and set three world records. He was voted AP Athlete of the Year and ABC's Wide World of Sports Athlete of the Year.
The U.S. men's swimming team went on to win seven out of ten possible Gold Medals
Dawn Fraser an Australian won Gold in the 100 meter freestyle. It was her third time to win a Gold medal in this event a record she holds with only one other athlete.
GYMNASTICS: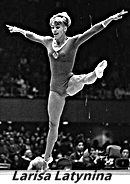 The Soviet Union lost its dominance in Men's Olympic Gymnastics with Japan easily winning the medal count.
Both countries won 14 medals out of 40 possible however Japan had 10 Gold medals to the Soviets one.
In Womens gymnastics the Soviets were still the team to beat winning 15 out of 33 medals with 8 of them Gold.
Larisa Latynina of the Soviet Union won 2 Gold, 1 Silver and 2 Bronze Medals.
This was the third time in a row that she won Gold medals, she also holds the all time most medals count at 9 gold, 5 silver and 4 bronze.
Czechoslovakia won 3 Gold and 5 Silver Medals, Japan received 5 Bronze
WRESTLING:
Japan proved its all or nothing attitude by capturing 5 Gold Medals but not a single Silver or Bronze.
The Soviets captured the most total medals but only 3 Golds.
Osamu Watanabe of Japan retired after the 1964 Summer Games having the only undefeated record in Olympic history at 189-0
Below are the top five medal winners:
| | | | | |
| --- | --- | --- | --- | --- |
| Country | Gold | Silver | Bronze | TOTAL |
| U.S. | 36 | 26 | 28 | 90 |
| USSR | 30 | 31 | 35 | 96 |
| Japan | 16 | 5 | 8 | 29 |
| Germany | 10 | 22 | 18 | 50 |
| Italy | 10 | 10 | 7 | 27 |
Mexico City, Mexico
Note: Mexico City's high altitude (7,349 feet) led to many world records being set.
TRACK and FIELD:
Bob Beamon of the U.S. shattered the old world record in the long jump, he bettered the previous distance by a whopping 22 inches
Al Oerter of the U.S. won Gold in the Discus for the fourth consecutive Games. This was an Olympic first.
Jim Hines broke the world record when he won a Gold Medal in the 100 meter dash.
Tommie Smith (see note under POLITICAL))broke another world record in the 200 meter and won the Gold.
Lee Evans also broke the world record and won a Gold Medal in the 400 meter.
World records were also broken in the 100 meter and 400 meter relay races by the U.S. team.
Olympic records were broken in the 1500 meter, High Jump, Pole Vault, Triple Jump, Discus, Hammer, Javelin, and Decathlon.
Dick Fosbury in winning the Gold and an Olympic record used an unorthodox style when he jumped head first and upside down this style is now referred to as the Fosbury Flop and is the style of choice for all high jumpers.
GYMNASTICS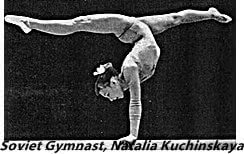 Japan once again proved its strength in Men's Gymnastics by winning a total of 12 medals with 6 of them being Gold.
The USSR also showed well winning 9 total medals, 2 Gold.
In Womens Gymnastics however the Soviets ruled winning 9 with 3 of them Gold.
Czechoslovakia won 6 medals with Vera Caslavska winning a medal in every event she entered, it appeared that she was the victim of some biased judging giving the Soviets an edge in first place finishes.
SWIMMING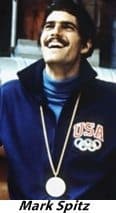 The U.S. would again control this sport breaking a total of 17 Olympic records and 4 world records.
In Men's swimming the U.S. racked up 10 Gold Medals and 25 total Medals
while the closest competitor Australia won 6 and the USSR won 5 medals.
Womens swimming was the same story with the U.S. bringing home another 25 out of a total 45 Medals and 11 out of 14 possible Gold.
Debbie Meyer was the first swimmer to win three individual gold Medals in the 200, 400 and 800 meter freestyle events,
she was 16 years old and still attending high school at the time.
Swimmer Charles Hickcox, U.S. won 3 God Medals and 1 Silver in the 200m, 400m and 100m medley relay and the Silver in the 100m backstroke.
Swimmer Mark Spitz made his Olympic debut winning a Silver in the 100m butterfly and a bronze in the 100 freestyle
Spitz would return to the Olympics in 1972 and win 7 Gold Medals.
POLITICAL CONTROVERSIES: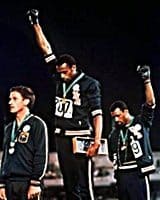 "The Olympics is a forum for athletics and not for politics, if politics were allowed to play a role in the games then the entire spirit and purpose of the Olympics would be lost." a quote from IOC president Avery Brundage
Tommie Smith and John Carlos while receiving a Gold and Bronze medal respectively raised their fists in a "Black Power" salute, they also wore the badges of an organization which was promoting civil rights. The IOC (International Olympic Committee) banned the athletes from any further competition and forced them to leave the Olympic Village.
The Committee had previously banned S Africa from the games for its apartheid segregated treatment of its athletes and felt that civil rights should be addressed by them and not by individual athletes.
Another incident involved a Czechoslovakian gymnast Vera Cáslavská who looked away during the playing of the Soviet National Anthem instead of the her country's anthem (the Soviets had recently invaded Czechoslovakia). She was censored by the Soviets and not allowed to compete or travel for many years.
Ten days before the opening of the Olympics the Mexican Government used force to stop a civil protest of mostly college students the death toll is estimated to be as high as 300 though the Mexican Army only confirmed 44 fatalities, 1345 people were arrested on that October day, yet the Games were not delayed or canceled by this tragedy.
Below are the top five medal winners:
| | | | | |
| --- | --- | --- | --- | --- |
| Country | Gold | Silver | Bronze | TOTAL |
| U.S. | 45 | 28 | 34 | 107 |
| USSR | 29 | 32 | 30 | 91 |
| Japan | 11 | 7 | 7 | 25 |
| Hungary | 10 | 10 | 12 | 32 |
| E. Germany | 9 | 9 | 7 | 25 |