1960s Sports – Auto racing in the U.S. in the 1960s and today is divided into two basic groups, stock car racing and Indy car racing. Stock car racing started as the name implies by racing cars that come right off the showroom floor with some modifications. This actually started in the 1940s when moonshiners would soup up their cars to be able to outrun the Police while they were delivering the illegal liquor. It grew into a sport, primarily in the South and then slowly gained national recognition and popularity. Nascar (National Association of Stock Car Racing) is the sanctioning body.
Indy car racing on the other hand uses cars which are specifically made for racing and cannot be purchased from your local car dealer. The sport grew out of dirt track racing and was heralded along by Tony Hullman who just happened to own a large oval race track in Indianapolis Indiana that was suitable for the faster race cars. The governing body is the USAC (United States Auto Club)and was founded by Hullman.
Formula One racing also utilized Indy type cars but the racing circuit only had one race in the U.S. with the rest of the races being held primarily in Europe.
NASCAR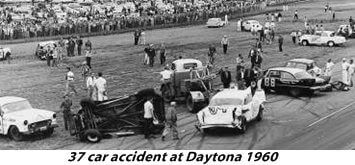 Rex White is crowned the Grand National Champion, winning 6 races, the season held 44 races
Richard Petty got his first professional win at Charlotte, he won two other races this year
Lee Petty, Richards Dad, won 5 races
At a preliminary race in Daytona there was a 37 car pile up, sending 24 drivers to the garage and eight to the hospital
Television came to NASCAR with the limited broadcast of a couple of races at Daytona during speed week
Although indirectly GM, Ford and Chrysler battled it out for bragging rights
during the season with GM winning 20 races, Ford – 15 and Chrysler – 9
USAC Indy Car
The USAC National Champion was A. J. Foyt, winning 4 of the seasons 12 races
Jim Rathmann won the Indianapolis 500 (called the International 500 Mile Sweepstakes until 1981)
NASCAR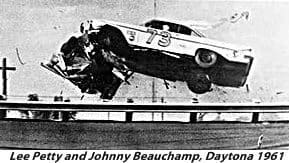 Ned Jarrett is the Grand National Champion with only one first place finish
but 34 top-10 finishes in 46 starts the season had 52 total races
Rex White was second in the points race even though he won 7 races,
Junior Johnson also won 7 races but finished sixth in points
Lee Petty and Johnny Beauchamp are involved in a serious crash at a Daytona 100 mile race
both are hospitalized, Lee Petty had life-threatening injuries
GM cars win 42 races with Pontiac claiming 30 of them, Ford only managed 7 wins
with many events now being televised car companies are stepping up their team involvements
USAC Indy Car
Indianapolis 500 winner was A. J. Foyt
The USAC National Champion was again A. J. Foyt, winning 4 races the whole season consisted of 12 races
NASCAR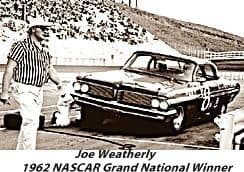 Joe Weatherly becomes the 1962 NASCAR Grand National Champion
he won nine races and raced to 31 top-three finishes, the season consisted of 52 races
Richard Petty finished second in the points race with 8 victories,
Ned Jarrett last years winner finished third with 6 wins
Ford announces that it will actively start sponsoring select racing teams in violation of the 1957 ban against manufacturer involvement
GM cars are still the big winners even though the company is not publicly involved with racing
USAC Indy Car
Rodger Ward was the big winner this year, he won 4 races including the Daytona 500
Ward was also crowned the USAC National Champion
AJ Foyt placed second also winning 4 races
NASCAR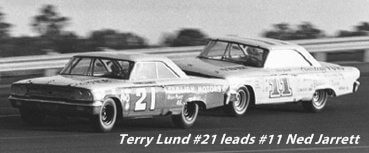 In a repeat Joe Weatherly again wins the points Championship with only 3 first place finishes
he raced for 9 different teams finally winding up behind the wheel of a Ford
Nascar gets a sponsorship from RJ Reynolds Co., the series will now be called the Winston Cup Series until 2004 when Nextel takes over
Richard petty again takes the second points spot even though he had 14 wins out of a 55 race season
The Daytona 500 saw Tiny Lund take the checkered flag
Ford's public sponsorship of racing teams paid off with a majority of wins including the first through fifth places at the Daytona 500
USAC Indy Car
AJ Foyt regains his title again becoming the USAC National Champion
Rodger Ward came in second missing by a mere 740 points, both drivers won 5 of 12 races
Parnelli Jones wins the Indianapolis 500, his first Indy car win
NASCAR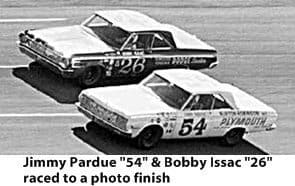 Richard Petty starts a streak by winning his first of 7 Grand National (Winston Cup) Titles
he won 9 races this year, Ned Jarrett was second in points with 15 wins
Tragedy strikes NASCAR 3 fold this year with three drivers losing their lives
Joe Weatherly two time Grand National winner hits a wall at the Riverside 500 and dies instantly
Fireball Roberts is involved in a fiery crash at the Charlotte 600 and dies later of burns he received
Jimmy Pardue is killed while speed testing some new tires when one blew sending him over the railing
USAC Indy Car
This is the year of AJ Foyt, he wins 10 out of 13 races including the Indianapolis 500
and a repeat win of the USAC National Champion
Eddie Sachs and Dave MacDonald tragically died at the Indy 500 when MacDonalds
car hit the wall and burst into flames, 7 other cars were involved including Sachs
Mario Andretti has his first Indy car start at the Trenton Speedway
NASCAR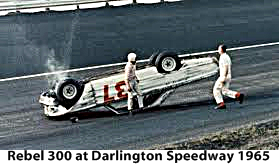 Due to increasing speeds and last years deaths NASCAR changes the rules on engine size
this eliminates Chrysler's big hemi engine, they drop out entering no cars in 1965
Ned Jarrett won the NASCAR Grand National championship by getting the checkered flag in 13 of the seasons 55 races
Rookie driver Dick Hutcherson placed second winning 9 races and trading the lead with Jarett all season
Jarrett wins the Southern 500 at Darlington by 14 laps the largest margin of victory ever
Sadly Rookie Buren Skeen is killed in a race accident at Darlington Speedway
USAC Indy Car

Jim Clark won the Indy 500 race, he led for 190 of the 200 laps and averaged a record setting 150.686 mph
he also won on points the USAC National Championship
Parnelli Jones came in second almost running out of gas on the final lap
Rookie driver Mario Andretti driving like a season vet came in a very close third
Ford swept the Indy 500 with the Ford/Lotus team winning the top 5 spots and qualifying the top 9 spots
NASCAR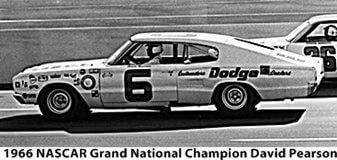 David Pearson is the 1966 NASCAR Grand National Champion, winning 15 races
Richard Petty comes from two laps down to win the Daytona 500 by over a lap
NASCAR decides to allow Chrysler's new hemi engines and Ford pulls all of its cars from competition in protest
Defending champion Ned Jarrett decides to call it quits and retires from driving at the age of 34
his decision is based partially on Ford's boycott of NASCAR, Jarett drove a Ford
Junior Johnson also retires from driving in 1966 he was known as the winningest driver to never have won a championship
USAC Indy Car

Graham Hill won the Indianapolis 500 with a late spurt to take and hold the lead
Mario Andretti, had the pole position and was an odds on favorite but blew a valve in the 27th lap
Andretti did manage to win 8 other races to become the USAC Grand Champion
NASCAR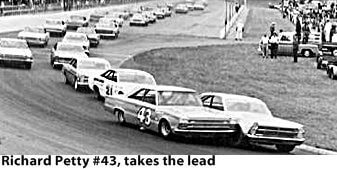 Mario Andretti proves that he can drive any type of car when he wins the Daytona 500
Richard Petty win pretty much everything else taking the Grand National Championship by a land slide
he won 27 races out of 46 starts including a record 10 in a row
Petty became the all-time NASCAR victory leader, the record was held by his father Lee Petty
Fred Lorenzen surprised the drivers by retiring just before the Rebel 400, he let David Pearson drive his car to a second place finish
USAC Indy Car

A. J. Foyt wins 5 races including the Indianapolis 500,
he accumulates enough points to squeak by Mario Andretti for the USAC Grand Champion crown
Andretti wins 8 races but his conflicts with NASCAR keep him from entering as many races
The USAC season is expanded to 21 races in 1967
NASCAR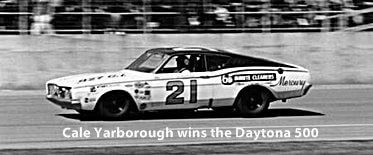 David Pearson gains the Winston Cup Title winning 16 checkered flags in 47 starts
Runner up Richard petty also won 16 races but was not as consistent in his other finishes
Cale Yarborough wins the Daytona 500 in what was almost a photo finish
winning by 1 second over LeeRoy Yarbrough who coincidentally is not related to Cale
Cale Yarborough also wins the Firecracker 400 making it a sweep at Daytona
38 of the seasons 50 races were won by just three drivers, Pearson, Petty and Yarborough
USAC Indy Car

Bobby Unser wins the Indianapolis 500 and the USAC Indy Car Championship winning 4 races
Mario Andretti finished second in points winning 4 races and brother Al Unser was third with 5 wins
The Unser family become racing legends with brothers Al and Jerry
The 1968 racing season was expanded again to 28 races
NASCAR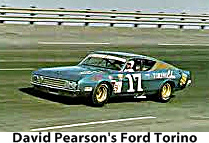 David Pearson wins his third NASCAR Winston Cup Series championship in 1969 winning 11 races
Richard Petty might have been able to overtake Pearson but he suffered broken ribs in an accident and sat out two key races
Bobby Isaac with 17 actually won the most races but finished 6th due to poor finishes in other races
Most of the top drivers form a union, the PDA (Professional Drivers Association) and elect Richard petty as President
they boycott the first ever race at Talladega 500 to protest the track conditions, fans get mad at Petty because of the action
ABC Television signs a contract with NASCAR in 1969 to televise 9 races in 1970
USAC Indy Car

Mario Andretti takes the checkered flag at the Indianapolis 500,
he wins 9 races in total giving him the 1969 USAC Indy Car Championship
Al Unser was second winning 6 races, he was a whopping 2425 points behind Andretti however
The racing season was reduced to a more manageable 24 races for 1969