The first Burger King hamburger stand opens at 3090 NW 36th Street in Miami. Burgers and shakes were 18 cents each. The Whopper, which appears in 1957, will sell for 37 cents.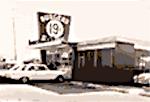 In 1961, McLamore and Edgerton acquire national and international franchising rights.
In 1958, the "Burger King, Home of the WHOPPER" campaign is inaugurated and in 1974 "Have it Your Way" will become a household expression. See, according to the company, there are 1,024 possible ways for a customer to order a WHOPPER sandwich.
In 1998, Burger King opened its 10,000th restaurant.