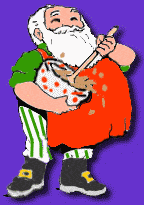 Three great sweet recipes. The first I have made many times and I always get a lot of praise – which I like! I got it from a dear friend of mine who was a woman who knew her chocolates! A real authority, like me.
The second, Pecan Tassies, was sent by Claudia Obermiller of Nebraska, who is a frequent contributor to the Wagon Train section of this site. In loving memory of Helen Garrett Tobis, Claudia's mother, whose recipe we now get to enjoy.
The third, Peanut Butter Squares is so easy. Microwave only! My kinda recipe. Nuke it and chill it!Dedicated in loving memory of
Gladys Burlingame
GLADYS' BOURBON BALLS
6 oz. semi-sweet chocolate morsels
½ cup bourbon (Gladys was flexible about this!)
3 T. light corn syrup
2½ cups vanilla wafer crumbs
½ cup powered sugar
1 cup chopped pecans
Place chocolate in top of double boiler and melt. Remove from heat.Stir in bourbon and corn syrup and set aside.
Combine crumbs and powered sugar and pecans. Mix well. Stir into chocolate mixture and let stand for 30 minutes.
Make 1″ balls and roll in sugar. Put in airtight container.Dedicated in loving memory of
Helen Garrett Tobis
HELEN'S PECAN TASSIES (Danish)
CRUST
2 cups flour
1\2 lb ( 2 sticks) oleo
1 8oz package of cream cheese
Pinch of salt.
Cream above ingredients to make the crust. Roll into small balls. Press into the bottom of muffin pan (Claudia's tip – Use a cupcake pan). Make a thin crust
FILLING
2 eggs
1 and 1\2 cups brown sugar
2 tsp melted oleo
1 tsp vanilla
Pecans
Pinch of salt
Beat eggs. Add brown sugar, melted oleo, vanilla and a pinch of salt. Stir well. Chop up pecans, place some in each crust, add the filling . Bake at 350 till crust is a medium brown and the filling is done. About 25 minutes. Check often.
Claudia's tip – Depending on how full you fill the muffin pans it can take 1 and 1\2 of the filling recipe!From Christmas with Southern Living – 1992
PEANUT BUTTER SQUARES
1 cup butter or margarine
1 cup chunky peanut butter
2 cups graham cracker crumbs
2 cups sifted powered sugar
1 cup semi-sweet chocolate morsels
2 T shortening
Combine butter and peanut butter in a 2 quart glass bowl. Cover with a paper towel, and microwave at HIGH (depending on your oven) 1½ minutes. Stir in graham cracker crumbs an and powered sugar. Press mixture into an 11 x 7 ½ inch dish.
Combine chocolate morsels and shortening in a 2 cup glass measure; microwave on MEDIUM (depending on your oven) for 2 minutes or until chocolate melts. Spread over peanut butter mixture. Chill and cut into squares.
Yield: 4 dozen.
Christmas Recipes Page
Christmas Main Page
©2010-2015. Michael Rich.