A naively trusting public of the Fifties fell in love with television game shows. Some of the games were played for laughs and some for prizes and some for big money. Some survive today in contemporary form. The Price is Right wasn't born with Bob Barker at the helm. It was Bill Cullen in 1956.
On Sunday nights everything came to stop while America watched The $64,000 Question. At their peak, there were 22 game shows on the air.
By 1958 no one was laughing. That naive trust had been replaced by a suspicious cynicism that is with us yet. Why? Because many of the shows were rigged. The "winners" Americans had rooted for had been supplied with the answers in advance.
The scandal prompted Congressional hearings. Although there were no laws prohibiting the "fixing" of game shows, both the networks and their sponsors acknowledged the public's distaste and kept game shows off the air for quite some time.
Here are some original game shows…GAMES SHOWS
$64,000 Question
I've Got a Secret
Queen for a Day
Price is Right
This is Your Life
To Tell The Truth
Twenty One
What's My Line
The $64,000 Question
1955 – 1968
30 minutes
Black and White
Hal March, host
One of the game shows rightly swept into the Quiz Show scandals. Why? Because producers and sponsors tampered with the results.
Contestants entered an isolation booth and "struggled" to answer the most arcane questions in their personally chosen category. Unbeknownst to the viewers and (some of the players) the producers had already provided answers to the more charismatic contestants. If a contestant was likeable, the viewer was more apt to tune in next week to follow their progress.
Interestingly, one contestant preselected by the producers to fail actually succeeded in going all the way to the big prize. Her name – Dr. Joyce Brothers. The subject – prize fighting. Needing the money, she studied for three months before the show and was unstoppable.
Dr. Joyce Brothers and the $64,000 Question
If TV game show Twenty-One was fixed, then the $64,000 Question was "controlled." If they liked a contestant and thought he/she was good for ratings, then they picked questions which played to the strength of the contestant's expertise. And if they didn't like you, they fielded you a hard ball.
Such is the case with Dr. Joyce Brothers, the only person to win both the $64,000 Question and the $64,000 Challenge. But that was far from the plan. The producers wanted to dump her early. Didn't think she had star power.
Partly influenced by Martin and Charles Revson, of Revlon, the show's sponsors, producers attempted to stump Dr. Brothers.
They loved contradictions. The mechanic who knew opera. In her case, the psychologist who knew boxing. Once she got to a certain level and they wanted rid of her, they threw her a question about referees, which they thought to be beyond her grasp.
But the enterprising Dr. Brothers had been studying in between weekly shows, and surprised them all by answering correctly. What could they do but let her run on?
Later she was on the sister show for winners, the $64,000 Challenge where she was challenged by a team of boxers, and yup, again she won the big prize.
I've Got A Secret
Mark Goodson – Bill Todman Production
1952 – 1967
30 minutes
Black and White 1952-1966
Garry Moore, host
Panelists included Bill Cullen, Jayne Meadows, Henry Morgan, Gary Moore, Kitty Carlisle and Betsy Palmer
This show was played strictly for laughs.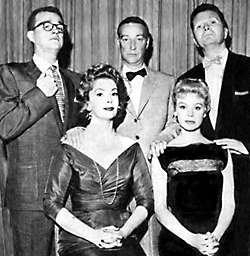 Bill Cullen, Gary Moore, Henry Morgan
Jayne Meadows, Betsey Palmer
Queen For A Day
NOW ON DVD!
Queen For A Day
The 7 known surviving episodes
30 minutes
Black and White
Jack Bailey, host
Some poor bedraggled woman would tell her tale of woe and, if hers was the most pathetic story, she got prizes. Just what some woman who supposedly just lost her home in a fire needed – a refrigerator. This show was strange.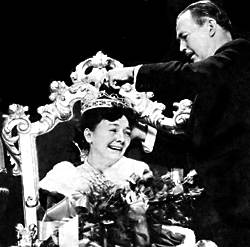 Price is Right
30 minutes
1956 – 1965
Black and White/Color
Bill Cullen, host
Don Pardo, Announcer
Toni Wallace, June Fergusen, Models
Before the venerable Bob Barker took the reins, Bill Cullen hosted the Price is Right. Popular and sought after as a host and panelist, Cullen was a regular on a couple of networks at the same time. Between radio and TV he has been on 25 game shows. No scandal has ever been associated with Bill Cullen.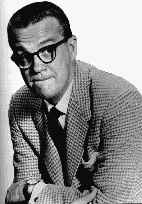 Bill Cullen
This is Your Life
1952-1961
30 minutes
Black and White
Ralph Edwards, host
This was like a surprise party for the guests, who'd be reunited with people from their pasts. The guest was lured to the show under a pretext and then Edwards would exclaim, "This is Your Life!" Sometimes the honoree was a famous person and other times a worthy one. Celebs appearing as guests or honorees included Bob Hope, Stan Laurel and Oliver Hardy, Bette Davis and Jack Benny. Most took it in good humor. Except Lowell Thomas, who flatly refused – on camera and live – to participate. Never let a smile pass his lips.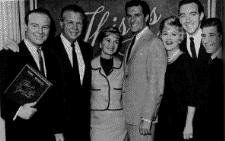 To Tell The Truth
Mark Goodson – Bill Todman Production
1956-1968
30 minutes
Black and White/Color
Bud Collyer, host
Panelists included Kitty Carlisle, Orson Bean, Polly Bergen, Tom Poston, Peggy Cass, Bill Cullen, and Don Ameche
Each contestant claimed to be the same person and panelists had to guess which one was telling the truth. The phony claimants could lie but the actual person had "to tell the truth" when questioned. At the conclusion of the show, Collyer would say, "would the real ________ please stand up."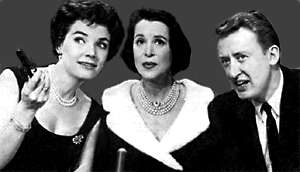 Polly Bergen, Kitty Carlisle, Tom Poston
Twenty One
Albert Freedman Producer
1956-1958
30 minutes
Black and White
Jack Barry, host
Robert Redford directed movie about Twenty One
QUIZ SHOW on DVD
Twenty-One broke the game show scandals wide open. Contestants were placed in isolation booths, given a category and asked how many points they wished to risk.
Producer Freedman approached a young attractive English instructor at Columbia University, Charles Van Doren, about becoming a player on Twenty-One. Assistance would be provided to augment the "entertainment value" of the show.
As Van Doren kept winning, his popularity grew until he became a recognized celebrity. His acting ability didn't suffer either as America watched him "agonize" over each question. Ultimately, he won $129,000 – a hefty sum at any time, but a huge amount in the 50's.
One opponent, Herbert Stempel, didn't like being passed over for greatness by the producers. Bitter, he talked to investigators about Twenty-One and the practice of supplying some players with answers. Van Doren, now a broken and humiliated man, gave one last public performance – testifying before the Congress about his complicity in the deception.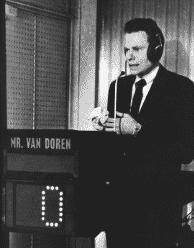 Charles Van Doren
What's My Line
Mark Goodson – Bill Todman Production
30 minutes
1950 – 1967
Black and White 1950- 1966
John Daly, host
Panelists included Arlene Francis, Steve Allen, Bennett Cerf, Fred Allen, Tony Randall and Dorothy Kilgallen.
A panel of four celebrities tried to guess the occupation of the guest by asking a series of yes or no questions. The guest got $5 for each "no" answer.
Panelists were blindfolded for the weekly mystery guest who was a celebrity. Some famous folks who dropped by: Warren Beatty, James Cagney, Bette Davis, Ty Cobb,Walt Disney, Ronald Reagan, Alfred Hitchock and Elizabeth Taylor.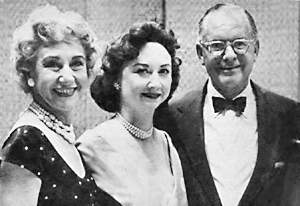 Arlene Francis, Dorothy Kilgallen, Bennett Cerf