VARIETY SHOWS
Milton Berle
Ted Mack's Original Amateur Hour
Your Show of Shows
Perry Como Show
Colgate Comedy Hour
Your Hit Parade
Jack Benny Show
People Are Funny
George Gobel Show
AND ALSO…
Arthur Godfrey
Ed Sullivan
Dinah Shore
Lawrence Welk
Red Skelton
The Golden Age of Television
Classic TV Shows – TV Variety Shows. The Fifties is known as the Golden Age of Television in large part because of the variety shows which dominated the early part of the decade. Variety was to the early Fifties what the Western was to the late Fifties.
Television variety shows of the period were just vaudeville on TV. Most of the performers had honed their comedic skills on vaudeville stages, and the shows were structured like vaudeville revues. And, like vaudeville – these were live performances.
Because these programs spotlighted talent from many sources, they were the ideal springboard for fresh new faces – a place where the legends of the past gave birth to the stars of the future.

Milton Berle Show
BUY on DVD
The Milton Berle Collection
Milton Berle Show
Texaco Star Theater
Buick-Berle Show
Milton Berle Starring in the Kraft Music Hall
6/8/1948 – 1/6/1967 NBC/ABC
Black and White – 60 minutes, 30 minutes, 60 minutes
June 1948 – June 1956 NBC Tues. 8:00 9:00
Oct. 1958 – May 1959 NBC Wed. 9:00 – 9:30
Sept. 1966 – Jan 1967 ABC Fri. 9:00 – 10:00
Call him Mr. Television or Uncle Miltie. In television's infancy, Tuesday belonged to Milton Berle.
The Texaco Star Theater opened with these guys dressed like service station attendants singing "Oh, we're the men from Texaco, we work from Maine to Mexico."
Out would come Berle dressed in some wacky costume, often in drag. Although there were all manner of guests and skits, Berle was the star attraction.
The show switched sponsors over the years and formats, but Milton Berle reigned supreme throughout the Fifties. When they tried to bring him back in the mid-Sixties, however, the times had changed and Berle's brand of vaudevillian comedy was no longer popular.
Passings
Milton Berle died in 2002 of colon cancer. He was 93.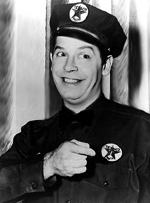 Milton BerleBUY Milton Berle on DVD


Milton Berle's Private Joke File: Over 10,000 of His Best Gags, Anecdotes, and One-Liners – BOOK

Ted Mack's Original Amateur Hour
1/18/1948 – 9/26/1970
Ted Mack's talent show made the rounds to all four networks over time.
As far back as 1934, Major Bowes' Original Amateur Hour was a hit on radio. In 1946, Ted Mack who had previously supervised the auditions, took over. When the show first went over to TV, it was still named for Major Bowes.
A zillion acts apeared on the show but surprisingly few became big names. The way the show worked was you sent in a postcard to vote for your favorite.
Passings
Ted Mack died in 1976.

Your Show of Shows
2/25/1950 – 6/6/1954 NBC
Black and White
90 minutes
Created by Sylvester "Pat" Weaver
Produced by Max Lieberman
Feb 1950 – June 1954 Sat. 9:00 – 10:30
Starring Sid Caesar and Imogene Coca
With Carl Reiner and Howard Morris
Your Show of Shows was a star vehicle to display the immense talents of Sid Caesar and Imogene Coca.
Caesar could do it all and when partnered with Coca, his talent was presented to perfection. Among the characters they created together were Doris and Charlie Hickenlooper and Caesar alone is remembered for Progress Hornsby, Cool Cees, Somerset Winterset and Guiseppe Marinara.
Carl Reiner, a regular, would use his experience with Caesar as material for The Dick Van Dyke Show.
The writing staff included young talents such as Woody Allen, Mel Brooks, Neil Simon and Larry Gelbart (M.A.S.H.).
A popular segment was the spoof of a movie.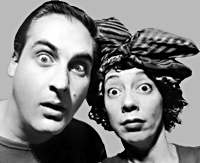 Sid Caesar and Imogene Coca

Perry Como Show
(The Chesterfield Supper Club)
The Kraft Music Hall
2/24/1948 – 6/12/1963 NBC/CBS
Black and White/Color
15 minutes 1948- 1955 60 minutes 1955 – 1963
Theme Song "Dream Along With Me (I'm on my Way to the Stars)" by Carl Sigman
Starring Perry Como
Orchestra – Mitchell Ayres
Regulars – Fontane Sisters, Ray Charles Singers, Louis Da Pron Dancers, Peter Gennaro Dancers
Regulars – Kraft Music Hall – Kaye Ballard, Don Adams, Sandy Stewart, Jack Duffy, Paul Lyne, Pierre Olaf
Perry Como was already a popular singer with an easy going style and a relaxed manner. His show never varied much over the years. Perry sang his hit songs. Big name guests sang their hit songs. The atmosphere was always warm and inviting.
Webmaster's note …
When I was a little girl, my family attended the same church as Mr. Como. Every Sunday he would talk to me and sometimes walk from church with me adoringly by his side. After the eternity of Mass (still in Latin in those days), I always had my moment with Mr. Como to look forward to. This man truly was a gentleman – and I will never forget his kindness to a small child.
Passings
Perry Como died in 2001 of Alzheimer's disease.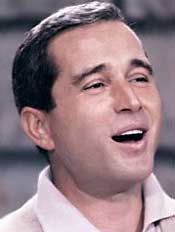 Perry Como
Did you know that …
Perry Como was the first male solo artist to win a Grammy Award?In 1958 for "Catch a Falling Star," Perry Como won Best Vocal Performance, Male.


Perry Como's Christmas Show [DVD](1974)


Perry Como: Greatest Hits [ORIGINAL RECORDING REMASTERED] – 2 CDs

The Colgate Comedy Hour
9/10/1950 – 12/25/1955 NBC
Black and White/Color
60 minutes
Sept 1950 – Dec. 1955 Sun. 8:00 – 9:00
11/22/1953 – First show to ever be telecast in color, as part of an test of RCA's new color system
Every big name in comedy or music appeared on this show which presented rotating hosts. Although thought of now as separate acts, Jerry Lewis and Dean Martin were a very hot pair until personality conflicts broke them up in 1956. Other alternating hosts included Abbott and Costello, Jimmy Durante, Bob Hope, Donald O'Connor, Eddie Cantor and Fred Allen.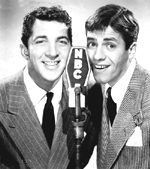 Picture courtesy
Dean Martin Fan Center
BUY Colgate Comedy Hour on DVD
BUY Dean Martin on DVD

Your Hit Parade
10/7/1950 – 4/24/1959 NBC/CBS
Black and White
30 minutes
Theme songs: "Lucky Day" and "So Long for Awhile"
Hosts: Andre Baruch and Del Sharbutt
Regulars: Eileen Wilson, Snooky Lanson, Dorothy Collins, Sue Bennett, June Valli, Russell Arms, Gisele MacKenzie, Tommy Leonetti, Jill Corey, Alan Copeland, Virginia Gibson, Johnny Desmond
The regular performers presented the seven most popular songs of the week. The number one song came last after a big buildup. Expensive production numbers were incorporated to keep interest for songs that stayed onthe charts for weeks.
What was never mentioned, hmm, was that the people who supplied the Top Seven lists was none other than BBD&O, sponsor American Tobacco's ad agency!

The Jack Benny Show
10/28/1950 – 9/10/1965 CBS/NBC
Black and White
30 minutes
The Jack Benny Show Cast
Jack Benny
Mary Livingstone (Mrs. Jack Benny) (1950-1959)
Don Wilson – Announcer
Eddie "Rochester" Anderson as Rochester Van Jones (valet)
Dennis Day, Mel Blanc, Artie Auerbach and Frank Nelson
Jack Benny moved his successful radio to show to TV slowly. First aired as a series of specials, then increasingly shown more often as the years passed.
Benny, known for his repetitve 39th birthdays, had an unstated sense of humor. His exchanges with Rochester are classics of comedy.
Passings
Jack Benny died in 1974 of pancreatic cancer, Eddie "Rochester" Anderson in 1977 of heart problems. Don WIlson in 1982 of a stroke, Mary Livingstone in 1983 of heart disease and Mel Blanc in 1989 also of heart disease.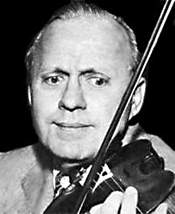 Jack Benny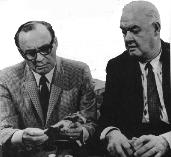 Jack Benny and Don WIlson
Did you know that …
This was an early directorial effort of Fred De Cordova who later was the mainstay of the Tonight Show with Johnny Carson.Also Mel Blanc was the voice of Bugs Bunny.
Click to Buy
Jack Benny on DVD

People Are Funny
9/19/1954 – 4/2/1961 NBC
Black and White
30 minutes
Art Linkletter hosted skits which often involved the audience. A Univac computer, then in its infancy, tried to match up couples.
He did a wonderful bit with children called Kids Say the Darndest Things which was recreated by Bill Cosby in 1998.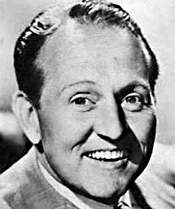 Art Linkletter

The George Gobel Show
10/2/1954 – 6/5/1960 NBC
Black and White
30 minutes
George Gobel Theme Song
Gobelues by John Scott Trotter (thanks to Richard H.)
George Gobel Show Cast
Anita Bryant, Eddie Fisher, Peggy King, Jeff Donnell, Joe Flynn, Harry Von Zell, the Modernaires, Shirley Harmer and Paul Kelly
"Well, I'll be a dirty bird!
"You don't hardly get those no more."
"Lonesome George" Gobel opened his show with a monologue, most often one involving his wife, Alice. Alice was his real life wife's name but she did not appear on the show. Alice was played by Jeff Donnell and Peggy King.
Passings
George Gobel died in 1991.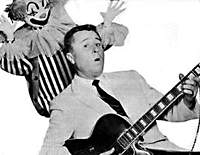 George Gobel