BUY Rat Patrol on DVD
Rat Patrol: The Complete First Season
Rat Patrol: Season Two
Rat Patrol: The Complete Series [DVD]
9/12/1966 – 9/16/1968 ABC 30 minutes
Color – 56 episodes
Filmed in Hollywood and on location in the deserts of Spain
Rat Patrol Cast
Produced by United Artists Television
Christopher George as Sgt. Sam Troy (the leader of the unit and star of the show)
Gary Raymond as Sgt. Jack Moffit (the only Brit in the group, he spoke fluent German)
Lawrence Casey as Pvt. Mark T Hitchcock (always wore a red civil war cap and chewed bubble gum)
Justin Tarr as Pvt. Tully Pettigrew (the best damn driver in the whole African theater)
Hans Gudegast as Hauptmann (Captain) Hans Dietrich (the German Officer who was always chasing the team)
The show was loosely based on the real life WWII exploits of the Long Range Desert Group. This groups mission was to harass, damage and attack as many enemy convoys as possible, thus impeding Germany's goals in the African campaign. The jeeps, trucks and halftracks that they used were as much as possible authentic. Many of the vehicles were found abandoned in the Spanish desert where a lot of the filming was done.
Rat Patrol Tidbits
The most historically incorrect aspect of the show was that American GI's didn't actually serve with the Long Range Desert group and the term Desert Rats was given to the British regiments in that campaign. Because of this the show was pulled off the air in the UK.

Promotional clip for Rat Patrol
Fun Fact
Hans Gudegast changed his name to Eric Braeden and became wildly successful as Victor on The Bold and the Beautiful and then The Young and the Restless daytime dramas.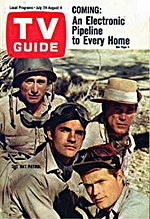 The cast of Rat Patrol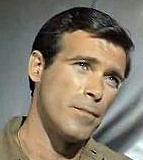 Christopher George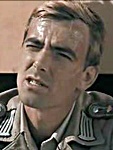 Hans Gudegast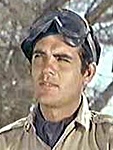 Gary Raymond

Lawrence Casey


Justin Tarr