10/3/60 – 9/24/1962
ABC 1 Hour
Black and White
74 episodes
Warner Bros. Television
Surfside 6 Cast
Troy Donahue as Sandy Winfield II
Van Williams as Ken Madison
Lee Patterson as Dave Thorne
Diane McBain as Daphne Dutton
Margarita Sierra as Cha Cha O'Brien
Don 'Red' Barry as Lt. Snedigar (1961)
Richard Crane as Lieutenant Gene Plehan (1961-1962)
Paul 'Mousie' Garner as Mousie
Surfside 6 Theme Song
"Surfside 6 Theme" by Mack David and Jerry Livingston
Soft guitars under the palms Will gently lead you to a lover's arms
See the waves kissing the shore
While you are kissing someone you adore.
Surfside 6. (It's an address?)
Surfside 6. (For a houseboat?)
Surfside 6. (And where is it?)
In Miami Beach Cha cha cha
Cha.
Surfside 6 Tidbits
Surfside 6 was one the mix and match detective stories from Warner Brothers. Troy Donahue moved straight from Surfside 6 toHawaiian Eye. Van WIlliams' character Ken Madison had moved over from the cancelled Bourbon Street Beat, which occupied the same timeslot the year before.
The gimmick here was that the detectives lived and worked on a houseboat across from the Fountainbleau Hotel on Miami Beach.
Docked next to them was the luxury yacht of socialite Daphne Dutton (Diane McBain) and Cha Cha entertained in the Boom Boom Room at the hotel.
I grew up in Fort Lauderdale and I can testify to the fact that the houseboat really was docked across from the Fountainbleau. I used to make my father drive down there so I could oogle it.
Passings
Magarita Sierra died in 1963 of a heart ailment, Richard Crane in 1969 of a heart attack, Don "Red" Barry committed suicide in 1980, Troy Donahue died in 2001 of a heart attack and Van Williams in 2016 of renal failure, he was 82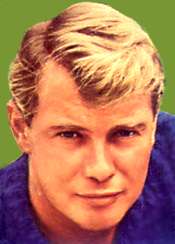 Troy Donahue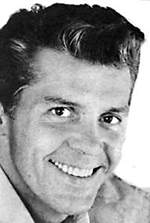 Lee Patterson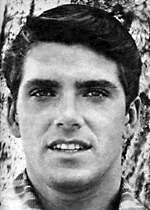 Van WIliams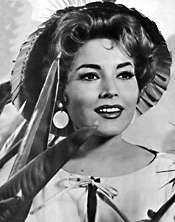 Margarita Sierra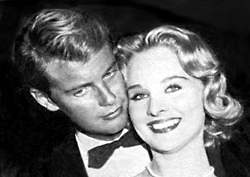 Troy Donahue and Diane McBain
Surfside 6 Trivia
They did some crossovers on these private eye shows. A crossover is where a star from one show appears as his own character but in another show.

To wit on Hawaiian Eye:
Efrem Zimbalist Jr. as Stu Bailey appeared in the first episode, "Malihini Holiday" 10/7/1959 and with co-star Roger Smith as Jeff Spencer in "I Wed Three Wives" 9/14/1960.

Richard Long appeared as Rex Randolph from Bourbon Street Beat on 77 Sunset Strip in "Swan Song for a Hero" 12/7/1960.

The Hawaiian Eye cast went to LA to 77 Sunset Strip as well:
Robert Conrad as Tom Lopaka in "Only Zeroes Count" 10/2/1959 and "Who Killed Cock Robin?" 2/5/1960

The Surfside 6 crowd showed up too:
Troy Donahue as Sandy Winfield I and Van Williams as Ken Madison in "The Hot Tamale Caper" 5/26/1961

And the LA dectectives went to Miami to Surfside 6:
Edd Byrnes as Kookie Kookson and Roger Smith as Jeff Spencer in "Love Song for a Deadly Redhead" 4/30/1962