Adam 12
11/21/1968 – 8/26/1975 NBC 30 minutes
Color – 174 episodes
Adam 12 Cast
Produced by Jack Webb
Martin Milner as Ofc. Peter Joseph 'Pete' Malloy
Kent McCord as Ofc. James A. 'Jim' Reed
William Boyett as Sergeant MacDonald
Shaaron Claridge as Dispatcher
Gary Crosby as Ofc. Ed Wells
William Elliott as Ofc. Grant (1973-1975)
Kristin Harmon as Mrs. Jean Reed (1974-1975)
Jack Hogan as Sergeant Miller (1968-1969)
Mikki Jamison as Mrs. Jean Reed (1969-1970)
Claude Johnson as Ofc. Brinkman (1968-69, 1974-75) and as Ofc. Norm Green (1969-71)
William Stevens as Ofc.Jerry Walters (1968-1969)
Fred Stromsoe as Ofc. Jerry Woods (1972-1975)
Adam 12 Tidbits
From his experience with Dragnet Jack Webb created a realistic cop show about LAPD activities. He even hired Shaaron Claridge, a police radio operator, to provide the voice for show's radio calls.The real life dispatcher was married to a real life LA police officer!
"One Adam Twelve, One Adam Twelve" called the officers to action as they covered several calls per show.
Reed's wife (Kristen Harmon) was oft talked about but only seen three times.
They tried to revive the show as the "New Adam 12" for the 1990 -1991 season. Peter Parros played Ofc. Gus Grant and Ethan Wayne played Ofc. Matt Doyle. But there was no joy to be found and the show cancelled.
Passings
Gary Crosby died in 1995 of lung cancer, William Elliott in 1983, and Fred Stromsoe died in 1994.
---
BUY Adam-12 on DVD
Season One
Season Two
Season Three
Season Four
Season Five
Season Six
Season Seven
Welcome to Adam 12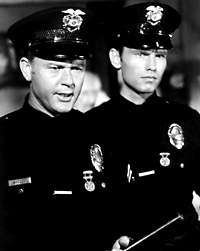 Martin Milner and Kent McCord
---
For Martin Milner fans
He appeared in an episode of Wagon Train, The Sally Potter Story before Adam 12.
External Links
TV Guide's Adam 12 Page, with TV Listings, Photos, Videos, Exclusive News and More.
| | | |
| --- | --- | --- |
| | Kent McCord and Martin Milner | Martin Milner and Kent McCord |