Adventures in Paradise
10/5/59 – 4/1/1962 ABC 1 hour
Black and White – 91 episodes
Based loosely on James Michener's book
Adventures in Paradise Cast
Gardner McKay as Captain Adam Troy
Marcel Hillaire as Inspector Bouchard (1961-1962)
James Holden as Clay Baker (1960-1962)
Lani Kai as Kelly (1960-1962)
Linda Lawson as Renee (1960-1961)
Weaver Levy as Oliver Lee (1959-1961)
Henry Slate as Bulldog Lovey (1960-1961)
Sondi Sodsai as Sondi (1960-1961)
Guy Stockwell as Chris Parker (1961-1962)
George Tobias as Penrose (1959-61)
Adventures in Paradise Theme
"Adventures in Paradise" by Lionel Newman
Adventures in Paradise Tidbits
The boat was an 85 foot schooner named the Tiki and is anchored in Papeete, Tahiti.
Set in the South Pacific, Adventures in Paradise centered around handsome Gardner McKay, whose character, Adam Troy was an American Korean War veteran who carried cargo and passengers from port to port.
At first filming was done on the 20th Century Fox backlot and critics complained. So they began doing some exteriors in the South Pacific. James Michener, after selling the idea to TV execs, backed out of the project.
But who cares about the downside? Ladies had McKay to look at and men had plenty of Tahitian beauties to oogle.
The show didn't do much for McKay's career but he redirected his talents to writing and has had several successful books.
Passings
Gardner McKay died in 2001.
Buy: ADVENTURES IN PARADISE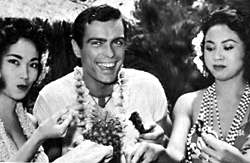 Gardner McKay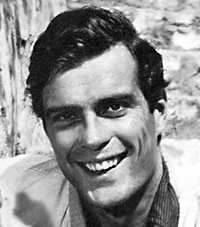 Gardner McKay
Adventures in Paradise Trivia
Adam Troy went to Yale.Adam Troy has the rare blood type AB negative.
Gomez belongs to the Zen Yoga Society