Alfred Hitchcock Presents
Complete Season 1
Complete Season 2
Complete Season 3
Alfred Hitchcock Presents
10/2/55 – 5/10/1965
CBS
30 minutes Black and White – 268 episodes
(Alfred Hitchcock Hour
1962 – 1965)
1 hour on NBC – 93 episodes
Alfred Hitchcock Cast
Alfred Hitchcock – host
Alfred Hitchcock Theme Song
The Funeral March of a Marionette by Gounod
Alfred Hitchcock Quotes
"Television has brought murder back into the home – where it belongs"
"There is no terror in the bang, only in the anticipation of it."
"I didn't say actors are cattle. What I said was, actors should be treated like cattle."
"When an actor comes to me and wants to discuss his character, I say, 'It's in the script.' If he says, 'But what's my motivation?, ' I say, 'Your salary."'
Alfred Hitchcock Tidbits
The critically acclaimed director had three decades of film experience to bring to his television venture. Although he only directed about 20 of the more than 100 original shows, his stamp was on every story.
Who can forget the camera showing him in silhouette? The story goes that this profile sketch is from a Christmas card designed by Hitchcock when he was in England.
Then he'd give you a teaser about tonight's episode, take a little shot at the sponsor, and the chills would begin. (The monologues were written by James Allardice.)
Evil did very well in Hitchcock stories. But he had network moral codes to get past, so he'd come on after the story had ended with that clipped British accent of his and add a postscript which allowed good to triumph.
The show moved from CBS to NBC in 1960 where it remained for two years until CBS brought it back. Renamed The Alfred Hitchcock Hour the show was now an hour format. Unbelieveably, it went back to NBC as a hour show in 1964, but that was the last season.
Alfred Hitchcock never won an Oscar for directing though he did receive the Irving Thalberg Award in 1967.
Now for the truly bizarre. NBC revived the "Alfred Hitchcock Hour" in 1985 with all new episodes. And there he was, every week, now in color. FIve years after his death.
Passings
Alfred Hitchcock died in 1980 of renal failure.Click (Wav)
Good Evening, Ladies and Gentleman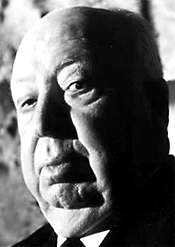 Alfred Hitchcock