Buy Alice on DVD
Complete 1st Season (1976)
Complete 2nd Season (1977)
Complete 3rd Season (1978)
Complete 4th Season (1979)
Alice
August 31, 1976 – March 19, 1985
202 half hour episodes (9 seasons)
in color
Created by: Robert Getchell
Produced by: Warner Bros. Television
CAST
Linda Lavin    Alice Hyatt
Beth Howland    Vera Louise Gorman
Vic Tayback    Mel Sharples
Polly Holliday    Florence Jean 'Flo' Castleberry
Philip McKeon    Tommy Hyatt
Celia Weston    Jolene Hunnicutt
Marvin Kaplan    Henry
Diane Ladd    Belle Dupree
STORYLINE
Alice (Linda Lavin) is widower with a young son (Philip McKeon) who decides on a fresh start in Los Angeles. Her car however decides to break down in Phoenix so she takes a job at a local diner (Mel's Diner) before she can set off for L.A. again. Nine seasons later Alice is still at that diner and she and her fellow employees mixed with quite a few interesting customers made for some delightful comedy.
With her at the diner is Flo (Polly Holliday) who is really looking hard for a man and Vera who sweetness shines through even her most awkward and naive moments. Leading the girls is the Diner's grumpy short tempered owner Mel (Vic Tayback). Later in the series Flo leaves the diner, she gets her own spin-off series, and is replaced by Belle (Diane Ladd) and then later by a woman truck driver named Jolene (Celia Weston).
The show was so popular that a virtual cavalcade of television stars could be found on any given night making guest appearances. Sometimes they would even appear as themselves including Jerry Reed, Joel Grey, George Burns, Art Carney, Telly Savales, Dinah Shore, Robert Goulet, Meadowlark Lemon, and Donald O'Connor. There is an even longer list of stars who appeared as characters who just wonder through Mel's Diner on their way elsewhere adding their own brand of comedy to the sitcom.
Linda Lavin's character Alice was looking for her big break as a singer but Lavin, a singer in real life, asked for and received a couple of opportunities to launch her own singing career by performing on the show.
Video Clip of Alice
Passings
Vic Tayback died in 1990 of a heart attack, he was only 60 years old
Marvin Kaplan died in 2016 of natural causes he was 89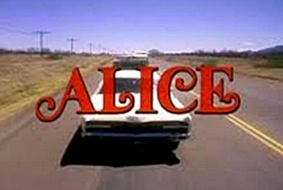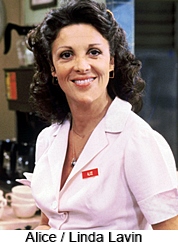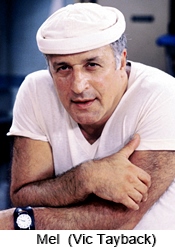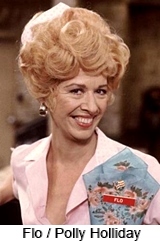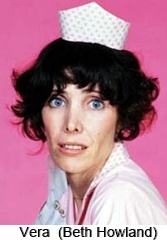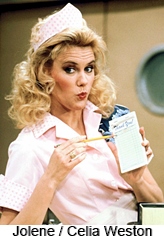 TRIVIA:
Flo added many colorful expressions to the slang of the day, a couple of those were:
"Kiss my grits!" and "When donkeys fly!"
Other expressions by other characters were:
"Butter my biscuits!" and "my little voice"
Mel's favorite exclamation was:
"Stow it!"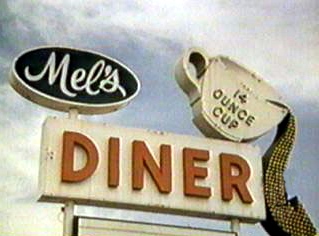 Originally Chris's Diner but the owner
agreed to change the name to Mel's for the show.