Amos 'N' Andy
6/28/51 – 6/11/1953 CBS 30 minutes
Black and White
From the long running radio show
Cast
Alvin Childress as Amos Jones
Spencer Williams as Andrew Hogg Brown
Tim Moore as George 'Kingfish' Stevens
Johnny Lee as Algonquin J. Calhoun
Ernestine Wadeas Sapphire Stevens
Nick Stewart as Lightnin'
Amanda Randolph as Sapphire's Mama
Lillian Randolphas Madame Queen
Jester Hairston as Henry Van Porter
Trivia
Amanda and Lillian Randolph were sisters
Amos 'N' Andy Theme
"The Perfect Song" by Clarence Lucas and Joseph Breil
Amos 'N' Andy Tidbits
Amos 'N' Andy arrived on TV from radio in 1951 and was mired in controversy. The show was produced by Freeman Gosden and Charles Correll, the actors who had created and starred in the radio version. Supposedly, they were paid a million each for the rights to the show. However, they were white which wasn't noticeable on radio, but a recasting was necessary for TV. The search for their replacements was exhaustive.
Many of the scripts were written by Joe Connelly and Bob Mosher, who would be best known as creators of Leave It To Beaver.
Set in Harlem, the story centered on George Stevens (Moore) who was always conniving to make a fast buck. He was president of the Mystic Knights of the Sea, a fraternal order, where he held the position of "Kingfish." His lodge brothers were always getting snared in his schemes.
Soon the accusations of rascisim swirled around the show. Even though it went off the air in 1953 it was frequently seen in syndication. Civil rights groups complained that the characters stereotyped blacks and in 1966 it was pulled. However, it maintains a place in history as the first dramatic show with an all black cast.
Amos 'N' Andy is gaining a near cult status which might be bigger if it was aired anywhere on TV. But if you want to see Amos 'N' Andy, you can find most of the episodes available on DVD as testament to the show's enduring quality.
Passings
Tim Moore died in 1958 of tuberculosis, Johnny Lee in 1965 of a heart attack, Amanda Randolph in 1967 of a stroke, Spencer Williams in 1969 of kidney disease, Lillian Randolph in 1980 of a stroke, Ernestine Wade in 1983, Alvin Childress in 1986 of Parkinson's disease and diabetes, Nick Stewart and Jester Hairston died in 2000.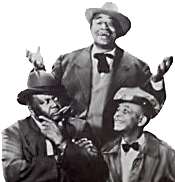 Spencer Williams, Tim Moore
and Alvin Childress