Smilin' Ed McConnell and his Buster Brown Gang
1951-1955 NBC, CBS, ABC 30 minutes
Andy's Gang
8/20/55 – 12/31/1960 NBC 30 minutes
Black and White
Both sponsored by Buster Brown Shoes
Andy's Gang Cast
Ed McConnell (1951-1955)
Andy Devine (1955-1960)
Nino Marcel as Gunga Ram
June Foray as Midnight the Cat/Old Grandie, the witch
Billy Gilbert as The Teacher
Lou Krugman as The Maharajah
Jerry Maren as Buster Brown
Alan Reed asThe Poet
Vito Scotti in Pasta Fazooli/Rama
Bud Tollefson as Tige, the dog
Trivia
Andy Devine's real name is Jeremiah Schwartz

Tidbits
PLUNK YOUR MAGIC TWANGER, FROGGY!
Words to make a Baby Boomer smile. The mischievous Froggy the Gremlin appeared in a puff go smoke and was always interrupting the story!
Smilin' Ed McConnell started the show with ""Hiya, kids" followed by the audience singing the sponsor's song (Buster Brown Shoes) "I got shoes, you got shoes, everybody's got to have shoes, but there's only one kind of shoe for me-good old Buster Brown shoes!"
Then Ed said "Thank you buddies and sweethearts. Good old Buster Brown shoes are on the air out here in Hollywood for another good old Saturday hullabaloo."
At first the show was filmed in front of a live audience but as McConnell's health deteriorated, they used prefilmed kiddie reaction shots intercut with the studio performance. McConnell died of a heart attack in 1955.
The show then went to the rough voiced, gentle giant, Andy Devine. They feared real kids would be intimidated by Devine, so again the used the studio reaction shots and Devine did his segments without a live audience.
The show began with Andy sitting in a big easy chair reading from a book, Andy's Stories. Remember Midnight the Cat and Squeeky the Mouse? Grandie the Talking Piano?
How about Gunga Ram? In the filmed segments, he was an Indian boy played by Nino Marcel. Gunga (Ghanga Rama during Smilin' Ed's tenure) and his friend Rama (Vito Scotti) helped out the Majarajah.
Andy had a lovely closing. " "Yes, sir, we're pals and pals stick together. And now gang, don't forget church or Sunday school."
Passings
Ed McConnell died in 1955 of a heart attack and Andy Devine in 1977 from leukemia.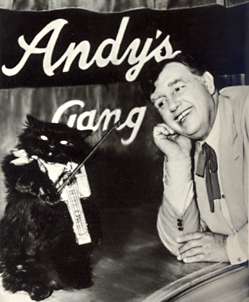 Midnight the Cat and Andy Devine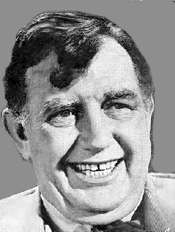 Andy Devine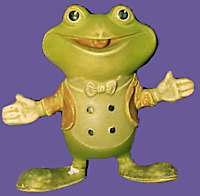 Froggy the Gremlin
For Andy Devine fans:
He appeared in theWagon Trainepisode, The Jesse MacAbbee StoryEmail for details.