Buy Arrest and Trial on DVD
Part 2 (1963)
The Complete Series (1963-64)
Arrest and Trial
September 15, 1963 – September 6, 1964
(30) ninety minute episodes (one season)
in B&W on ABC
Produced by: Frank P. Rosenberg with Revue Studios and Universal TV
CAST
ARREST
Ben Gazzara … Det. Sgt. Nick Anderson
Roger Perry … Det. Sgt. Dan Kirby
Noah Keen … Det. Lt. Bone
TRIAL
Chuck Connors … Attorney John Egan
John Larch … Deputy DA Jerry Miller
John Kerr … Assistant Deputy DA Barry Pine
OTHER
Don Galloway … Mitchell Harris
Joe Higgins … Jake Shakespeare
Joanne Miya … Janet Okada
STORYLINE
The format of Arrest and Trial was certainly unique for the time, consisting of two 45 minute segments tied together primarily by the criminal. The first part followed a trio of Los Angeles detectives as they solved crimes and arrested the bad guys.
With a heavy weight like Ben Gazzara as Det. Sgt. Nick Anderson, aided by Roger Perry as Det. Sgt. Dan Kirby and Noah Keen as Det. Lt. Bone the streets never seemed safer. This portion had all of the necessary elements to be a stand alone police drama.
Here comes the twist, after the arrest, the trial part of the show takes over for the next 45 minutes. The star of this segment was actually the defense attorney John Egan portrayed by Chuck Conners who was a huge tv star after a successful 5 year run on The Rifleman. On the other side of the room were the District Attorneys Jerry Miller (John Larch) and Barry Pine (John Kerr).
Just because Chuck Conners was defending them doesn't mean that the criminals always got off. Justice prevailed and the innocent were freed with the guilty being sent to the big house.
At this point I'm sure you're scratching your head and saying wait a minute that sounds like Law & Order and it was with the exception that Law & Order focused just on the police and the district attorney whereas Arrest and Trial also focused on the defense side of the equation.
Video Clip of Arrest and Trial
Passings
Chuck Conners died in 1992 of lung cancer, he was 71
John Larch died in 2005 of natural causes, he was 91
Don Galloway died in 2009 of a stroke, he was 71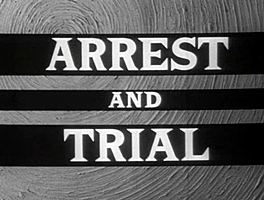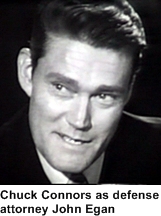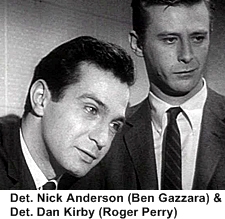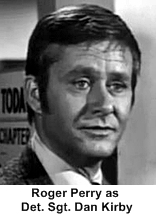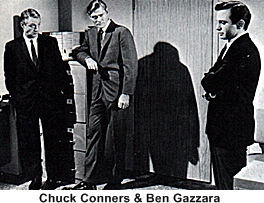 TRIVIA:
Executive Producer Dick Wolf claims that he had never seen Arrest and Trial when he created "Law & Order". In his defense, although the split format is the same the two shows have very little in common as far as content or focus. We'll just chalk this one up to deja vu.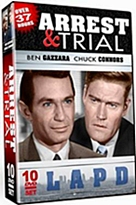 Arrest and Trial on DVD