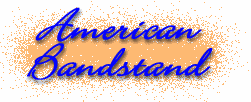 (November 30, 1929 – April 18, 2012)
This site is not endorsed by or associated with dick clark productions, inc. or its family of companies.
American Bandstand – Broadcast History
Bandstand began as a local program on WFIL-TV (now WPVI), Channel 6 in Philadelphia on October 7, 1952. Then it was hosted by Bob Horn and was called Bob Horn's Bandstand.On July 9 of 1956 the show got a new host, a clean-cut 26 year old named Dick Clark. When ABC picked the show up, it was renamed American Bandstand, airing it's first national show on August 5, 1957. The show was moved to Los Angeles in 1964. From 1963 to 1987 Bandstand was on only once a week, on Saturday. Briefly it was part of the USA Network with new host David Hirsh but went off the air in 1989.
American Bandstand
10/7/1957 – 9/5/1987 ABC 60 minutes
4/8/1989 – 10/7/1989 Syndicated
Black & White/Color (9/9/1967)
Dick Clark's first day as host: 7/9/1956
Goes from a daily to a weekly Saturday show in Philadelphia: 9/7/1963
Broadcast from Los Angeles: Begins 2/8/1964
Produced by Anthony "Tony" Mammarella and Dick Clark
(Bob Horn's) Bandstand
10/7/1952 – 7/1957 local program
American Bandstand Cast
Dick Clark – Host
Bob Horn – Host (Bob' Horn's Bandstand)
American Bandstand Theme Song
"Bandstand Boogie"
Music by Charles Albertine
Words by Barry Manilow and Bruse Sussman
"We're goin' hoppin' (Hop!)
We're goin' hopin' today
Where things are poppin'(Pop!)
The Philadelphia way We're goin' drop in (Drop!)
On all the music they play On the Bandstand.! "
American Bandstand Trivia
Firsts and Lasts
1st song played on the national edition was Jerry Lee Lewis' "Whole Lotta Shaking Goin' On."1st Guests: Billy Williams, ChordettesLast song on the ABC network was Laura Branigan's "Shattered Glass."
B.B. King is the only performer NOT to lip-synch on American Bandstand.
American Bandstand Tidbits
Weekday afternoons were spent with the kids in Philly, the kids on American Bandstand. I knew all their names. I knew when couples broke up. I imitated all the dance steps, sometimes with the refrigerator door as a partner. My mother thought I was nuts.
To many of you, it was about the music and the artists. Forget that. I was a preteen, which is to say, I was a teenage wannabe. And, for me, the kids on Bandstand were all I aspired to be.
Dancing was a major feature of Bandstand. The kids who showed up every day (Bandstand aired every weekday afternoon for the first six years) knew all the most popular steps. The Slop. The Hand Jive. The Bop. They even invented a few – the Stroll, the Circle and the Chalypso.
These experienced Regulars considered an infrequent participant or a first time visitor "an amateur." I wonder what they would have thought about a kid in TV Land, practicing the new steps in front of her bedroom mirror and praying to God her little brother didn't catch her at it.
Filmed in the cramped quarters of the WFIL Studios at 46th and Market Streets in Philly, Bandstand is such a part of Americana that Dick Clark's podium now resides in the Smithsonian.
(7/21/2011) I just received this from Bunny Gibson and certainly thought it was appropriate to mention here:
Anna Russo, formerly Anna Banani, went to American Bandstand 1963 until AB left Philly for Los Angeles, lost both of her legs to diabetes and is in need. I'm sure she'll be thrilled to hear well wishes and from Bandstand friends and fans and donations would help her a lot. Anna Russo, 2800 North 7th Street, Apt. A   Philadelphia, PA 19133
Thank you, WebmasterBONUS PAGE
American Bandstand Fundraiser Pictures
---
To my knowledge, no VHS tape of American Bandstand is commercially available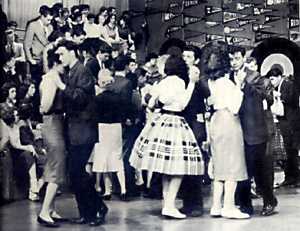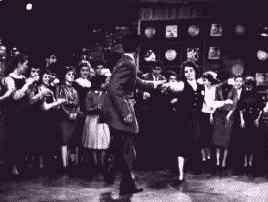 Dick Clark was born November 30, 1929.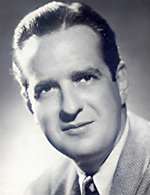 Bob Horn
Rate-A-Record
"It has a good beat and you can dance to it."
Rate-A-Record, where three kids would listen and then rate a new song, was a very popular segment. Rankings went from 35 to 98.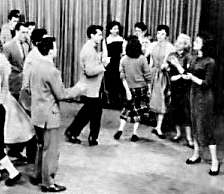 The Stroll
American Bandstand Trivia
The Stroll
See above pictureThe Stroll recorded by The Diamonds in 1958
Written by Clyde Otis & Nancy LeeI get a lot of questions about how do to the Stroll. It's easy. Here's how:Form two lines, guys on one side, facing the gals on the other.The first guy and gal make their way down the line strutting their stuff. Swish and sway your way down the row. At the end, separate with the guy rejoining the mens aisle, the gal lining up with the women.Then the next couple makes their way down the line.Meanwhile the people in the line move to the music. You know, look cool.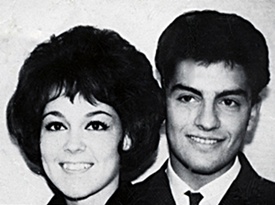 Bunny Gibson and Don Travarelli
Don Travarelli, from South Philly, watched American Bandstand in 1961 and spotted Bunny Gibson dancing. He fell in love with her. He practiced dancing with his niece, Robin, but when he went down to the show, they wouldn't let him in because he was over the age of 18. Determined, Don got Bunny's number from one of the regulars and he met his dream girl. The rest is American Bandstand history. Don married Bunny. He was 21 and she was 16. They married during her Thanksgiving vacation from Northeast High School. Bunny's mom, Betty, made her promise that she would graduate. She was a senior….and luckily on the Honor Roll.
Don and Bunny had two daughters: Angel and Maria and four grandchildren: Lea & Christopher Di Vello, Alexis Karanzalis & Nicole Weiss.
So Bandstand really did change her life in many ways.
For More Bunny click here to go to Bunny Gibson.com
Bunny Gibson discusses the 50th celebration of American Bandstand'
The Philly Regulars

Kenny Rossi


Frani Giordano

Joe Wissert


Carmen Jimenez


Walter Grezlack


Ronnie Verbit


Carole Scaldeferri


Jimmy Peatross


Janet Hamill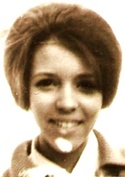 Paula Kopicko
The Philly Regulars
This site is not endorsed by or associated with dick clark productions, inc. or its family of companies.
Everybody knew the names of The Regulars on Bandstand. Kenny Rossi and Arlene Sullivan, Bunny Gibson and Eddie Kelly, Pat Molittieri, Carmen Jimenz, Joyce Shafer. We followed their dance steps on TV and their personal lives in Teen magazines. We sent some 15,000 fan letters each week.
Remember, these Regulars weren't paid actors or dancers. They were real kids from Philly, and if you watched every day, you could tell who was breaking up and who was making up.
The Regulars, also known as "The Committee" were only a part of the Bandstand story. Hundreds of kids lined up each day hoping to be one of the few lucky ones who got to dance alongside the Regulars and share part of the magic that was American Bandstand.
To the left you'll find original pictures of some of the Regulars.
American Bandstand – A Philly Yearbook

Joyce Shafer and Norman Kerr in 1961

Joyce Shafer
and Norman Kerr in 1988


Joyce Shafer talks about herself and her dance partner, Norman Kerr

"Norman was one of a kind, always making people laugh. We would roar, roll over with pain from laughing so hard. Norman had a very, very unique sense of humor, which made him so popular with all that knew him. He still had that in him until the evening before he passed away. Never, did I ever think that I would be with him, holding his hand when he passed away. I was truly blessed in my life with wonderful family, friends and fans. I can honestly say that I was the most blessed person in the world the day I met Norman and he and I became steady dance partners."

Meeting Norman…
"Norman and I met in January 1959 while standing outside of the studio waiting to get inside. I had asked Norman to dance when it was a ladies choice. From that dance on we became steady dance partners until I had to leave the show on my 18th birthday, which was in August of 1961."

The Pony Contest…
"The most memorable day for Norman and me was April 13, 1961, the day we won second place in the Pony Dance Contest. We each won a HI-FI, and 50 record albums. I still have my HI-FI sitting against a wall between my living room and dining room. The 50 record albums are packed away for safekeeping."

Norman's passing…
"Norman passed away on December 6, 1990. He was six weeks shy of his 47th birthday. Norman was born on January 18, 1944. One older brother survives Norman. "

True love…
"My husband and I met on a blind date and six months later on April 12, 1964 we were married. In March of 1970 we moved to New Jersey. We have lived in NJ ever since. "

Puppy love…
"I have a Champion Samoyed show dog. His name is, "Champion Polar Images Namron 'O My-Joy", as recorded with the AKC. We call him Namron and yes, if you spell his name backwards it spells, Norman. "
| | |
| --- | --- |
| Pat Moliterri | Known for her perky personality, Pat Moliterri is credited with inventing the dance, the Hop, by combining elements of the Slop and the Bop.Sadly, Pat died in in the mid-seventies of a heart attack. She was 36. |
NEW PAGE! "Dancing with the American Bandstand Stars" Fundraiser, July 15, 2009
Fundraiser for the renovation of the original American Bandstand Studio Floor
Click here to see some of your favorites back in action.
CLICK FOR
AB FUNDRAISER PAGE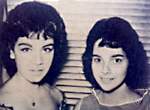 Annette Funicello and Arlene Sullivan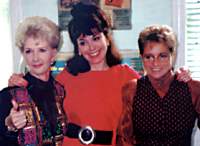 Bunny Gibson (middle)
and Arlene Sullivan (right) in 1997
Gone
but not forgotten
List provided by David Frees
Norman Kerr
Pat Moliterri
Mike Balara
Joan Buck
Bob Kelly
Ron Caldora
Nick Gaeta
Billy Cook
Ritchie Cartledge
Bobby Baritz
Myrna Horowitz
Maryann Colella
Bonnie Harden
Joe Jacovini
Jimmy Peatross
Carole Scaldeferri
Lorriane Iannetti
Ann Monahan
Micki Duffy
Carol McColley
Frank Lobis
George Kralle
Harvey Robbins
Bob Durkin
Charlie Hibb
Bill "Speedo" Mulivihill
Paula Kopicko
Joe Fusco
Monte Montes
Paul Thomas
Joe Sullivan
Maryann Cuff
Joann Montecarlo
Sadly we also lost:
Dick Clark 1929 – 2012
American Bandstand
Dance Couples
Arlene Sullivan and Kenny Rossi
Bunny Gibson and Ed Kelly
Joyce Shafer and Norman Kerr
Carole Scaldeferri and Nick Gaeta
Mary Beltrante and Lou DeSero
Barbara Levick and Joe Wissert
Janet Hamill and Eddie Connor
Carmen Jimenez and Frank Vacca
Dottie Horner and Frank Spagnuola
Won the Chalypso Contest
Frani Giordano and Mike Balera
Won the Pony Contest
Paula Kopicko and Ritchie Cartledge
Won the Mashed Potato Contest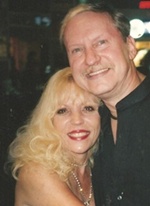 Paula Kopicko with David Frees in 2002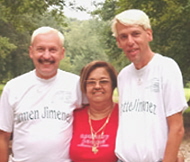 Carmen Jimenez in 2005 with David Frees
and friend David Hill.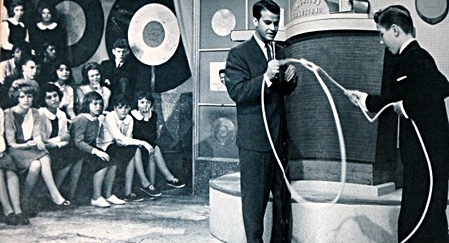 Dick Clark with Johnny Crawford.
May, 1961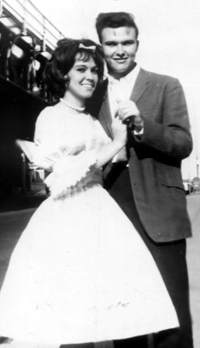 Bunny Gibson and Eddie Kelly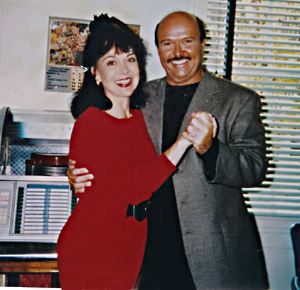 Bunny and Eddie Today
Kathleen "Bunny" Gibson Marries Richard "Duke" Tirschel
On December 27 Bunny Gibson, American Bandstand Regular from 1959-1962, married Duke Tirschel in Chattanooga , Tennessee. They were introduced as a result of an email sent to the Fifties Web.
Back in July, I received a most endearing email from Duke which told of his experiences in life. He spoke of his youth, of Bandstand and his favorite gal, Bunny. Normally, I do not forward mail to the Regulars. But this one was different. Not only was it extremely intelligent, but there was something moving about the man's story.
So I forwarded the mail to Bunny.
The rest, as they say, is history. Bunny and Duke met several months ago and now are married. A storybook ending to a tale that began with American Bandstand, albeit 40 years ago!

Yes, yes, I know. You want to know about the guy! Duke is a premier photographer of the martial arts as well as being an expert. He is a man of God and over the years has established both karate and prison ministeries. And he has the one criteria required to attract Bunny Gibson. He's a heckuva good dancer who does a mean jitterbug!
The couple first honeymooned on the Chattanooga Choo Choo, the famed railway that was immortalized by Glenn Miller and was the first to run South to North. They are extending the honeymoon in Stone Mountain, Georgia, where Duke has called home. However, the couple will shortly be returning to Los Angeles, which will be their permanent residence.