Buy Benson on DVD
Complete 1st Season (1979)
Complete 2nd Season (1980)
---
Benson
September 13, 1979 – April 19, 1986
(158) half hour episodes (7 seasons)
in color on ABC
Created by: Susan Harris
Produced by: Paul Junger Witt, Tony Thomas and Susan Harris
CAST
Robert Guillaume as
James Noble as
Inga Swenson as
Missy Gold as
Rene Auberjonois as
Ethan Phillips as
Didi Conn as
Caroline McWilliams as
Jerry Seinfeld as

Benson DuBois
Governor Eugene Gatling
Miss Gretchen Kraus
Katherine 'Katie' Gatling
Clayton Runnymede III
Peter 'Pete' Downey
Denise Florence Downey
Marcy Hill
Frankie (in 3 episodes)
Theme Music
Composer: George Aliceson Tipton
STORYLINE
Benson was the butler for the Tate family in the TV comedy, Soap, for which he won an Emmy. The character was so wildly popular that ABC gave him his own spin-off series as the majordomo of a State Governor's household.
Benson (Robert Guillaume) was excellent at his job, running the household. So much so that Governor Gatling (James Noble) relied on him for advise on Government affairs and his staff as well. This infuriated the Governor's staff specifically Clayton Endicott III (René Auberjonois). The household chef, Gretchen Wilhemina Kraus (Inga Swenson) also had her battles with Benson which were usually resolved after considerable shouting and some cutlery throwing.
The Governor's daughter 'Katie' Gatling (Missy Gold) adored Benson and went to him to solve many dilemmas that she thought her single father just wouldn't understand. Also on "team Benson" were the Governor's secretary, Marcy Hill (Caroline McWilliams) and his Press Secretary, Pete Downey (Ethan Phillips). They often used Benson to soften the Governor up on important decisions leading to comical situations.
In later seasons Benson was promoted to state budget director, Lieutenant Governor and then in the last season he runs against Gatling for Governor. The victor of that race was never disclosed and the series ends with Benson and the Governor watching the election results together in the Governor's mansion.
Video Clip of Benson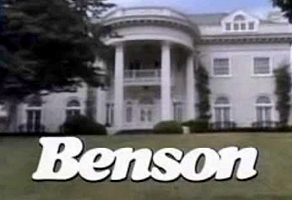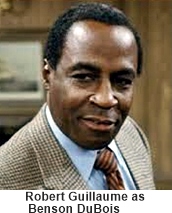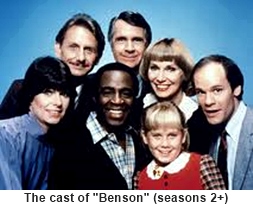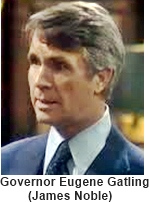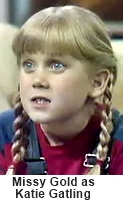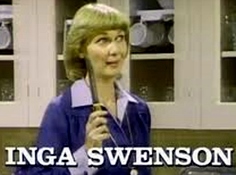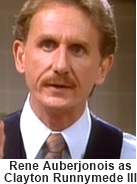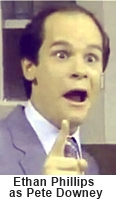 TRIVIA:
On the final episode of Benson, the Governor was running for re-election and Benson was running against him! Three different endings for that episode were shot … one with the Governor being re-elected … one with Benson being elected … and one with a third candidate winning. Even though the episode was titled, "And the Winner Is", when it aired the episode ended without revealing the winner!
The producers decided to end the series on a good note, so no victor was ever revealed