Bewitched
9/17/1964 – 7/1/1972 ABC 30 minutes
Black & White/Color – 254 episodes
(1964-1966 -B&W)
(1966-1972 – Color)
Bewitched Cast
Elizabeth Montgomery as Samantha Stephens/Serena
Dick York as Darrin Stephens (1964-69)
Dick Sargent as Darrin Stephens (1969-72)
Agnes Moorehead as Endora
David White as Larry Tate
Erin Murphy as Tabitha Stephens (1967-1972)
Diane Murphy asTabatha Stephens (1966-1972)
David and Greg Lawrence as Adam Stephens (1971-1972)
Irene Vernon as Louise Tate (1964-1966)
Kasey Rogers as Louise Tate (1966-1972)
George Tobias as Abner Kravitz
Alice Pearce as Gladys Kravitz (1964-66)
Sandra Gould as Gladys Kravitz (1966-1972)
Marion Lorne as Aunt Clara (1964-68)
Paul Lynde as Uncle Arthur (1965-1972)
Maurice Evans as Maurice
Trivia
Elizabeth Montgomery was actor Robert Montgomery's daughter; she divorced actor Gig Young in 1963 to marry the show's director William Asher (I Love Lucy, Alice, Dukes of Hazzard), whom she divorced in 1973. In 1995 she married actor Robert Foxworth.
Bewitched Theme Song
"Bewitched (Main)" by Howard Greenfield and Jack Keller
A delightful if improbable scenario sets the lovely good witch Samantha (Elizabeth Montgomery) married to a mere mortal, a regular fella who worked for the ad agency McCann and Tate. To maintain domestic tranquility, she agrees to avoid the practice of magic. Easier said than done. That nose was always just a twitch away from trouble.
Bewitched Tidbits
Perhaps Bewitched is best known for the tale of the two Darrins. Dick York, Darrin Number 1, was replaced by Dick Sargent as Darrin Number 2. Without so much of a word of explanation.
Dick York had been seriously injured while filming "They Came to Cordura" in 1959.The pain persisted into the Bewitched days. In 1969 he was written out of fourteen episodes to accomodate his infirmity. When he tried to return to the show, he suffered a seizure on the set and went off to the hospital. Never to return to the show.
That wasn't the only replacement. To wit:
Successive sets of twins were cast as Tabitha.
Alice Pearce (Gladys Kravitz) died in 1966 and so was replaced by Sandra Gould.
Darrin had two Dad's, Robert Simon and Roy Roberts.
Sam' s Aunt Hagatha was played by both Ysabel MacCloskey and Reta Shaw.
Darrin's secretary was played by four different actresses. A record even for Bewitched.
Ah, and the nearly silent partner in the ad agency, Howard McCann, who only apppeared twice, was played by two different actors – by Leon Ames and Gilbert Roland.
Passings
Sadly, all of the adult major players are dead.
Agnes Moorehead died in 1974 of lung cancer, David White in 1990 of a heart attack, Dick York in 1992 of emphysema, Dick Sargent in 1994 of prostate cancer, and Elizabeth Montgomery died in 1995 of colorectal cancer. Alice Ghostley died in 2007 of colon cancer.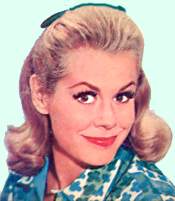 Elizabeth Montgomery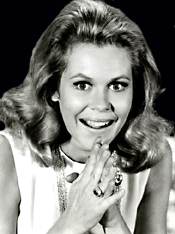 Elizabeth Montgomery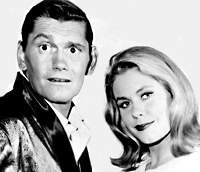 Dick York and Elizabeth Montgomery
The Stevens Family
Click to Buy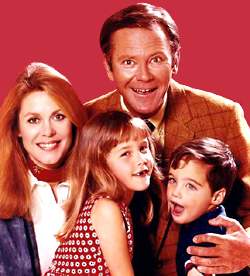 The Other Stevens Family