9/16/1965 -5/19/1969 ABC 60 minutes
Color – 112 episodes
(Sept. 1965-July 1966 Wednesday 9:00-10:00)
(July 1966-May 1969 Monday 10:00-11:00)
Big Valley Cast
Barbara Stanwyck as Victoria Barkley
Richard Long as Jarrod Barkley
Peter Breck as Nick Barkley
Lee Majors as Heath Barkley
Linda Evans as Audra Barkley
Napoleon Whiting as Silas
Charles Briles as Eugene Barkley (1965-1966)
James Gavin as Sheriff (1966-67)
Douglas Kennedy as Sheriff Fred Madden (1967-69)
Horses:Misty Girl is Victoria's, Coco is Nick's
Big Valley Theme Song
"Big Valley Theme" by George Duning, Joseph Mullendore, Elmer Bernstein
Big Valley Tidbits
Around 1878 widow Victoria Barkley (Barbara Stanwyck) ran her huge spread in California's San Joaquin Valley near Stockton with the help of her four sons. (A youngest son, Eugene, was seen in early episodes.)
Jarrod (Richard Long), the eldest, was a lawyer and Nick (Peter Breck) ran the ranch and was good with horses. Audra (Linda Evans) was the pretty, unmarried daughter.
Heath (Lee Majors) was Victoria's late husband Tom's illegitimate son. While away on business, Tom had been nursed back to health by Leah Simmons. He left to return to his family and Leah never told him she was pregnant. Eventually a grown Heath seeks to discover his roots and finds the Barkley Ranch. Victoria welcomes him as one of her own.
My only problem with the show was that every 5 or 6 episodes, Heath would get in a snit and threaten to leave. Then Big Mama Victoria would do her "you're a Barkley" routine and he'd stay. Time came when I wanted to shout – so go already!
Of note, this was Lee Majors' first acting job after only six weeks of drama school!
Passings
Douglas Kennedy died in 1973 of cancer, Richard Long in 1974 of heart problems, Napolean Whiting in 1984, Barbara Stanwyck died in 1990 of congestive heart failure and Peter Breck in 2012 he was 82.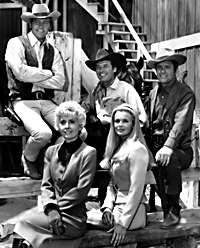 Big Valley cast
From the Doug Abbott Collection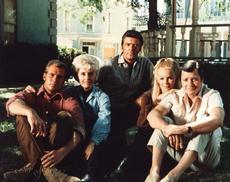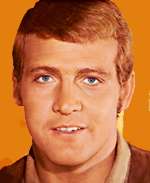 Lee Majors
For More of Peter Breck See
Black Saddle
Maverick
For More of Richard Long See
Bourbon Street Beat
77 Sunset Strip
Maverick
For Barbara Stanwyck fans:
She appeared in 4 episodes of Wagon Train and Richard Long appeared in one too.
NOW ON DVD!
Complete 1st Season
Complete 2nd Season
Complete 3rd Season
Complete 4th Season
External Links
TV Guide's Big Valley Page, with TV Listings, Photos, Videos, Exclusive News and More.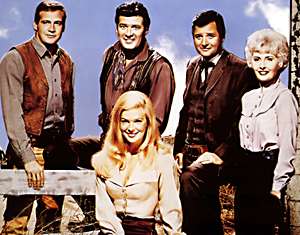 Big Valley cast
From the Doug Abbott Collection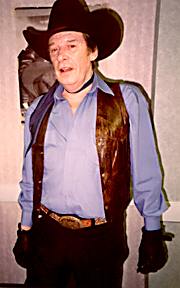 From the William Sasser Collection
Peter Breck – at a film festival in the 90s
For more like this see
STARS TODAY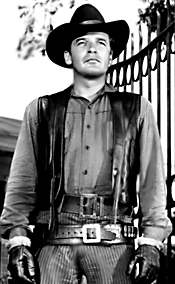 Peter Breck
From the Doug Abbott Collection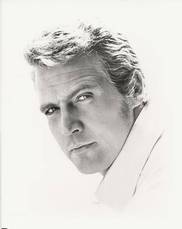 Lee Majors
Big Valley Episode Guide
Season 1
"Palms of Glory" Episode: #1.1 – 9/15/1965
Introduces Heath
Melvin F. Allen as Morgan
Dennis Cross as Hoak
Mike De Anda as Ciego
Vincent Gardenia as John Sample
Dal McKennon as Abner Wirth
Arthur Peterson as Swenson
Malachi Throne as Crown
Len Wayland as Sheriff Lyman
"Forty Rifles" Episode: #1.2 – 9/22/1965
Peter Breck, Lee Majors
Charles Bail as Brown
Calvin Brown as Dillard
Andrew Duggan as Wallent
Walker Edmiston as Spock
Michael Fox as DeKoven
Allen Jaffe as Cota
Douglas Kennedy as McColl
John Milford as Barrett
Lincoln Tate as Schad
"Boots with My Father's Name" Episode: #1.3 – 9/29/1965
Barbara Stanwyck, Lee Majors
Jeanne Cooper as Martha Simmons
Richard Devon as Phelps
John Harmon as Storekeeper
Beah Richards as Hannah James
"The Young Marauders" Episode: #1.4 – 10/6/1965
Linda Evans
Sean Garrison as Lloyd Garner
James Gavin as Graff
Kevin Hagen as Harry Coleman
Ken Lynch as Jacobson
Mort Mills as Sheriff
James Patterson as Jamie Drumm
Julie Payne as Francie
Robert Porter as Tobe
Buck Taylor as Turk
"The Odyssey of Jubal Tanner" Episode: #1.5 – 10/13/1965
Sheldon Collins as Chad
Jason Evers as Colter
Richard Farnsworth as Bolin
Thomas Browne Henry as Chairman
Ken Mayer as Crowell
Mort Mills as Sheriff
Arthur O'Connell as Jubal Tanner
K.L. Smith as Dutton
Harlan Warde as Finletter
"Heritage" Episode: #1.6 – 10/20/1965
J.P. Burns as Mourner
Brendan Dillon as Tim Hanrahan
Richard Hale as Hummel
Anne Helm as Brydie Hanrahan
John McLiam as Paddy
Richard O'Brien as Bryce
Sherwood Price as O'Doule
Ford Rainey as Murdoch
Neil Russell as Jack Tolliver
Harry Swoger as Newton
Zolya Talma as Crone
"Winner Lose All" Episode: #1.7 – 10/27/1965
Lee Majors
Robert Cabal as Luis
Mike De Anda as Ciego
Joe Higgins as Referee
Max Kleven as Dave Williams
Herb Pacheco as Aide
Gregg Palmer as Mel Coombs
Katharine Ross as Maria
Naomi Stevens as Anjelina
Karl Swenson as Bert Hadley
Henry Wilcoxon as Don Alfredo
"My Son, My Son" Episode: #1.8 – 11/3/1965
Linda Evans
R.G. Armstrong as Mr. Miles
Katharine Bard as Mrs. Miles
Mort Mills as Sheriff
Robert Walker Jr. as Evan Miles
"Earthquake!" Episode: #1.9 – 11/10/1965
Barbara Stanwyck
Charles Bronson as Tate
John Craven as Doctor
Audrey Dalton as Ann
William Fawcett as Jeb
Aliza Gur as Naomi
Robert Karnes as Padre
Wesley Lau as Roy Schneider
Mort Mills as Sheriff
Robert Williams as Joel
"The Murdered Party" Episode: #1.10 – 11/17/1965
Richard Long, Lee Majors
Jim Boles as Barber
Paul Fix as D. A. Greene
Karl Held
Fred Holliday as Emmet Kyles
Clegg Hoyt
Walter Woolf King as Judge
Larry D. Mann as Jacob Kyles
Mort Mills as Sheriff
Warren Oates as Korbie Kyles
Paul Potash as Alan Kyles
Bill Quinn as George Allison
Charles Wagenheim as Baggage Man
"The Way to Kill a Killer" Episode: #1.11 – 11/24/1965
Rodolfo Acosta as Rico
Pepe Hern as Vaquero
Martin Landau as Mariano Montoya
Reed Morgan as Sheriff
Carlos Rivero as Chanter
Arthur Space as Prof. Hawthorne
"Night of the Wolf" Episode: #1.12 – 12/1/1965
Peter Breck
Ted Gehring as Larsh
Bruce Gibson as Pete
Ron Howard as Tommy
Chubby Johnson as Dr. Borland
Nancy Olson as Julia Jenkins
Yuki Shimoda as Po Hsien
Russell Trent as Bartender
Richard Wendley as Second doctor
"The Guilt of Matt Bentell" Episode: #1.13 – 12/8/1965
Lee Majors
John Anderson as Matt Bentell
Charles Bail as Donlan
Martine Bartlett as Cinda Bentell
Gene Dynarski as Pollick
John F. Goff as Morley
Paul Sorenson as Strawboss
Morgan Woodward as Aaron Condon
Anthony Zerbe as Gil Condon
"The Brawlers" Episode: #1.14 – 12/15/1965
Peter Breck
Claude Akins as John James "Jimmy" Callahan
Eleanor Audley as Mother Callahan
Noreen Corcoran as Sharon
John Harmon as Conductor
Joe Higgins as Passenger
Ken Lynch as Storekeeper
J. Pat O'Malley as Grandpa Callahan
Paul Sorenson as Hotel Clerk
Olan Soule as Telegraph clerk
"Judgment in Heaven" Episode: #1.15 – 12/22/1965
Richard Long
Patrick Culliton as Corey
Lynn Loring as Maybelle Williams
Robert Porter
Kay Reynolds as Meg Travis
Frank J. Scannell as Dr. Merar
Kay Stewart as Helen Travis
Nicolas Surovy as Billy Joe Gaines
Ned Wever as Judge Parker
"The Invaders" Episode: #1.16 – 12/29/1965
Lee Majors
Yvonne Craig as Allie Kay
John Dehner as 'Daddy' Cade
June C. Ellis as Bessie
Tom Fadden as Cleek
Michael Greene as Pinto
Claude Hall as Copper
Pat Hawley as Johnson
Noah Keen as Doctor
"By Fires Unseen" Episode: #1.17 – 1/5/1966
Peter Breck
Diane Baker as Hester
King Johnson
Frank J. Scannell as Doctor
"A Time to Kill" Episode: #1.18 – 1/19/1966
Richard Long
Army Archerd as Bank clerk
Robert Cornthwaite as Luther Kirby
Mike De Anda as Ciego
Jerry Fogel as Train agent
James Griffith as Clyde
Michael Harris as Sheriff
Frank Marth as Monroe
Bill Quinn as Hyatt
William Shatner as Brett Skyler
Rhoda Williams as Esther
Jason Wingreen as Ketchie
"Teacher of Outlaws" Episode: #1.19 – 2/2/1966
Barbara Stanwyck
Pepe Callahan as Julio
Timothy Carey as Preacher Clegg
Dennis Cross as Bates
Ken Drake as Dr. Briggs
Steve Ihnat as Will
Ken Lynch as Sheriff
Dick Poston as Deputy
Harold Stone as Sam
"Under a Dark Star" Episode: #1.20 – 2/9/1966
Richard Long
Charles Bail as Catlin
Bruce Dern as Jack
Michael Harris as Deputy
Charles Horvath as Guard
Richard O'Brien as Yankee
Albert Salmi as Keeno Nash
K.T. Stevens as Meg
"Barbary Red" Episode: #1.21 – 2/16/1966
Peter Breck, Richard Long
Michael Harris as Sheriff
John Hoyt as Captain Waterman
George Kennedy as Jack Thatcher
Donna Michelle as Dolly
John Orchard as Banks
Ric Roman as Thug
Neil Russell as Clint
Paul Sorenson as Hap
Jill St. John as Barbary Red
"The Death Merchant" Episode: #1.22 – 2/23/1966
Royal Dano as Craddock
Michael Harris as Sheriff
Pepe Hern as Pedro
Jim McMullan as Frank Craddock
James Whitmore as Handy Random
Steve Whittaker as Joe Craddock
"Fallen Hawk, the" Episode: #1.23 – 3/2/1966
Lee Majors
Jim Boles as Storekeeper
Paul Comi as Mr. Pursey
Dennis Cross as Keel
Peter Haskell as Ward
Alexander Lockwood as Dr. Merar
Marlyn Mason as Nora
Harry Swoger as Milt
"Hazard" Episode: #1.24 – 3/9/1966
Larry J. Blake as Clerk
Audrey Dalton as Amy Colter
Mike De Anda as Ciego
Bert Freed as Judge Ben Colter
Lew Gallo as Matt Colter
Rex Holman as Will Hover
Alexander Lockwood as Dr. Merar
Frank Marth as Marshal Ollie Lawson
Mort Mills as Sheriff Fred Madden
John Rayborn as Cass Weydon
Robert Yuro as Gil Anders
"Into the Widow's Web" Episode: #1.25 – 3/23/1966
Lee Majors
Lewis Charles as Cully Tedrow
King Donovan as Ambrose
Walker Edmiston as Coroner
Michael Harris as Deputy
Joe Higgins as Mortenson
Ken Lynch as Sheriff
Kathleen Nolan as Liberty Keane
David Sheiner as Archer
Harlan Warde as Judd Fletcher
"By Force and Violence" Episode: #1.26 – 3/30/1966
Lee Majors, Barbara Stanwyck
Bruce Dern as Dixon
L.Q. Jones as Cort
Harry Dean Stanton as Swain
"The River Monarch" Episode: #1.27 – 4/6/1966
J.P. Burns as Anson Gregory
Curt Conway as Cyrus DeLand
Sam Jarvis as Sam Porter
Katherine Justice as Melanie DeLand
Charles Land
Chips Rafferty as Jock
John Rayner as Peter Doolin
"The Midas Man" Episode: #1.28 – 4/13/1966
Walker Edmiston as Titus McKelvy
Hal Lynch as Ed Mead
Richard O'Brien as Jace Holman
Tom Tryon as Scott Breckenridge
"Tunnel of Gold" Episode: #1.29 – 4/20/1966
Jeanne Cooper as Elaine Jason
Don Diamond as Border
Joe Higgins as Salesman
Scott Peters as Lou Stone
Warren Stevens as Bert Jason
Malachi Throne as Frank Colder
Paul Trinka as Dave
Charles Wagenheim as Clerk
"Last Train to the Fair" Episode: #1.30 – 27 April 1966
Richard Anderson as Travers
Charles Bail as Mel (as Chuck Bail)
Betty Harford as Grace Stullman
Charles Horvath as Ford
Hal Lynch as Ab Stullman
Nora Marlowe as Cora Wellman
Ken Mayer as Deakes
James McCallion as Charlie Wellman
Tim McIntire as Andy Moyers
Karl Swenson as Aaron Moyers
Season 2
"Lost Treasure" Episode: #2.1 – 9/12/1966
Lee Majors
Bruce Dern as Collis
Buddy Hackett as Charles Sawyer
John Milford as Atheridge
Beah Richards as Hannah James
Dub Taylor as Bartender
"Legend of a General: Part 1" Episode: #2.2 – 9/19/1966
Rico Alaniz as Jacobo
Paul Comi as Sergeant
Michael Davis as Pepe
Don Dillaway as Harlow Perkins
Pepe Hern as Carlos
John Hoyt as Don Alfredo
Robert Karnes as Father Esteban
Nehemiah Persoff as General Vicente Ruiz
Donald Randolph as Luis Cortines
David Renard as Miguel
Carlos Romero as Leon
Rudy Solari as Captain Chavez
Victoria Vetri as Teresa
Than Wyenn as Mateo
"Legend of a General: Part 2" Episode: #2.3 – 9/26/1966
Chris Alcaide as Marshal Ralston
Paul Comi as Sergeant
Michael Davis as Pepe
Morgan Farley as Morelos
Jose Gonzales-Gonzales as El Payaso
John Hoyt as Don Alfredo
Robert Karnes as Father Esteban
Monte Mansfield as Soldier
Troy Melton as Morgan
Tina Menard as Mexican woman
Nehemiah Persoff as General Vicente Ruiz
David Renard as Miguel
Carlos Romero as Leon
Rudy Solari as Captain Chavez
Pepe Soto as Guard
Victoria Vetri as Teresa
Than Wyenn as Mateo
"Caesar's Wife" Episode: #2.4 – 10/3/1966
Linda Evans
Dianne Foster as Therese Marvin
Bert Freed as Henry Marvin
Michael Harris as Sheriff
Bern Hoffman as Bert Seeger
Tim O'Kelly as Will Marvin
"Pursuit" Episode: #2.5 – 10/10/1966
Barbara Stanwyck
Bob Adler as Stage driver
Makee K. Blaisdell as Nemah
James Gregory as Simon Carter
Malachi Throne as Father Andre
"The Martyr" Episode: #2.6 – 10/17/1966
Richard Long
Philip Bourneuf as Judge Adam Cross
Charlie Briggs as Sheriff Walt Baker
Joseph Campanella as Francisco
Graydon Gould as Russ Miller
William Mims as District attorney
Nico Minardos as Polino Ariata
Lori Scott as Rosa
Clyde Ventura as Julio
"Target" Episode: #2.7 – 10/31/1966
Julie Adams as Edna Wesley
Melvin F. Allen as Farmer
Rudy Bukich as Barkeep
Larry Domasin as Steve
Walter Woolf King as Judge
Strother Martin as Dan'l Hawkes
Sherwood Price as Frank Wesley
Bill Quinn as Storekeeper
Paul Sorenson as Dave Sloane
Harlan Warde as Peter Doolin
James Whitmore as Joshua Hawks
"The Velvet Trap" Episode: #2.8 – 11/7/1966
Peter Breck
Charles Bail as Stage driver
Fred Beir as Jack Floyd
Hank Brandt as Preston
J.P. Burns as Peddler
Richard Collier as Clerk
Laura Devon as Sabrina Lynn
Michael Harris as Sheriff
David Richards as Skinny
Kelly Thordsen as John Pierce
"The Man From Nowhere" Episode: #2.9 – 11/14/1966
Richard Long
Duane Chase as Danny Mathews
James Driskill as Bartennder
Robert Karnes as Priest
Sheree North as Libby
Richard O'Brien as Jed Cameron
Neil Russell as Rancher
Anne Seymour as Hannah
Arthur Space as Doctor
Gregory Walcott as Hoyt Vatcher
Howard Wendell as Simon Blaire
"The Great Safe Robbery" Episode: #2.10 – 11/21/1966
Christopher Cary as Shorty
Kelton Garwood as Elwood Barnes
John Harmon as Conductor
Joe Higgins as Railroad detective
Lee Krieger as Station agent
Warren Oates as Duke
Bill Quinn as Lou Johnson
Mark Tapscott as Sheriff
"The Iron Box" Episode: #2.11 – 11/28/1966
Peter Breck, Lee Majors
Walter Burke as Young Billy
Joe Ferrante as Rodrigo
Michael Fox as MacGowan
Walter Woolf King as Judge
Yaphet Kotto as Lobo Brown
Frank Marth as Sheriff Barnes
Paul Picerni as Peterson
David Sheiner as Captain Jonathan Rizely
"Last Stage to Salt Flats" Episode: #2.12 – 12/5/1966
Barbara Stanwyck, Richard Long, Lee Majors
John Anderson as Matt Bentell
Charles Bail as Donlan
Martine Bartlett as Cinda Bentell
Gene Dynarski as Pollick
John F. Goff as Morley
Paul Sorenson as Strawboss
Morgan Woodward as Aaron Condon
Anthony Zerbe as Gil Condon
"A Day of Terror" Episode: #2.13 – 12/12/1966
Barbara Stanwyck, Linda Evans
Michael Burns as Lon
Colleen Dewhurst as Annie Morton
Ross Hagen as Troy Morton
Amanda Harley as Mrs. Merar
Tom Monroe as Leif Engstrom
Gene O'Donnell as Minister
Ken Swofford as Wes
"Hide the Children" Episode: #2.14 – 12/19/1966
Peter Breck
Chris Alcaide as First horse thief
Melvin F. Allen as Lounger
Walter Coy as Sheriff
Royal Dano as The Vet
James Driskill as Deputy
John Gabriel as Jan
Celia Lovsky as Salishka
Rita Lynn as Angelina
Stephen McNally as Corso
Warren Munson as Man
Eve Plumb as Sara Jane
Jim Sheppard as Second horse thief
Louise Sorel as Pilon
"Day of the Comet" Episode: #2.15 – 12/26/1966
Linda Evans
Charles Bail as Ben Lucas
J.P. Burns as Dr. Merar
Roberto Contreras as Rafael Ruiz
Bradford Dillman as Eric Mercer
Ken Drake
Douglas Kennedy as Lt. Morrison
"Wagonload of Dreams" Episode: #2.16 – 1/2/1967
Tige Andrews as Bodos
J.P. Burns as Dr. Merar
William Mims as Sam Bridger
Dennis Safren as Nikolas
Paul Sorenson as Potter
Dennis Staffren as Alexandros
Karl Swenson as Steve Minter
Harlan Warde as Drake
"Image of Yesterday" Episode: #2.17 – 1/9/1967
Barbara Stanwyck
Phil Arnold as Barber
Rayford Barnes as Tolly
Don Chastain as Horn
Richard Farnsworth as Businessman
William Fawcett as Jeff
Vincent Gardenia as Will Briggs
Rosanna Huffman as Martha Dunn
Troy Melton as Lou
Sam Melville as Jack
Dan O'Herlihy as David Wincup
K.T. Stevens as Dressmaker
Than Wyenn as Prisoner
"Boy Into Man" Episode: #2.18 – 1/16/1967
Larry J. Blake as Man
Richard Dreyfuss as Lud Akley
John Harmon as Carl Morgan
Darby Hinton as Chucky
Margot Jane as Cecilia
Charlotte Knight as Mrs. Grady
Diane Ladd as Muriel
Renny McEvoy as Railroad clerk
Bryan O'Byrne as George Osborne
J. Pat O'Malley as Wiley
"Down Shadow Street" Episode: #2.19 – 1/26/1967
Dan Ferrone as Buddy Tyrone
Robert Middleton as Judge Tyrone
Vic Perrin as Albert Pruitt
Jo Ann Pflug as Ruthie Murphy
Sammy Reese as Ollie Patten
Amzie Strickland as Beanie
Dee J. Thompson as Miss Alice
Kam Tong as Wing Lee
"The Stallion" Episode: #2.20 – 1/30/1967
Brooke Bundy as Andrea
Paul Fix as Brahma
Virginia Gregg as Libby
Jon Lormer as Wilson
Harry Swoger as Horse owner
Harlan Warde as Mr. Carberry
"The Haunted Gun" Episode: #2.21 – 2/6/1967
Roger Davis as Walt Tompkins
Andrew Duggan as Senator Jud Robson
Robert Ellenstein as Salazar
Arthur Hanson as Bartender
Jim Hayward as Blind man
Joyce Jameson as The Blonde
Vincent Van Lynn as Verne Keller
"The Price of Victory" Episode: #2.22 – 2/13/1967
Peter Breck
Melvin F. Allen as Jonas
Hal Baylor as Sam Driscoll
Ted Eccles as Johnny Kilbain
Walker Edmiston as Barney
John Indrisano as Referee
Lee Krieger as O'Rafferty
Edwin Max as Dr. Merar
Larry Pennell as Jack Kilbain
Sandra Smith as Mary Kilbain
"Brother Love" Episode: #2.23 – 2/20/1967
Lee Majors, Linda Evans
Phil Chambers as Dr. Merar
Carolyn Conwell as Idanell Bowles
Robert Goulet as Brother Love
Gavin MacLeod as Mace
Strother Martin as Flood
Eve Plumb as Ellen
Debi Storm as Adrian Bowles
"Court Martial" Episode: #2.24 – 3/6/1967
Peter Breck, RIchard Long
Alan Bergmann as Macklin
Paul Comi as Donnelly
Mike De Anda as Ciego
Henry Jones as General Alderson
L.Q. Jones as Curtis
David Renard as Bereau
Clay Tanner as Tanner
"Plunder!" Episode: #2.25 – 3/13/1967
Lee Majors
Patti Chandler as Indian Girl
Lonny Chapman as Cody Grell
Dennis Hopper as Leon Grell
Cloris Leachman as Fay
Frank McGrath as Buster
Rhodes Reason as Dave Cannon
"Turn of a Card" Episode: #2.26 – 3/20/1967
Lee Majors
Emmanuelle Arsan as Tiree
Joseph Campanella as Martinson
Phil Chambers as Dr. Merar
Don Chastain as Crowder
Roberto Contreras as Miguel
John Harmon as Conductor
Jim Hayward as Mr. Gorman
Joe Higgins as Piper Morrissey
I. Stanford Jolley as Gallivan
Neil Russell as Joe Garrett
Mickey Simpson as Matt Beemer
Paul Sorenson as Thurmond
Harlan Warde as Jack Carpenter
"Showdown in Limbo" Episode: #2.27 – 3/27/1967
John Carter as Floyd Vaughn
Matt Emery as Rake
Arch Johnson as Frank Sawyer
L.Q. Jones as Earl Vaughan
Tom Lowell as Chad Sawyer
G.D. Spradlin as George Rhodes
"The Lady From Mesa" Episode: #2.28 – 4/3/1967
Peter Breck
E.J. André as Sam Williams
Phil Chambers as Dr. Merar
Ron Chapman as Conductor
Robert Cornthwaite as Marv Baylis
John Dolan as Lou
Lee Grant as Rosemary Williams
Douglas Kennedy as Marshal
Nora Marlowe as Martha Tate
Frank Marth as Walter Meeder
Reagan Wilson as Janette
"Days of Grace" Episode: #2.29 – 4/17/1967
Lee Majors
Melvin F. Allen as Coombs
Karen Black as Carla
Ellen Burstyn as Sister Jacob aka Sarah
Walter Coy as Sheriff Fogarty
Morgan Farley as Paco
Bert Freed as Homer Roberts
Portia Nelson as Sister Benedict
George Wallace as Deputy Otto McAdoo
"Cage of Eagles" Episode: #2.30 – 4/24/1967
Harold Gould as Wilson
John Harmon as Telegrapher
John Pickard as Sheriff
Pernell Roberts as Patrick Madigan
Neil Russell as Mack
Paul Sorenson as Hammerman
Charles Wagenheim as Storekeeper
Season 3
"Joaquin" Episode: #3.1 – 9/11/1967
Robert Carricart as Benito Flores
Margarita Cordova as Elena Santos
Fabrizio Mioni as Juan Molino
Mark Tapscott as Hank Mitchell
"Ambush" Episode: #3.2 – 9/18/1967
Barbara Stanwyck
James Gregory as Simon Carter
Rex Holman as Mitchlor
L.Q. Jones as Hutch
Robert Karnes as Father Andre
Toian Matchinga as Seataki
Ruben Moreno as Ruiz
"A Flock of Trouble" Episode: #3.3 – 9/25/1967
Peter Breck
Eileen Baral as Gayle
Milton Berle as Josiah Freeman
Robert Fuller as Carl Wheeler
Troy Melton as Franklin
Neil Russell as Dan Kelsey
Harry Swoger as Bartender
"Time After Midnight" Episode: #3.4 – 10/2/1967
Richard Long
Jed Allan as Mark Bromley
Ed Bakey as Corell
Lloyd Bochner as Joshua Cunningham
Carol Booth as Sharon Scanlon
Eve Brent as Aimee Carter
Dennis Cross as Mason
Noah Keen as Jim Scanlon
Rusty Lane as Chairman Gaines
Jon Lormer as Dr. Russell
Shepard Menken as Sanders
Harlan Warde as Judge Farnum
"Night in a Small Town" Episode: #3.5 – 10/9/1967
Lee Majors
Claudia Bryar
John J. Fox
Kevin Hagen as Amos Farrell
Lee Krieger as Doctor
Doug Lambert as Lou Farrell
Susan Strasberg as Sally
James Whitmore as Tom Wills
"Ladykiller" Episode: #3.6 – 10/16/1967
Peter Breck
Chris Alcaide as Glen
Jim Boles as Red
Royal Dano as Jesse Bleeck
Clyde Howdy as Charlie
Anthony James as Bart Bleeck
Roy Jenson as Dace Edwards
Jason Johnson as Connally
Marlyn Mason as Belle
"Guilty" Episode: #3.7 – 10/30/1967
Richard Long
Norman Alden as Jeff Bowden
Melvin F. Allen as Marty
Sheila Bromley as Mrs. Haley
Joyce Ebert as Mrs. Bowden
John Harmon as Walt Tanner
Joe Higgins as The Baker
Frankie Kabott as Stevie Becker
Stephen Liss as Ollie
Renny McEvoy as Townsman
Robert Nichols as Sam Becker
Harlan Warde as Arthur Kleeber
Rhoda Williams as Mrs. Kleeber
"The Disappearance" Episode: #3.8 – 11/6/1967
Barbara Stanwyck, Linda Evans
Richard Anderson as Mel Trevor
Lew Ayres as Sheriff Roy Kingston
Gail Bonney as Housekeeper
Walter Burke as George Gates
J.P. Burns as Porter
Owen Bush as Dr. Riley
John Milford as Hearn
Chuck Roberson as Stage driver
"A Noose Is Waiting" Episode: #3.9 – 11/13/1967
Barbara Stanwyck
Lillian Adams as Mrs. DeKoyen
Martin Ashe as Martin Erskine
Ellen Corby as Emmie
Bradford Dillman as James Beldon
I. Stanford Jolley as Everett Gibbons
"Explosion!: Part 1" Episode: #3.10 – 11/20/1967
Judy Carne as Bridget Wells
Stuart Erwin as Carter
Carl Esmond as Marquis de LaCaise
Eddie Firestone as Toby
Arlene Golonka as Gail Miller
Jonathan Hole as Beckett
Steve Pendleton as Macleod
John Pickard as Wilson
Letícia Román as Michelle de LaCaise
Paul Sorenson as Blacksmith
Maurice St. Clair as Henri
Harry Swoger as Bartender
Bill Zuckert as Rogers
"Explosion!: Part 2" Episode: #3.11 – 11/27/1967
Eileen Baral as Mary
Judy Carne as Bridget Wells
Edward Colmans as Padre
Eddie Firestone as Toby
Arlene Golonka as Gail Miller
Eve Plumb as Lauren
Harry Swoger as Bartender
"Four Days to Furnace Hill" Episode: #3.12 – 12/4/1967
Barbara Stanwyck
Rafael Campos as Santiago
Don Chastain as Stacey
Lincoln Demyan as Carlos Lopez
Bruce Dern as Gabe Skeels
John Harmon as Hotel manager
I. Stanford Jolley as Ogden
Juli Reding as Flo Briggs
Fritz Weaver as Burke Jordan
"Night of the Executioner" Episode: #3.13 – 11 December 1967
Marvin Brody as Barkeep
Mason Curry as Josh
Dabbs Greer as Matt Carson
Peter Hobbs as Marshal Steve Macklin
Dennis Hopper as Jimmy Sweetwater
Charles Horvath as Frank
Enid Jaynes as Vera Carson
Regis Parton as Seth
Eddie Quillan as Hotel Clerk
David Sheiner as Gabe Simmons
Harlan Warde as Will Oakley
Peter Whitney as Sheriff Dan Kincaid
"Journey Into Violence" Episode: #3.14 – 12/18/1967
Lee Majors
Quentin Dean as Bettina
Amanda Harley as Seamstress
Dick Peabody as Cyrus
Tom Pittman as David
Timothy Scott as Benjamin
Charles Tyner as Emmett
"The Buffalo Man" Episode: #3.15 – 12/25/1967
Barbara Stanwyck
Lonny Chapman as Jack Dobbs
Yaphet Kotto as Damian
Albert Salmi as Birch
Andreas Teuber as Jamie
"The Good Thieves" Episode: #3.16 – 1/1/1968
Peter Breck, Lee Majors
Sam Gilman as Marshal Moore
Charles Grodin as Mark Dunigan
Vinton Haworth as Doc Landrum
Russell Johnson as Davey Dunigan
Norman Leavitt as Freight agent
Flip Mark as Jerry Frye
Arthur Space as Dr. Merar
Will J. White as Farmer
Barbara Wilkin as Olga
"Days of Wrath" Episode: #3.17 – 1/8/1968
Richard Long
Kevin Hagen as Zack Fane
Peter Hobbs as Cliff Hyatt
Jon Lormer as Dr. Saxton
Sandra Smith as Beth
Michael Strong as Cass Hyatt
"Miranda" Episode: #3.18 – 1/15/1968
Antony Carbone as 1st Mexican
Don Diamond as Diego
Joe Dominguez as Julio
Barbara Luna as Miranda
Victor Millan as Lazaro
Sherwood Price as Matthew Hollis
Donald Randolph as Monteja
"Shadow of a Giant" Episode: #3.19 – 1/29/1968
Peter Breck, Lee Majors
Ed Bakey as Floyd Stryder
Rayford Barnes as Jete Stryder
Walter Brooke as Stengler
Richard Evans as Seth Campbell, jr.
Fletcher Fist as Owens
Lee Krieger as Lee Hanes
John McMurtry as Luke Stryder
Troy Melton as Wilson
Stuart Randall as Curry
James Whitmore as Seth Campbell
"Fall of a Hero" Episode: #3.20 – 2/5/1968
Lee Majors
Richard Anderson as Nathan Springer
William 'Billy' Benedict as Perkins
Claudia Bryar as Florence Bacon
Walter Burke as T. J. Dyce
Rafael Campos as Charley White Horse
John Cliff as Mr. Eldger
L.Q. Jones as Gus Vandiver
Lee Krieger as Pete McGinn
Dennis Patrick as Daniel Mannis
Dub Taylor as Doc Tully
Warren Vanders as Parker Atlas
Harlan Warde as Judge Lansbury
"The Emperor of Rice" Episode: #3.21 – 2/12/1968
Barbara Stanwyck
Julie Adams as Janet Masters
Philip Ahn as Chen Yu
Jack Catron as Bob Adams
Keye Luke as Mike Chang
Kam Tong as Key
Harry Townes as Walter Masters
"Rimfire" Episode: #3.22 – 2/16/1968
Richard Long
Joseph E. Bernard as Kusack
J.P. Burns as Land salesman
John Daniels as Daniel
Joel Fluellen as Butler
Jim Gosa as Prospector
Alexander Lockwood as Judge Power
Lisa Lu as Ling
Mako as Wong Lo
Robert Middleton as Sidney Glover
Mark Tapscott as Miner
Van Williams as Sheriff Dave Barrett
"A Bounty on a Barkley" Episode: #3.23 – 2/26/1968
Peter Breck
John J. Fox as Cassidy
Peter Haskell as Wheeler Johnson
Pete Kellett as Rider
Leslie Parrish as Layle Johnson
Mike Wagner as Sheriff
"Devil's Masquerade" Episode: #3.24 – 3/4/1968
Lee Majors
Army Archerd as Stage Depot Clerk
Argentina Brunetti as Maria
Ray Danton as Reed Clayton
John Doucette as Jim North
Donald Elson as Bartender
Anne Helm as Nancy
Rex Holman as Keefer
Renny McEvoy as Depot Agent
Grant Owens as Drunken Cowboy
"Run of the Savage" Episode: #3.25 – 3/11/1968
Peter Breck
Michael Burns as Danny
Sidney Clute as Briles
Carolyn Conwell as Mrs. Wiggins
Willard Sage as Dr. Wiggins
Harry Swoger as Harry
Grace Lee Whitney as Maggie
"The Challenge" Episode: #3.26 – 3/28/1968
Barbara Stanwyck
Lincoln Demyan as Drunk
Eddie Firestone as Jack Gill
Harold Gould as Judge William Daggett
James Gregory as Senator Bannard
Regis Philbin as Reporter
Season 4
"In Silent Battle" Episode: #4.1 – 9/23/1968
Linda Evans
Karen Arthur as Cora
Conlan Carter as Jud Crowley
Sidney Clute as Man
Don Knight as Sgt. Sean McQuade
Olan Soule as Telegrapher
Harry Swoger as Bartender
Adam West as Major Jonathan Eliot
"They Called Her Delilah" Episode: #4.2 – 9/30/1968
Richard Long
Don Chastain as Worth Parker
Lincoln Demyan as Townsman
Jason Johnson as Buggy driver
Paul Lambert as Ross Parker
Julie London as Julia Saxon
Jon Lormer as Dr. Thomas J. Merar
John Madison as McGregor
Robert Nichols as Chet Staley
Danny Rees as Juggler
Bobby Troup as Piano player (uncredited)
"Presumed Dead" Episode: #4.3 – 10/7/1968
Barbara Stanwyck
Lew Ayres as Jason Fleet
Gavin MacLeod as O'Leary
Richard O'Brien as Mobley
Warren Vanders as Charlie
"Run of the Cat" Episode: #4.4 – 10/21/1968
Peter Breck
Janis Hansen as Beth
Jon Lormer as Dr. Merar
Lisa Lu as Chinese girl
John Milford as Giles
Pernell Roberts as Ed Tanner
"Deathtown" Episode: #4.5 – 10/28/1968
Richard Long
br>Alice Backes as Housekeeper
Antoinette Bower as Alicia Akers
Kathie Browne as Sally
Michael Dante as Francisco
Jason Evers as George Akers
William Fawcett as Coon
Pitt Herbert as Hotel Clerk
Frank Marth as Sheriff Tom Hayes
Michael T. Mikler as Dirt
Jorge Moreno as Paulo
Joel Redlin as Giles
Alex Tinne as Juan
"The Jonah" Episode: #4.6 – 11/11/1968
Peter Breck
Marty Allen as Waldo Deifendorfer
Eddie Firestone as Sid
S. John Launer as Frank McGarrett
Hal Lynch as Eli
Ken Lynch as Hank Demers
"Hell Hath No Fury" Episode: #4.7 – 11/18/1968
Lee Majors
Chris Alcaide as Ryan
Rayford Barnes as Carl
Conlan Carter as Wilt
Don Dubbins as Grady
John Epper as Stagecoach Driver
Steve Franken as Bank teller
Carol Lynley as Dillie Shanks
Mark Tapscott as Phil
"The Long Ride" Episode: #4.8 – 11/25/1968
Linda Evans, Barbara Stanwyck
Richard Anderson as Hen Matson
Kevin Hagen as Barney
John Harmon as Wilmer Hemett
George Keymas as First Outlaw
Paul Petersen as Roy Sanders
James Westerfield as Lassiter
"The Profit and the Lost" Episode: #4.9 – 12/2/1968
Lee Majors
Gordon Devol as Ned
Bert Freed as Rance Kendell
Jim Henaghan as Paul
Robert Loggia as Vern Hickson
Neil Russell as Sheriff
Mark Tapscott as Bates
"A Stranger Everywhere" Episode: #4.10 – 12/9/1968
Peter Breck
Antony Carbone as Vega
Richard Devon as Link
Julie Harris as Jennie Hall
Rex Holman as Croft
William Jordan as Dave Carr
Jon Lormer as Senator Roberts
Byron Morrow as Patton
Dennis Patrick as Ted Halyard
Bill Quinn as Mr. Simmons
Gene Rutherford as Lafe
Timothy Scott as Jody
"The Prize" Episode: #4.11 – 12/16/1968
Ed Bakey as Link Mason
Walter Coy as Jamison
Bruce Dern as John Weaver
Richard Devon
Peggy Ann Garner as Mrs. Whittaker
Peter Haskell as Ben Rawlins
Noah Keen as Stanley
Dennis Patrick
Bill Quinn as Doctor
Rhoda Williams as Mrs. Stanley
"Hunter's Moon" Episode: #4.12 – 12/30/1968
Peter Breck
Don Chastain as Tony Semper
John Crawford as Gandy
Lawrence Dobkin as Ben Dawes
Bruce Glover as Bodkin
Shepard Menken as Doc Willis
Susan O'Connell as Juliet
"Top of the Stairs" Episode: #4.13 – 1/6/1969
Barbara Stanwyck
Russ Bender as Driver
Robert Ellenstein as Dr. Amos Pearce
Paul Fix as Ben Abbott
Ron Harper as Eric Abbott
Jean Inness as Grace Newcomb
Paul Kent as Dr. Allen Morley
Byron Morrow as Sheriff Clark
Walter Sande as Mike Newcomb
Will J. White as Rider
"Joshua Watson" Episode: #4.14 – 1/20/1969
Peter Breck
Michael Bell as Charlie Travis
Royal Dano as Rufus Morton
Greg Mullavy as J. R. Morton
Lou Rawls as Joshua Watson
Robert Sampson as Zack Morton
Mark Tapscott as Bert
"The Secret" Episode: #4.15 – 1/27/1969
Richard Long
Peter Brocco as Judge
Kelly Corcoran as Davey
Vince Deadrick Jr. as Folie
Pete Kellett as Smith
Nancy Malone as Marcy Howard
Simon Oakland as Adam Howard
Neil Russell as Slade
Paul Sorenson as Olson
"The 25 Graves of Midas" Episode: #4.16 – 2/3/1969
Peter Breck, Lee Majors
James Bacon as Hotel clerk
Anne Baxter as Hannah
Walker Edmiston as Hess
Kevin Hagen as Zack Case
Arch Johnson as Web Dutton
Linda Marsh as Nora
Tom Monroe as Sheriff
Eldon Quick as Jess
Robert Sampson as Page
"Lightfoot" Episode: #4.17 – 2/17/1969
Joe Don Baker as Tom Lightfoot
Peter Brocco as Judge
Bill Catching as Calvin
Walter Coy as District Attorney
Pete Kellett as Benton
Dan Kemp as Clem Watson
Harry Lauter as Ben Watson
Bill Quinn as Walter
Harry Swoger as Murphy
"Alias Nellie Handley" Episode: #4.18 – 2/24/1969
Barbara Stanwyck
Richard Anderson as Warden Garrick
Dee Carroll as Meely
Bill Cooley as Jake
Vince Deadrick Jr. as Guard
Dale Johnson as Onlooker
Edith Leslie as Big Mary
Gavin MacLeod as Clute
Richard O'Brien as Sheriff Bannock
Susan Oliver as Kate Wilson
Rhoda Williams as Maud Elliot
"The Royal Road" Episode: #4.19 – 3/3/1969
Richard Long
Kathy Garver as Laura Haydon
Harold Gould as Captain Crawford
Arthur Hanson as Rev. Hamilton
Amanda Harley as Mrs. Owen
Sajid Khan as Ranjit Singh
Paula Stewart as Nita Yates
Kam Tong as House boy
"A Passage of Saints" Episode: #4.20 – 3/10/1969
Richard Long
Donna Baccala as Emmelina Grant
Olive Dunbar as Eliza Grant
Mauritz Hugo as Mr. Clay
Paul Lambert as Arthur W. Denby
Fritz Weaver as Hebron Grant
"The Battle of Mineral Springs" Episode: #4.21 – 3/24/1969
Jack Albertson as Judge Ben Moore
Ed Bakey as Bert Simpson
Paul Barselou as Joe
Conlan Carter as Elmer
Lincoln Demyan as Pete
Janis Hansen as Janie
Jonathan Hole as Clerk
Dennis Patrick as Crawford
Mark Tapscott as Wagon driver
"The Other Face of Justice" Episode: #4.22 – 3/31/1969
Margarita Cordova as Rosa
Johnny Crawford as Billy Norris
James Gregory as Harry Bodine
Don Knight as Sam Jester
"Town of No Exit" Episode: #4.23 – 4/7/1969
Lee Majors
John Carradine as Elias Brown
Al Checco as Desk clerk
Robert Donner as Pete Haunch
Diana Ewing as Maggie
Leslie Nielsen as Sgt. Maj. Earl Conway
Lori Scott as Quita
"Danger Road" Episode: #4.24 – 4/21/1969
Barbara Stanwyck
J.P. Burns as Hotel clerk
Maurice Evans as Edward Hewitt
Jim Gosa as John Clay
Gilbert Green as Jace Timmons
Rex Holman as Cajun
Anthony James as Samuels
S. John Launer as Ted Jessup
Logan Ramsey as The Lawyer
Olan Soule as Telegrapher
"Flight From San Miguel" Episode: #4.25 – 4/28/1969
Lee Majors
Pat Delaney as Sarah Mendez
Don Diamond as 1st Federale
Nate Esformes as Ramon
Victor Millan as Juan
Gerald Mohr as Raoul Mendez
Beatriz Monteil as Rose Valdez
Ruben Moreno as Garcia
Davey Rodgers as Bucking horse rider
Ernest Sarracino as Francisco
H.M. Wynant as Captain Chavez
"Point and Counterpoint" Episode: #4.26 – 5/19/1969
Richard Long
Walter Burke as Ned Stokely
Clifford David as Rich Stokely
Walker Edmiston as Harry Banner
John J. Fox as Jury Foreman
Michael Fox as Jonathan Williams
David Fresco as Bartender
Milton Frome as Dr. Covey
Virginia Gregg as Sarah Clark
William Keene as Jud
Neil Russell as Sheriff Jim Dolan
Russell Thorson as Otis Clark
Harlan Warde as Mr. Vickers