Buy Love That Bob on DVD
Vol. 1 & 2 (1955-56)
Vol. 3 (1957)
Vol. 1-3
---

The Bob Cummings Show
"Love That Bob"

January 2, 1955 – September 15, 1959;
173 half hour episodes (5 seasons) on both NBC and CBS (NBC – 1955), (CBS -1955–1957), (NBC – 1957–1959)
Produced by: Paul Henning
Filmed at: General Service Studios , Hollywood, CA
CAST
Bob Cummings – Bob Collins
Rosemary DeCamp – Margaret MacDonald
Dwayne Hickman – Chuck MacDonald
Ann B. Davis – Charmaine "Schultzy" Schultz
Nancy Kulp – Pamela Livingstone
Opening Theme
"A Romantic Guy, I"
By: Lou Kosloff


STORYLINE
Bob Collins (Bob Cummings) is a hip bachelor fashion photographer in swinging Hollywood CA. His womanizing with his models was the bane of his widowed sister Margaret MacDonald (Rosemary DeCamp) who was constantly trying to get him to settle down with a "nice girl". Also in the mix was his eccentric assistant "Schultzy" (Ann B. Davis )who, not so secretly wanted him for herself.
He had a nephew, Chuck MacDonald (Dwayne Hickman) who became so popular with the young viewers that he got his own series (The Many Loves of Dobie Gillis) after The Bob Cummings show shut down.
Ann B Davis also went on to another successful sitcom, she would become Alice in "The Brady Bunch" for five seasons and Nancy Kulp played Miss Hathaway on The Beverly Hillbillies for nine years.
This was Paul Henning's first production but certainly not his last. he would also have such hits as The Beverly Hillbillies, Green Acres and Petticoat Junction.

Video Clip of Love That Bob
+
Passings
Robert Cummings died of kidney failure in 1990, he was 80 years old
Rosemary DeCamp passed away in 2001 of pneumonia she was 90
Nancy Kulp died in 1991 of cancer she was 69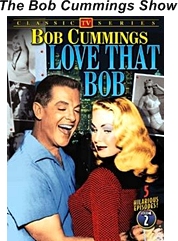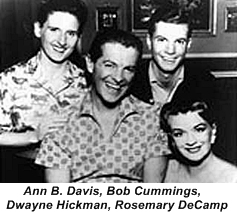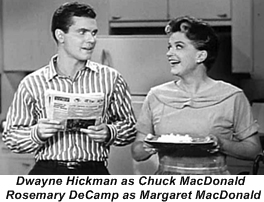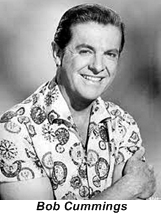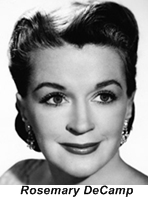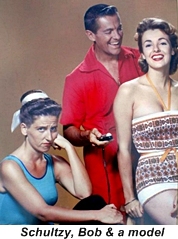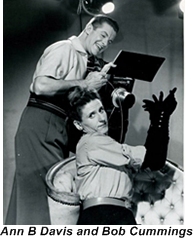 TRIVIA:
Who says that nepotism wasn't alive and well in 1950's Hollywood. Olive Sturgess one of Chuck MacDonald's girlfriends was played by Carol Henning who just happened to call producer Paul Henning, Dad.
Another daughter Linda Kaye Henning received a starring role in Petticoat Junction another big hit for her father.