Bonanza
9/12/1959 – 1/16/1973 NBC 60 minutes
Color – 430 episodes
(Sept. 1959-Sept. 1961
Saturday 7:30-8:30
Sept. 1961-Sept. 1972
Sunday 9:00-10:00
Sept. 1972-Jan. 1973
Tuesday 8:00-9:00)
Ponderosa
Syndicated rebroadcasts of the 1969-1970 season
5/12/1972 – 8/29/1972 Tuesday 7:30-8:30
(The current season of Bonanza was still running on Sundays)
Bonanza Cast
Lorne Greene as Ben Cartwright
Pernell Roberts as Adam Cartwright (1959-65)
Dan Blocker as Eric "Hoss" Cartwright (1959-72)
Michael Landon as Joseph Francis "Little Joe" Cartwright
Victor Sen Yung as Hop Sing
Ray Teal as Sheriff Roy Coffee (1960-72)
Bing Russell as Deputy Clem Foster (1962-73)
Lou Frizzell as Dusty Rhoades (1970-72)
Harry Holcombe as Doc Martin (1968-73)
Tim Matheson as Griff King (1972-1973)
Slim Pickens as Marshall
Remo Pisani as Bartender (1968-1970)
Mitch Vogel as Jamie Hunter-Cartwright (1970-73)
Horses:
Big Buck – Lorne Greene
Beauty – Pernell Roberts
Ginger, Piute and Chubb – Dan Blocker
Paint and Cochise – Michael Landon
Bonanza Theme Song
"Bonanza" by Jay Livingstone and Ray Evans, performed by David Rose
The song actually does have lyrics, but they were abandoned, mercifully, for the robust orchestral version you are familiar with.
Bonanza Tidbits
I loved this show, but ya just gotta wonder – would it have killed them to have had a Cartwright daughter? Or wife? At some point, grown men living at home with Pa got to be a bit strange.
The Cartwright's thousand-square-mile Ponderosa Ranch is located near Virginia City, Nevada, site of the Comstock Silver Lode. The name, Ponderosa, comes from the many ponderosa pines growing on the ranch. Ben Cartwright (Lorne Greene) was the quintessential father figure. Eldest son Adam (Pernell Roberts) was the smart one. Hoss (Dan Blocker) was the gentle giant. The youngest, Little Joe (Michael Landon) was the firebrand.
As told in flashback, life with Ben must have been tough because none of his wives survived it. Adam was born in New England and his mother was Elizabeth, who died in childbirth. Hoss' mother Inger was killed by Indians. She was Scandinavian and Hoss means "good luck" in Norwegian. Little Joe's mother, Marie, was a woman Ben met in New Orleans and she died from a fall from a horse. (see trivia box below)
Over time, Lorne Greene came to have more influence over scripts. He was a serious pacifist, so the show's level of rough action decreased as his power increased. As a consequence, Bonanza was less violent than other Westerns. In Star Trek terms, Ben Cartwright was more Jean Luc Picard than James Kirk. He talked first, shot second.
Pernell Roberts left the show in 1965, which most thought was a loss. David Canary was added as ranch hand Candy. During the summer hiatus of 1972, Dan Blocker suddenly died.
Passings
Dan Blocker died in 1972 after a surgery, Ray Teal in 1976, Victor Sun Yeng in 1980 of accidental asphyxiation, Lorne Greene died in 1987 of pneumonia, Michael Landon died in 1991 of pancreatic cancer and Pernell Roberts also of pancreatic cancer in 2010.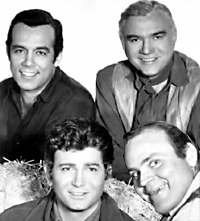 Pernell Roberts, Lorne Greene
Michael Landon, Dan Blocker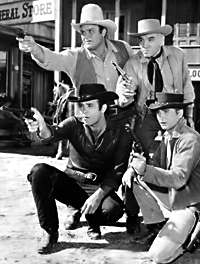 Dan Blocker, Lorne Greene
Pernell Roberts, Michael Landon
From the Doug Abbott Collection
BUY Bonanza on DVD
Season 1
Season 2
Season 3
Season 4
Season 5
Season 6
Season 7
Season 8
For Lorne Greene and Dan Blocker fans:
Each appeared in episodes of Wagon Train before Bonanza. Email for details.
External Links
TV Guide's Bonanza Page, with TV Listings, Photos, Videos, Exclusive News and More.
Bonanza Trivia
Ben Cartwright's wives
Adam's Mother
"Elizabeth, My Love" 5/27/1961
Geraldine Brooks as Elizabeth Stoddard
Hoss' Mother
"Inger, My Love" 4/15/1962
Inga Swenson as Inger Borgstrom
Little Joe's Mother
"Marie, My Love" 2/10/1963
Felicia Farr as Marie DeMarigny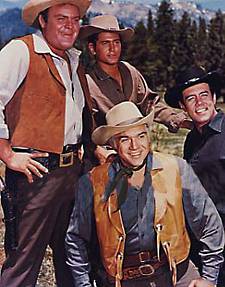 Click to Buy This Picture