Brady Bunch
9/26/1969 – 8/30/1974
ABC 30 minutes
Color – 117 episodes
The Brady Kids
11/16/72 – 8/31/74
ABC Animated
Brady Bunch Hour
1/23/1977 – 5/5/1977
ABC 60 minutes
Brady Brides
9/6/1981 – 4/17/1981
NBC 30 minutes
The Brady's
2/9/1990 – 3/9/1990 CBS 30 minutes Brady
Bunch Cast
Robert Reed as Mike Brady
Florence Henderson as Carol Brady
Barry Williams as Greg Brady
Maureen McCormick as Marcia Brady
Christopher Knight as Peter Brady
Eve Plumb as Jan Brady
Mike Lookinland as Bobby Brady
Susan Olsen as Cindy Brady
Geri Reischl as Jan Brady
(Brady Bunch Hour)
Ann B. Davis as Alice Nelson
Allan Melvin as Sam Franklin
Robbie Rist as Cousin Oliver (1974)
Theme Song
"The Brady Bunch" by Frank DeVol and Sherwood Schwartz
Sung by the Peppermint Trolley Company 1st season, then the Brady Kids
Here's the story of a lovely lady
Who was bringing up three very lovely girls.
All of them had hair of gold, like their mother
The youngest one in curls.
Here's the story, of a man named Brady,
Who was busy with three boys of his own,
They were four men, living all together,
Yet they were all alone.
Till the one day when the lady met this fellow
And they knew it was much more than a hunch,
That this group would somehow form a family.
That's the way we all became the Brady Bunch.
Tidbits
Let's dispense with the bad news first. Yes, Robert Reed was gay and yes, he resisted kissing Florence Henderson. He made very unkind remarks about the series, saying it embarrassed him. He frequently walked off the set after arguments with producer Sherwood Schwartz.
None of which changes the fact they we all loved this show. We either wanted to be adopted into the family, or at least get to go play at the oh, so familiar, four bedroom, two bathroom house in Los Angeles.
Nor can any post mortem revelations alter the fact that the Brady Bunch spawned as many spinoffs as Star Trek. Not to mention the movies.
The story is well known. Most of us can sing the theme song from memory and that pretty much says it all. Mike Brady (Robert Reed) was an architect widower with 3 boys and Carol Brady (Florence Henderson) was in the same situation but with 3 girls. True love grew, and "that's the way we became the Brady Bunch."
At the start, the kids ranged from 7 to 14. But they quickly blossomed. Greg (Barry Williams) was a teen idol and who can forget, Marcia, Marcia Marcia. There are grown men who still harbor a crush on Maureen McCormick.
There's nothing wrong with a little harmless fantasy like the Brady's. Maybe it's what we need more of today.
Passings
Only Robert Reed who died in 1992 of intestinal cancer is gone. So for fun, want to now how old the Brady kids are today? Here are their birth years: Barry Williams (1954), Maureen McCormick (1956), Christopher Knight (1957), Eve Plumb (1958), Mike Lookinland (1960) and Susan Olsen (1961).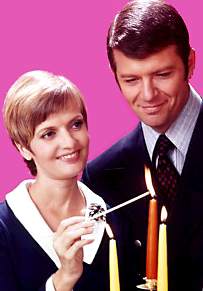 Florence Henderson and Robert Reed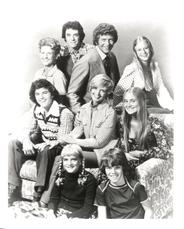 The Cast


Ann B. Davis

Maureen McCormick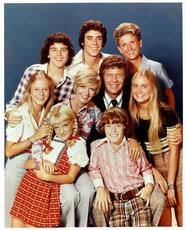 Cast
---
Click to Buy on DVD
Complete 1st Season
Complete 2nd Season
Complete 3rd Season
Complete 4th Season
Complete 5th Season
---
For More of Robert Reed
See Defenders
External Links
TV Guide's Brady Bunch Page, with TV Listings, Photos, Videos, Exclusive News and More.
Brady Bunch Trivia
Address: 4222 Clinton AvenueDog's name: Tiger

Schools:
Clinton Elementary
Filmore Jr. High
Westdale Sr. High (Bears)

Marcia belonged to: Sunflower Girls scout troop
Greg belonged to: Frontier Scouts
Peter belonged to: Treehouse Club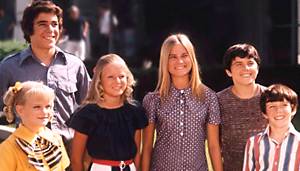 The Brady Bunch