4/3/1958 – 9/14/1959
NBC 30 minutes
Black and White
July 1958-Sept. 1958
NBC Thurs. 9:30-10:00
Oct. 1958-Jan. 1959
NBC Fri. 7:30-8:00
Jan. 1959-Sept. 1959
NBC Thurs. 7:30-8:00
July 1965-Aug. 1965
NBC Sun.. 8:30-9:00)
Buckskin Cast
Tommy Nolan as Jody O'Connell
Sally Brophy as Mrs. Annie O'Connell
Mike Road as Marshal Tom Sellers
Michael Lipton as Ben Newcomb
Shirley Knight as Mrs. Newcomb
Buckskin Theme Song
"Buckskin" by Stanley Morton and Mort Green
Buckskin Tidbits
Ten year old Jody lived in his mother's boardinghouse in Buckskin, Montana in 1880. Because this was a social center for the whole town, young Jody got to interact with both the townspeople and with all the guests passing thru the frontier town.
One of this show's problems was that it got moved around on the schedule four times. It was rerun in the summer of 1965.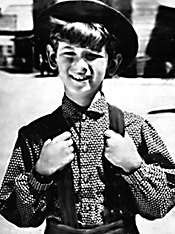 Tommy Nolan
From the Doug Abbott Collection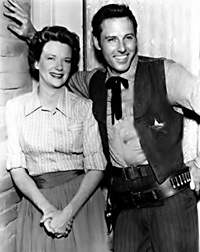 Sally Brophy and Mike Road
From the Doug Abbott Collection
External Links
TV Guide's Buckskin Page, with TV Listings, Photos, Videos, Exclusive News and More.