9/11/1961 – 9/8/1963 NBC
Black and White – 60 episodes
Car 54, Where Are You Cast
Joe E. Ross as Officer Gunther Toody
Fred Gwynne as Officer Francis Muldoon
Beatrice Pons as Lucile Toody
Paul Reed as Captain Martin Block
Albert Henderson as Officer O'Hara
Joe Warren as Officer Steinmetz
Al Lewis as Officer Leo Schnauser
Bruce Kirby as Officer Kissel
Hank Garrett as Officer Ed Nicholson
Jim Gormley as Officer Nelson
Charlotte Rae as Silvia Schnauser
Shelley Burton .as Officer Murdock (1961-62)
Duke Farley as Officer Rily (1961-62)
Jerome Guardino as Officer Antonnucci (1961-62)
Frederick O'Neal as Officer Wallace (1962-63)
Nipsey Russell as Officer Anderson (1961-62)
Car 54, Where Are You Theme
"Car 54, Where Are You" by John Strauss and Nat Hiken
Car 54, Where Are You Tidbits
Officers Toody (Joe E. Ross) and Muldoon (Fred Gynne) worked in New York's 53rd Precinct, which is a mixed neighborhood, both Irish and Jewish.
Aside from being cops, these two had nothing in common. One was smart, tall, thin and lived with his mother. The other was short, chubby and not too bright.
The first cop sitcom, it also featured Nipsey Russell as Officer Anderson, unusual as blacks weren't getting recurring roles in those days.
Passings
Joe E. Ross died in 1982 and Fred Gynne in 1993 of pancreatic cancer.External Links
TV Guide's Car 54 Where Are You? Page, with TV Listings, Photos, Videos, Exclusive News and More.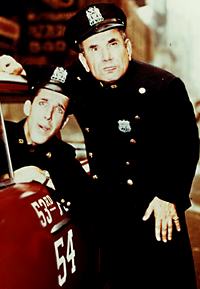 Fred Gynne and Joe. E. Ross