Buy The Courtship of Eddie's Father on DVD
The Complete First Season (1969)
The Complete Second Season (1970)
The Complete Third Season (1971)
---
The Courtship of Eddie's Father
September 17, 1969 – March 1, 1972,
(73) 30 minute episodes (3 seasons) on ABC in color
Produced by: James Komack
Filmed at: Universal Television, Hollywood, CA
CAST
Bill Bixby — Tom Corbett
Brandon Cruz — Eddie Corbett
Miyoshi Umeki — Mrs. Livingston
Kristina Holland — Tina Rickles
James Komack — Norman Tinker
Opening Theme
"Best Friend"
Written and Performed by: Harry Nilsson
People let me tell you 'bout my best friend,
He's a warm hearted person who'll love me till the end.
People let me tell you bout my best friend,
He's a one boy cuddly toy, my up, my down, my pride and joy.
People let me tell you 'bout him he's so much fun
Whether we're talkin' man to man or whether we're talking son to son.
Cause he's my best friend.
Yes he's my best friend.
STORYLINE
Tom Corbett (Bill Bixby) is a widowed magazine publisher with an adorable young son Eddie (Brandon Cruz). The two of them share the loss of Tom's wife and Eddie's mother and it leads to great father son bonding moments.
The crux of the show however centers around Eddie trying to get his dad hooked back up with a new wife. He is aided by Mrs. Livingston (Miyoshi Umeki) the Japanese housekeeper who usually is found siding with Eddie in his scheming. Mrs Livingston is so attached to Eddie that she refers to Tom Corbett as "Mr. Eddie's Father."
Tom has a business associate Norman Tinker (James Komack)who acts as Eddies pseudo Uncle and occasional gets involved in the schemes and Tina Rickles (Kristina Holland) his steady heady secretary who also comes to Eddies aid when needed.
The show though thoroughly a comedy had many heart warming moments when father and son would figure out that although they were lonely for a wife / mother, they had each other and that was going to be enough for the time being.
Video Clip of The Courtship of Eddie's Father
Passings
Bill Bixby passed away in 1993 of cancer, he was 59 years old
Miyoshi Umeki died of cancer in 2007, she was 78
James Komack in 1997 at 73 years old, of heart failure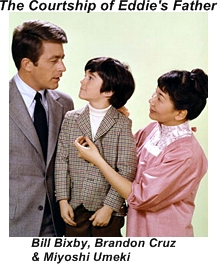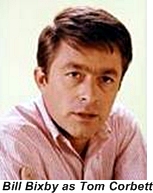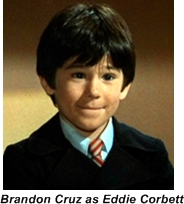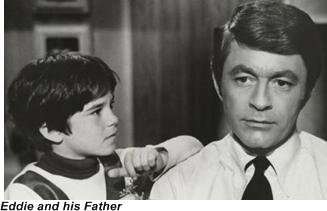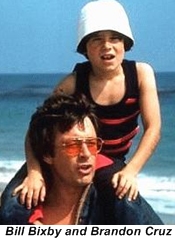 TRIVIA:

"Courtship" like many shows during this period was a vehicle to promote existing actors and showcase new talent.
Here are some of the guest stars:
Jodie Foster, Sally Struthers, Bruce Kirby, Pat Harrington, Jr., Diana Muldaur, Willie Aames, Warren Berlinger, Suzanne Pleshette, Yvonne Craig, Cicely Tyson, Richard X. Slattery, Tippi Hedren, Trisha Noble, John Fiedler, Alan Oppenheimer, Lou Jacobi, Will Geer, Bill Dana, Jerry Stiller, Anne Meara, Ronny Graham, Ann Prentiss, Ron Ely, Carol Lawrence, George Takei and more.
TRIVIA:

James Komack was not only the creator and producer of "Courtship" he appeared in 44 episodes as Norman Tinker, Tom Corbett's business associate. It was not that unusual for Komack to get in the action, he was an actor long before he started flexing his creative muscle behind the camera.