Buy The Dating Game on DVD
ABC did not save copies of their daytime shows. A few episodes are said to be available but I haven't been able to find them.
---
The Dating Game
December 20, 1965 – July 6, 1973
1/2 hour episodes (8 seasons in original run) on ABC
Other versions of the show appeared during the years:
(1973–1974 as The New Dating Game), (1978–1980), (1986–1989) and (1996–1999) on different networks with different production companies
Created and Produced by: Chuck Barris, Chuck Barris Productions
CAST
Jim Lange was the sole host for the entire run of the series (1965-1971)
He also hosted two of the shows re-boots (1973-'74) and (1978-'80)
Below is a list of guest stars that you may recognize:
Adam West
Kathryn Minner
Kathy Garver
Sally Field
Robert Vaughn
John Ritter
Tom Selleck
Desi Arnaz Jr.
Donna Loren
Groucho Marx
Paul Lynde
Richard Dawson
Bill Bixby
Deep Purple

The Standells
McLean Stevenson
Strawberry Alarm Clock
Jackson Bostwick
Farrah Fawcett
Iron Butterfly
Karen and Richard Carpenter
David Cassidy
Maureen McCormick
Brandon Cruz
Barry Williams
Ron Howard
Michael Jackson

Vincent Price
Dick Clark
Arnold Schwarzenegger
Suzanne Somers
Willie Aames
Rip Taylor
Famous Amos
Tom Netherton
Andy Kaufman
Jimmie Walker
Phil Hartman
Pee Wee Herman
Bob Saget
THE SCOOP
This was sort of a sixties style boy meets girl but first boy must proof that he is worthy of girl by answering some telling questions. The humor was usually found in the answers that the young bachelors would give. (Don't feel left out ladies, they would occasionally turn the tables and have one bachelor asking the questions to three bachelorettes). The only questions that weren't allowed were name, occupation, income or age.
Nothing was supposedly scripted but I'm pretty sure that a least the celebrity guest stars got some warning what the questions might be and even some "helpful" words from the writers. One contestant on the show was a young Tom Selleck but out of two appearances he was never chosen (I bet those bachelorettes were kicking themselves later!)
Once a person was selected by the questioner then they would go out on a date, all expenses paid by the show. Sometimes still photos of "the date" would be shown during a later show. The ending of the show always had the host (Jim Lange) and the and winning contestants blowing a big kiss to the camera.
Video Clip of the Dating Game
Has a very young Michael Jackson as the contestant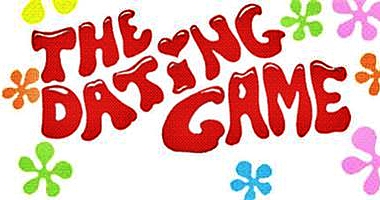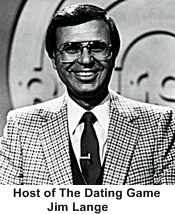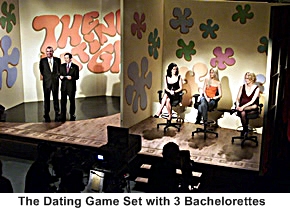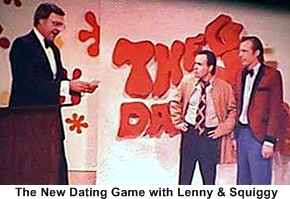 TRIVIA:
Ok I finally get it, sixties "just for fun" television hits 21st century social media.
A version of The Dating Game was launched on Facebook, Twitter and other social networking sites in March 2011. Developer 3G Studios has acquired the rights to the classic 1960s game show. It also owns the online game "Wheel of Fortune".