Buy The Dean Martin Show on DVD
The Dean Martin Variety Show: Uncut
King Of Cool!: The Best Of
---
The Dean Martin Show
September 16, 1965 – April 5, 1974
(264) one hour episodes (9 seasons)
in Color on NBC
Produced by: Greg Garrison with NBC
CAST
Dean Martin – host and star of the show
Ken Lane – Martin's pianist
Below is a list of semi-regular guest stars that appeared in the comedy skits
Al Casey
Sandahl Bergman
Bob Newhart
Dom DeLuise
Norm Crosby
Dick Martin
Dan Rowan
Ruth Buzzi

Joey Bishop
Charles Nelson Reilly
Jonathan Winters
Foster Brooks
Nipsey Russell
Paul Lynde
George Gobel
Joey Heatherton
Opening Theme
"Everybody Loves Somebody."
Written By: Sam Coslow, Irving Taylor and Ken Lane
Everybody loves somebody sometime
Everybody falls in love somehow
Something in your kiss just told me
My sometime, is now
Everybody finds somebody someplace
There's no telling, where love may appear
Something my heart keeps saying
My someplace, is here
If I had it in my power
I would arrange for every girl to have your charms
Then, every minute, every hour
Every boy would find what I found, in your heart
Everybody loves somebody sometime
And although my dream was overdue
Your love made it well worth waiting
For someone like you
(If I had it in my power)
I would arrange for every girl to have your charms
(Then, every minute, every hour)
Every boy would find what I found in your heart
Everybody loves somebody sometime
And although my dream was overdue
Your love made it well worth waiting
For someone…like you
STORYLINE
Dean Martin is the only story here. This very entertaining variety show features Martin singing old favorites, teaming up with other stars to sing duets, teaming up with comedy greats to put on hilarious skits and being surrounded by a bevy of chorus girls known as the Golddiggers.
Regular bits on the show included:
every show started with Martin sliding down a fireman's pole into his living room set
a celebrity guest behind a closed door who was always a complete surprise to Martin
Martin would start a serious song but keep interrupting himself with gag lines making it impossible to finish the song
a tape would be played of a well known song by a mystery singer, write-in viewers guessed who it was with a prize awarded for one winner
there were recurring bits with recurring co-stars like Dom DeLuise and Nipsey Russell in skits set in a barbershop
Most of the "Rat Pack" tried TV shows during this period but none were as successful as Dean Martin's.
Video Clip of The Dean Martin Show
Passings
Dean Martin died in 1995 of complications from lung cancer, he was 78
Ken Lane died in 1996 of emphysema, he was 83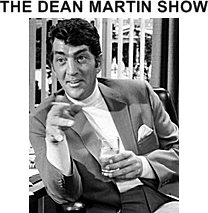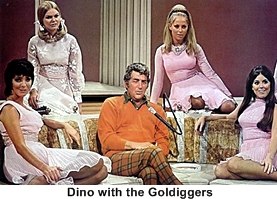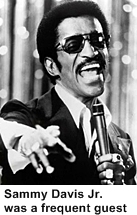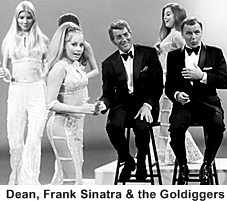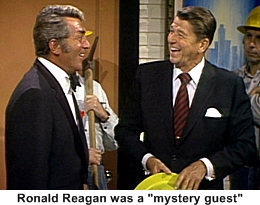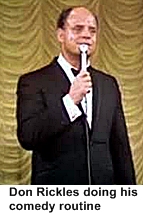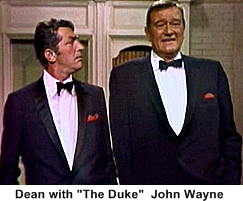 TRIVIA:
Dean Martin didn't really want to do a television show fearing that it would interfere with his nightclub tours and movies.
So when the studio approached him he gave them what he felt were impossible demands. He wanted a huge salary, a one day work week (Sundays only) and no rehearsals.
Guess what….the studio said OK and Martin was stuck doing the show.