Buy Dobie Gillis on DVD
Season One (1959)
Season Two (1960)
Season Three (1961)
Season Four (1962)
The Many Loves Of Dobie Gillis: The Complete Series
Many Loves of Dobie Gillis
9/29/1959 – 9/18/1963
CBS 30 minutes
Black and White
Dobie Gillis Cast
Dwayne Hickman as Dobie Gillis
Bob Denver as Maynard G. Krebs
Frank Faylen as Herbert T. Gillis
Florida Friebus as Winifred 'Winnie' Gillis
Sheila James Kuehl as Zelda Gilroy
William Schallert as Mr. Leander Pomfritt
Tuesday Weld as Thalia Menninger (1959-1960)
Warren Beatty as Milton Armitage (1959-1960)
Tommy Farrell as Riff Ryan (1959-1960)
Yvonne Lime as Melissa Frome (1959-1960)
Darryl Hickman as Davey Gillis (1959-1960)
Doris Packer as Clarice Armitage (1959-1960)/Mrs. Chatsworth (Clarissa) Osborne, Sr. (1960-1963)
Michael J. Pollard as Jerome Krebs
Steve Franken as Chatsworth Osborne, Jr (1960-1963)
Dobie Gillis Theme Song
"Dobie" by Lionel Newman and Max Shulman
Dobie Gillis Tidbits
Dobie Gillis (Dwayne Hickman) was an average teen. He thought about money, cars and girls. He wished he had more of all three.
Dobie's best friend was Maynard G. Krebs (Bob Denver), a beatnik who shuttered at the word "work."
Dobie's father was a grocer, an honorable profession, but Dobie always felt that the "rich guys" got the girls. First it was Milton Armitage played by a young Warren Beatty. Later it was Chatsworth Osborne Jr. (Steve Franken) who struttted his stuff.
Zelda Gilroy (Sheila James Kuehl) saw Dobie as her future. But Zelda was none of the things Dobie wanted. Now Thalia Menniger (Tuesday Weld) was another story, except that she was unattainable.
The show began and ended with Dobie contemplating life under a statue of Rodin's "the Thinker."
Passings
Doris Packer died in 1979, Frank Faylen in 1985 of respiratory ailment and pneumonia, and Florida Friebus in 1985 of cancer. Bob Denver died in 2005.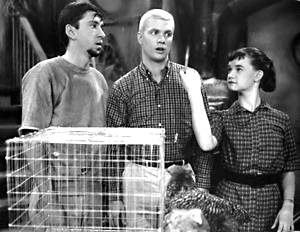 Bob Denver, Dwayne Hickman and Sheila James Kuehl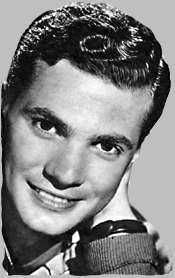 Dwayne Hickman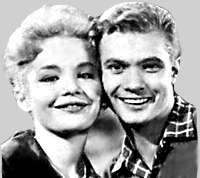 Tuesday Weld and Dwayne Hickman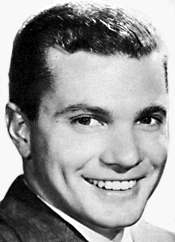 Dwayne Hickman