Buy Eight is Enough on DVD
---
Eight is Enough
March 15, 1977 – August 29, 1981
112 one hour episodes (5 seasons)
in color ABC
Created by: Lee Rich, Philip Capice and Lee Mendelson
Produced by: Philip Capice and Lee Rich with Lorimar Productions
Theme Song
"Eight Is Enough"
Music By: Lee Holdridge
Lyrics By: Molly-Ann Leikin
CAST
Dick Van Patten
Diana Hyland
Betty Buckley
Grant Goodeve
Lani O'Grady
Laurie Walters
Susan Richardson
Dianne Kay
Connie Newton
Willie Aames
Adam Rich

Tom Bradford
Joan Bradford
Abby Bradford
David Bradford
Mary Bradford
Joannie Bradford
Susan Bradford
Nancy Bradford
Elizabeth Bradford
Tommy Bradford
Nicholas Bradford
STORYLINE
This was a heart warming series about a huge, complicated, often troubled but functional family that included a widowed and remarried father and his eight very independent children.
Tom Bradford (Dick Van Patten) was a columnist for a Sacramento newspaper and married to Joan (Diana Hyland). They had eight kids:
David Bradford, 22 (Grant Goodeve)
Mary Bradford, 21 (Lani O'Grady)
Joanie Bradford, 20 (Laurie Walters)
Susan Bradford, 19 (Susan Richardson)
Nancy Bradford, 18 (Dianne Kay)
Elizabeth Bradford, 15 (Connie Needham)
Tommy Bradford, 14 (Willie Aames)
Nicholas Bradford, 8 (Adam Rich)
Then tragedy strikes the show, Diana Hyland dies in real life leaving the show without a mother. Only four episodes had been filmed at the time of her death, and not knowing how to handle it, the producers simply had her visiting relatives for the remainder of the season. Then for the next season character Tom Bradford is suddenly a widower (presumably for over a year) and he meets a lovely school teacher Abby (Betty Buckley) who is a widower herself. Romance blossoms and all of a sudden the kids have a new mom.
Billed as a comedy / drama the show dealt with the everyday lifetime experiences of some or all of the family and how they dealt with those circumstances. They were sometimes humorous and other times real tear jerkers. A couple of the kids got married, David to Janet Mc Arthur (Joan Prather) and Susan to Merle 'The Pearl' Stockwell (Brian Patrick Clarke). Mary went off to med school and came home a doctor and many of the other children introduced best friends, classmates and love interests expanding the cast and adding even more flexibility to the scripts.
The show shared more than just the "large happy family" premise with the Waltons. Both shows were produced by Lorimar Productions and shared writers and creative staff. By the fifth season the ratings had started to sag and the show got caught up in an eight show purge by ABC.
Video Clip of Eight is Enough Intro
Passings
Diana Hyland passed away in 1977 of breast cancer, she was only 41
Lani O'Grady died of a accidental overdose in 2001, she was only 46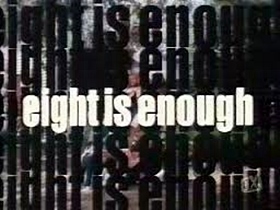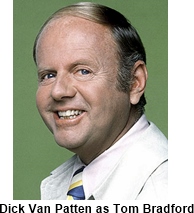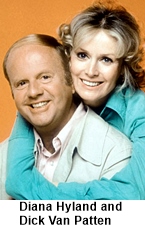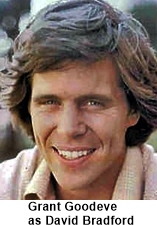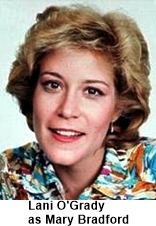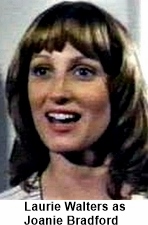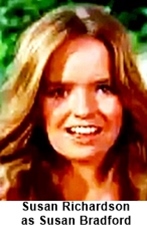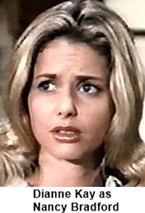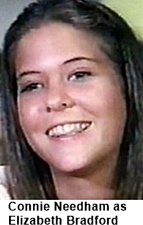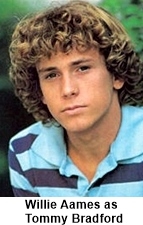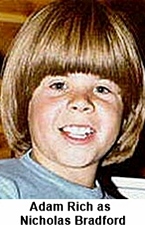 TRIVIA:
The series was based on a book by Thomas Braden titled "Eight is Enough". Braden was a syndicated newspaper columnist who had eight children with the same first names as the tv show. Tom Bradford in the series was also a newspaper columnist but that's about where the similarities stopped and the creative writing began.