Buy Emergency on DVD
---
Emergency
January 15, 1972 – May 28, 1977
124 one hour episodes (6 seasons)
Plus (6) made for TV movies
in color NBC
Created by: Robert A. Cinader, Harold Jack Bloom and Jack Webb
Produced by: Jack Webb and Robert A. Cinader with Mark VII Limited and Universal TV
Theme Music Composed By:
Nelson Riddle
CAST
Randolph Mantooth
Kevin Tighe
Robert Fuller
Bobby Troup
Julie London
Tim Donnelly
Mike Stoker
Marco López
Sam Lanier

Paramedic John Gage
Paramedic Roy DeSoto
Dr. Kelly Brackett
Dr. Joe Early
Dixie McCall, R.N.
Fireman Chet Kelly
Fireman Mike Stoker
Fireman Marco López
Dispatcher Sam Lanier
STORYLINE
The series sort of combined the then very popular medical show genre with an action adventure twist.
Paramedic John Gage (Randolph Mantooth) and Paramedic Roy DeSoto (Kevin Tighe) were specially trained fire fighters with the Los Angeles County Fire Department (LACoFD). It was in the infancy of the EMT program and any medical emergencies had to be supervised via radio link with a doctor at Rampart General Hospital. These docs were Dr. Kelly Brackett (Robert Fuller), Dr. Joe Early (Bobby Troup) and Chief Nurse Dixie McCall (Julie London). Together they responded to life and death emergencies all over Los Angeles County.
Trivia Note: This was a Jack Webb production, Julie London was Webb's ex-wife and was currently married to Bobby Troup (Dr. Joe Early) Troup also appeared in roles in Dragnet and Adam-12 both of which were Webb productions.
What made this series so good was its authenticity. Every episode was based on a true story from real fire departments log books. The shooting of every technical response scene had a LACoFD technical officer to advise and instruct the directors. Some actual LACoFD personnel were used as actors appearing in the show as themselves. The equipment used for the series were real fire trucks and vehicles and the locations shown were actual firehouses and hospitals with only the names changed. Randolph Mantooth and Kevin Tighe had to attend LACoFD paramedic training and do extensive "ride along's" on actual EMT calls. The dispatcher heard (and seen in a couple of episodes) was an actual LACoFD dispatcher who had absolute authority to change any script involving the dispatcher to reflect the language that would have actually been used.
Emergency was considered a spin-off from Adam-12 which itself was a spin-off from Dragnet. Although the show was canceled in 1977 in the following couple of years a series of six TV movies were made which involved at least most of the major cast members. Two of the movies were meant to introduce new shows however the spin-offs were never picked up by any network.
Video Clip of Emergency
Passings
Bobby Troup died in 1999 at 80 years old
Julie London passed away in 2000 just one year after her husband, she was 74
Nelson Riddle died in 1985 of kidney failure, he was only 64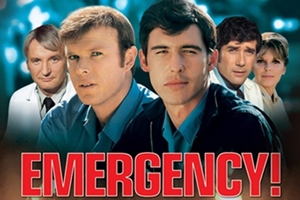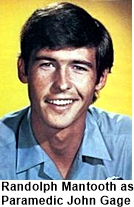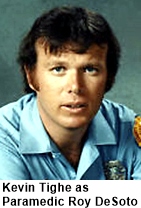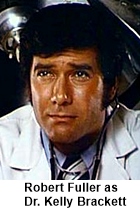 Robert Fuller previously appeared
in "Wagon Train" and "Laramie"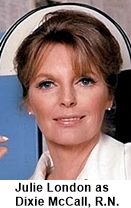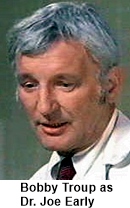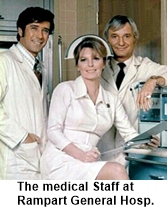 TRIVIA:
The character Paramedic John Gage was based on Battalion Chief Jim Page, who helped create the fire fighter/paramedic program for LACoFD. Executive Producer Jack Webb wanted to name the character after Page, but he declined. Jim Page died on 4 September 2004 and Randolph Mantooth was one of the speakers at his memorial.