The Ghost & Mrs. Muir has not been released on DVD
below is the original 1947 movie
---
The Ghost & Mrs. Muir
September 28, 1968 – March 13, 1970,
(50) 30 minute episodes (2 seasons) on NBC and ABC in color (NBC 1968-69), (ABC 1969-70)
Produced by: David Gerber
Filmed at: 20th Century Fox Studios, Hollywood, CA
CAST
Hope Lange … Carolyn Muir
Edward Mulhare … Capt. Daniel Gregg
Reta Shaw … Martha Grant (the housekeeper)
Harlen Carraher … Jonathan Muir
Kellie Flanagan … Candice Muir
Charles Nelson Reilly … Claymore Gregg
Scruffy … Scruffy (the dog)
STORYLINE
Mrs Muir (Hope Lange) her two children, Jonathan (Harlen Carraher) Candice (Kellie Flanagan)and their maid Martha (Reta Shaw) rent a lovely old seaside house presumably in New England. Mrs. Muir is a widower but doesn't show any interest in remarrying and is happy raising her kids.
The rub is that Claymore Gregg (Charles Nelson Reilly), the land lord has unsuccessfully tried to rent the house out for years but his dead uncle the original owner of the house keeps scaring potential renters away. It turns out that his uncle, Capt. Daniel Gregg (Edward Mulhare) was a 19th century sea captain and is haunting the house so that he'll be left alone.
Well eventually Mrs. Muir and the family, who refuse to leave, win him over and he becomes another member of their family even if he can only be seen when he wants to be.
The show was based on a book by the same name written in 1945 by "R.A. Dick" and subsequently made into a 1947 film starring Gene Tierney and Rex Harrison.
Video Clip of The Ghost & Mrs. Muir
Passings
Hope Lange died in 2003 of an ischemic colitis infection, she was 70 years old.
Edward Mulhare passed away of lung cancer in 1997, he was 74.
Reta Shaw died in 1969 of emphysema, she was 69.
Charles Nelson Reilly died of pneumonia in 2007 he was 76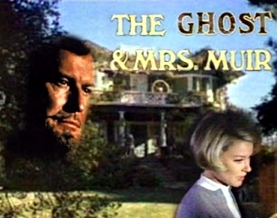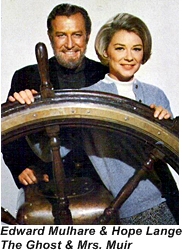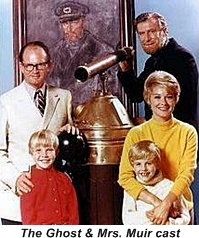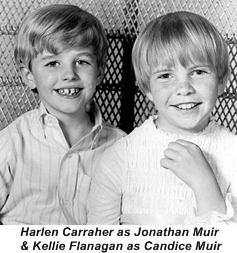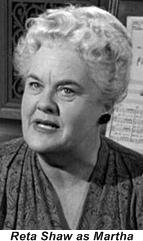 TRIVIA:
The house used in the show was fictionally set in Maine on the seashore it was called Gull Cottage and was located on Schooner Bay.
The actual house was located in Santa Barbara, CA and was on a dry lot, no where near the water!