9/14/1957 – 9/21/1963 CBS
Black and White – 30 minutes – 226 episodes
Saturday 9:30-10:00
Have Gun Will Travel Cast
Richard Boone as Paladin
Kam Tong as Hey Boy
Lisa Lu as Hey Girl
Horse: Rafter
Have Gun Will Travel Theme Song
"Ballad of Paladin" by Johnny Western, Richard Boone, and Sam Rolfe
Performed by Johnny Western
Have Gun Will Travel reads the card of a man.
A knight without armor in a savage land.
His fast gun for hire head's the calling wind.
A soldier of fotune is the man called Paladin.
Paladin, Paladin Where do you roam?
Paladin, Paladin, Far, far from home.
He travels on to wherever he must;
A chess knight of silver is his badge of trust.
There are campfire legends that the plainsmen spin
Of the man with the gun,
of the man called Pa-l-l-l-l-a-din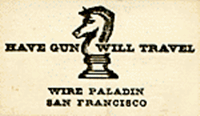 Have Gun Will Travel Tidbits
Paladin (Richard Boone) is a West Point educated gentleman with a taste for fine wines and foods. Based at the Hotel Carlton in San Francisco, he was a man for hire.
Paladin would do anything for those in serious need. He read the newspapers from across the country and sometimes sent his calling card to those he felt might use his services as gunfighter, bodyguard or anything else that his skills could accomodate. His fee to those who could pay was $1,000.
While at the hotel, he dressed the dandy. But for work, he was a man in black.
He carried a Colt .45 revolver in a holster with a white knight (the Paladin) on it and a small derringer under his gunbelt.
Kam Tong, who usually delivered the message from a potential client, was replaced by Lisa Lu as Hey Girl for one season ('60-'61) because Tong had a more substantial role in the show The Garland Touch. He returned to HGWT when Garland failed.
Richard Boone exercised a lot of creative control on this show and his judgements paid off. HGWT ranked in the Top 4 shows for four years running – and for three of them, it placed #3 behind Wagon Train and Gunsmoke.
Gene Rodenberry polished his writing skills on this show!
Passings
Richard Boone died in 1981 of throat cancer.
HGWT Trivia
Episodes to watch:
"Three Bells To Perdido" (9/14/1957) (pilot)
"The Outlaw" (9/21/1957) (fan fave)
"Hey Boy's Revenge" (9/12/1958) (cited by TV Guide)
"Genesis" (9/15/1962) (tells Paladin's story)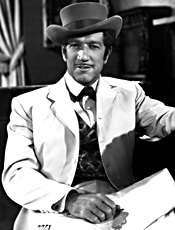 Richard Boone
From the Doug Abbott Collection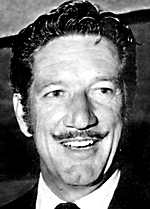 Richard Boone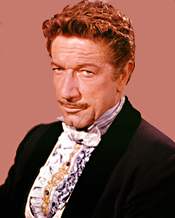 Richard Boone
From the Doug Abbott Collection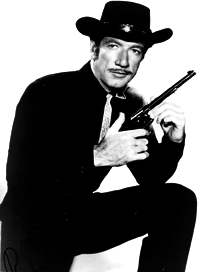 Richard Boone
From the Neil Kutzen Collection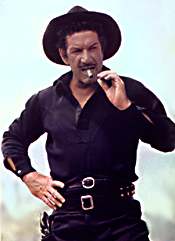 Richard Boone
From the Doug Abbott Collection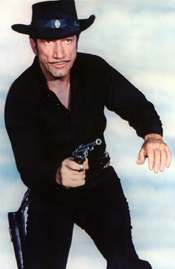 Richard Boone
From the Doug Abbott Collection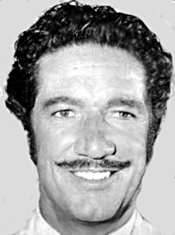 Richard Boone
NOW ON DVD!
Have Gun Will Travel:
Complete Season 1
Complete Season 2
Complete Season 3
Season 4, Vol. 1
Season 4, Vol. 2
Season 5, Vol. 1
Season 5, Vol. 2
Season 6, Vol. 1
Season 6, Vol. 2
Complete Series
External Links
TV Guide's Have Gun Will Travel Page, with TV Listings, Photos, Videos, Exclusive News and More.
Season 2 Gallery & Review
"The Lady"
Richard Boone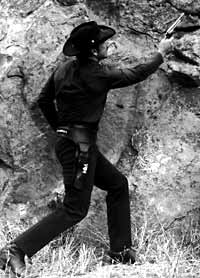 "The Man Who Wouldn't Talk"
Richard Boone, Charles Bronson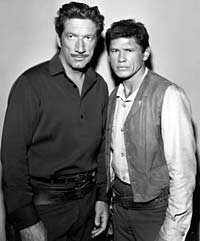 "Long Hunt"
Richard Boone, Anne Barton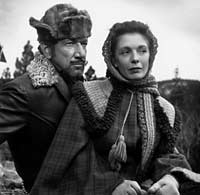 "Hunt the Man Down"
Richard Boone, Madlyn Rhue, James Drury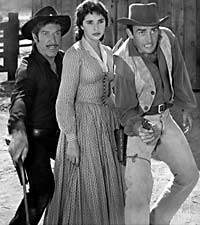 "A Snare for Murder"
Richard Boone, Natalie Norwich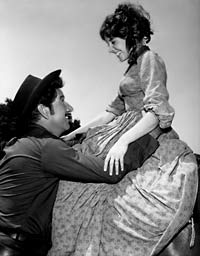 "The Moor's Revenge"
Richard Boone, Patricia Morison, Vincent Price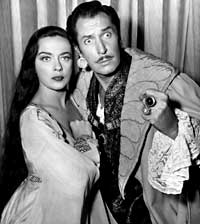 Have Gun Will Travel Complete 2nd Season DVD Review
They didn't make 'em smarter than this, pardner. Have Gun Will Travel was a thinking person's TV Western. It was the first Western to be released as a complete season and for good reason. Richard Boone played sophisticated Palladin, who lived in the Hotel Carlton in San Francisco. He could be hired to solve problems, which he preferred to do with his head and not his gun. He was the only cowboy in TV Westerns who routinely quoted Shakepeare.
This year the show had reached its stride and even increased the pace a bit. In this second season, some of the best episodes were penned by Gene Roddenberry, who would go on to create Star Trek. It is on Have Gun that he perfected his craft in such stories as "The Monster of Moon Ridge." While the tight direction was usually provided by Andrew V. McLaglen, this season marked the first time a woman directed a TV Western. Ida Lupino broke that ground with "The Man Who Lost" starring Jack Elam.
You won't see much of Hey, Boy this year, and I kinda missed him.
Noteworthy guest stars are Lon Chaney Jr., Charles Bronson, Harry Morgan, Madlyn Rhue, James Drury, Harry Carey Jr., Suzanne Pleshette, Morey Amsterdam, Vincent Price, and Edward Platt.
The includes 6 discs which are generously in their own individual plastic cases. The set contain all 39 episodes and for each one, there is a bit of detailed trivia included. It's difficult to get expert commentary for these old shows since most of the main players are dead, so the behind-the-scenes text is nice to have. Most of the episodes look good especially to those of us used to looking at old VHS tapes or worse, reruns on TV. A few look like maybe the masters had aged too much, but in the main, I am grateful for season 2 and await season 3.
Click to Buy Have Gun Will Travel
Complete 2nd Season
Complete 1st Season