Buy Honey West on DVD
---
Honey West
September 17, 1965 – April 8, 1966
(30), 1/2 hour episodes (1 seasons)
in B&W
Created by: "G.G. Fickling" (Gloria and Forrest E. "Skip" Fickling)
Produced by: Aaron Spelling
CAST
Anne Francis   —   Honey West
John Ericson   —   Sam Bolt
Irene Hervey   —   Aunt Meg
Bruce   —   Bruce the Ocelot
Opening Theme
Composed By: Joseph Mullendore
STORYLINE
The character, Honey West was first seen in a 1950s novel by the same name and then again in an episode of Burke's Law (1965). She was such a hit on that episode that she almost immediately got her own spin-off series.
The premise was Honey West (Anne Francis) inherits a very high tech private detective agency from her Father. She decides to continue his work and keeps the agency's name as H.West Investigations so that perspective clients wouldn't realize that they were hiring a woman until she had a chance to wow them. She had a junior partner, Sam Bolt (John Ericson)who helped her solve crimes but also seemed to function as her personal assistant. Rounding out the office staff was Bruce, her pet ocelot.
Honey liked all things feline which was reflected in her animal print clothing and furnishings. Although Anne Francis portrayed Honey in an episode of Burke's Law she was not Aaron Spelling's first choice for the series. He liked Honor Blackman for the role because of her work as Cathy Gale on The Avengers, but she was not available for the part. Blackman was also preferred because of her knowledge and practice of judo.
Honey liked high tech devices and she had quite a few. Lipstick tube radio, tear gas ear rings, exploding compact, guns or gas masks in her garter belt and even a surveillance van all made up her crime fighting arsenal.
As much as Aaron Spelling tried to make an American version of The Avengers sadly the original won out and rebroadcast versions of the BBC show replaced Honey in that time slot after only one season.
Video Clip of Honey West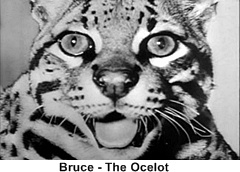 Passings
Anne Francis died in 2011 of pancreatic cancer, she was 80 years old
Irene Hervey died in 1998 of heart failure, she was 89
John Ericson passed in 2020, he was 93