BUY ON DVD
The Howdy Doody Show- 40 Episode Collection
12/27/1947 – 9/30/1960 NBC
Black and White until 9/12/1955, then Color
30 minutes
2,543 total episodes
8/15/1948 -6/1/1956 – 5 days a week
1956 – 1960 – Saturdays
Original Title: Puppet Playhouse
Howdy Doody Cast
Bob Smith as Buffalo Bob Smith
Bob Keeshan as Clarabell
Bobby Nicholson as Clarabell /Cornelius Cobb
Lew Anderson as Clarabell
Chief Puppeteers:
Rufus Rose, Rhoda Mann and Dayton Allen
Actors
Bill LeCornec as Chief Thunderthud
Judy Tyler as Princess Summerfall Winterspring
Linda Marsh as Princess Summerfall Winterspring
Jean Cavall as La Touke, Papa
Robert Goulet as Trapper Pierre
Barbara Hamilton as Willow (later episodes)
Eric House as Willow
Larry Mann as Cap'n Scuttlebutt/Flub-a-Dub
Caryl McBain as Princess Haida
Peter Mews as Timber Tom
Maxine Miller Gerrard as Princess Pan of the Forest
Voices
Claude Rae as Howdy Doody/Phineas T. Buster/Mr. X
Jacqueline White as Howdy Doody (voice) (later episodes)
Dayton Allen as Mr. Bluster
Bill LeCornec as Dilly Dally
Norma MacMillan as Heidi Doody
Jack Mather as Various characters
Donna Miller as Prunella Bluster/Heidi Doody
Howdy Doody Theme Song
"It's Howdy Doody Time" by Edward Kean
It's Howdy Doody time,
It's Howdy Doody time,
Bob Smith and Howdy Doo
Say Howdy Doo to you.
Lets give a rousing cheer,
'Cause Howdy Doody's here.
It's time to start the show,
So kids, let's go!

Howdy Doody Tidbits
Let's see how much you remember!
The show took place in Doodyville, a circus town which had both puppet and human inhabitants.
The audience of kids was called the Peanut Gallery and there was a huge waiting list for tickets to the show. Everybody wanted to sit in the Peanut Gallery!
The show typically had a short film, a song or two and visits by the various residents of Doodyville.
Did you know that…
Buffalo Bob Smith was one of the first to recognize the potential of television to market products to kids. Welch's Grape Jelly, Wonder Bread, Colgate.
Howdy Doody was the first show to ever hit the 2,000 episode mark?
Howdy Doody was the first regular network series in color?
Howdy Doody had the first theme song to become popular outside of the show?
Passings
Buffalo Bob Smith died in 1998 of cancer. In 2006, Lew Anderson died of prostate cancer.
For some personal remembrances of Bob Smith please visit my Howdy page
"Say Kids, What Time Is It?
(WAV)(38K)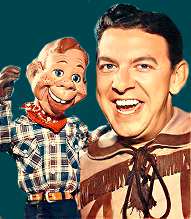 Howdy Doody and Buffalo Bob Smith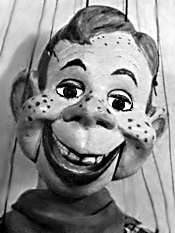 Howdy Doody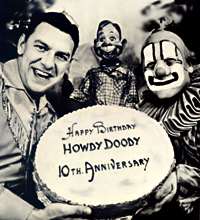 Buffalo Bob, Howdy and Clarabell
Howdy Doody Trivia
Buffalo Bob
Supposedly Mr. Smith got his name "Buffalo Bob" from the Sycapoose Indians.

In reality, Bob Smith was from Buffalo, New York!
Howdy Doody Trivia
Clarabell
Throughout the show's run Clarabell, the seltzer wielding clown, never spoke. Except once. On the last show he said "Good-bye kids."

Yes, the first Clarabell was Bob Keeshan, who would go on to become the vernerable Captain Kangaroo.Originally, he was just an NBC go-fer who handed props to and ran errands for Buffalo Bob. However, it was decided that since he was seen on camera, he should have a costume. Thus, Clarabell was born.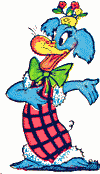 Flub-A-Dub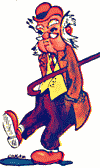 Phineas T Bluster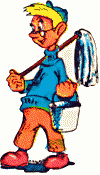 Dilly Dally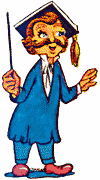 Oscar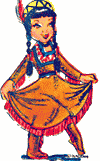 Princess Summerfall
Howdy Doody Trivia
The Doodyville Residents
Double Doody – Howdy's twin brother
Heidi Doody – Howdy's sister
Phineas T. Bluster – grumpy major
Don Jose Bluster and Hector Hancock – Phineas' triplet brothers
Flub-a-Dub – made of 8 different animals
Dilly-Dally – carpenter
Princess Summerfall Winterspring
Chief Thunderthud – Kowabunga!
Corneilius Cobb – ran the General Store
Captain Scuttlebutt – sea captain
Gumby – left for his own show!
John J. Fadoozle – world's number one __PURRRRIVATE EYE