7/1/49 – 3/17/1957 CBS 30 minutes – Black and White. Produced and directed by Ralph Nelson and later, Carol Irwin. Based on Kathyrn Forbes's book "Mama's Bank Account"
"Mama" was an American comedy-drama black and white television series that aired on CBS from July 1, 1949, to March 17, 1957 for 30 minutes. The show was based on the book "Mama's Bank Account" by Kathryn Forbes. This story was also adapted into a 1944 play and a 1948 film titled "I Remember Mama." The series depicted the life of a Norwegian family living in San Francisco during the 1910s, as seen through the eyes of the eldest daughter, Katrin Hansen.
Each episode began with Katrin looking through the family album, reminiscing about her family and her childhood. The narrative primarily revolved around the Hansen family's daily life and challenges, with the mother, Marta Hansen, being a central figure. While earlier versions of the story focused on the relationship between Marta and Katrin, the TV series often dealt with issues faced by individual family members, drawing the entire family into the resolution.
The show was originally broadcast live from CBS Studio 41 in Manhattan's Grand Central Terminal. It was sponsored by Maxwell House and Post Cereal. The opening and closing musical themes were composed by Norwegian composer Edvard Grieg.
"Mama" was a hit, consistently ranking in the Nielsen ratings' top 30 from 1950 to 1954. However, by the end of the 1955-56 season, despite still having respectable ratings, viewership had declined. This led to its cancellation in July 1956. After a public outcry and a flood of letters to CBS, the show was revived but moved to a less favorable time slot on Sunday afternoons. This change led to a significant drop in ratings, and the show was eventually terminated in March 1957.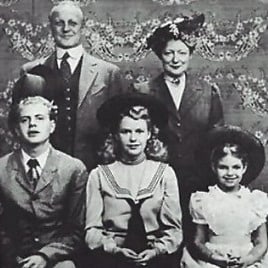 I Remember Mama Cast
Peggy Wood as Marta Hansen
Judson Laire as Papa Lars Hansen
Rosemary Rice as Katrin Hanson
Ruth Gates as Aunt Jenny
Carl Frank as Uncle Gunnar Gunnerson
Alice Frost as Aunt Trina Gunnerson
Iris Mann as Dagmar Hansen (1949)
Robin Morgan as Dagmar Hansen(1950-1956)
Toni Campbell as Dagmar Hansen (1956 to 1957) Kevin Coughlin asT.R. Ryan (1952-1956)
Malcolm Keen as Uncles Chris (1949-1951)
Patricia McCormack as Ingeborg (1953-1956)
Dick Van Patten as Nels Hansen (1949-57) Roland Winters as Uncle Chris (1951-1952)
I Remember Mama Theme Song
"Holberg Suite (open) and "The Last Spring" (close) by Edward Grieg
I Remember Mama Tidbits
"I remember the big white house on Steiner Street, and my little sister Dagmar, and my big brother Nels, and Papa. But most of all, I remember Mama."
Mama was the story of a Norwegian-American family living in San Francisco in 1910. The story is told through the eyes of daughter Katrin (Rosemary Rice). The show opened looking through the pages of the family album and remembering.
Mama was played by veteran stage actress Peggy Wood who created one of the warmest characters ever to grace television. She received two Emmy nominations for her role in 1953 and 1957. The series itself was nominated for an Emmy in 1951. In 1985, the Museum of Broadcasting in New York City held a retrospective of "Mama," showcasing several episodes and featuring a seminar with cast members.
In 1956 they cancelled Mama but popular support from the public brought it back for a 13 week run on Sunday afternoons from December ot March of 1957.
Sadly, except for that last 13 weeks, Mama was telecast live rather than filmed and so we have no taped record of the show.
Passings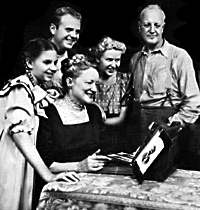 Ruth Gates died in 1966 of a heart attack, Carl Frank in 1972, Kevin Coughlin in a car accident in1976, Peggy Wood in 1978 of a stroke, Judson Laire in 1979, and Alice Frost in 1998.
A Maxwell House Coffee Commercial with Mama

Another clip:

External Links
TV Guide's I Remember Mama Page, with TV Listings, Photos, Videos, Exclusive News and More.