Click to Buy I Spy on DVD
Boxed Set 1
Boxed Set 2
Boxed Set 3
9/15/1965 – 9/2/1968
NBC 60 minutes
Color – 82 episodes
Sept. 1965- Sept. 1967 Wed. 10:00-11:00PM
Sept. 1967- Sept. 1968 Mon. 10:00-11:00PM
Produced by Sheldon Leonard, Mort Fine and David Friedkin
I Spy Cast
Robert Culp as Kelly Robinson
Bill Cosby as Alexander Scott
Antoinette Bower as Shelby Clavell
Sheldon Leonard as Sorgi
France Nuyen as Sam-than McLean
Alan Oppenheimer as Colonel Benkovsky
Harold Stone as Zarkas
Kenneth Tobey as Russ Conway
I Spy Theme Song
"I Spy" by Earle Hagen and Carl Brandt
I Spy Tidbits
Historically, I Spy will be remembered as the first television show to feature a Black actor, Bill Cosby, in a lead role. Fans will recall it as great fun.
Kelly Robinson (Robert Culp) was an Ivy Leaguer whose spy cover was that of a top-seeded tennis pro. Alexander Scott (Bill Cosby) was a scholar and language expert who posed as Kelly's trainer.
The show was filmed all over the world in exotic locales as the American intelligence agents plied their secret trade. Culp and Cosby never took life too seriously and often found the humor even in dangerous situations.
I Spy was an excellent vehicle for Cosby to show that he was more than a standup comic.
In 1994 the cast reunited to film the TV movie "I Spy Returns."
Passings
Robert Culp suffered a head trauma and died in 2010.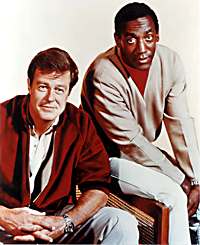 Robert Culp and Bill Cosby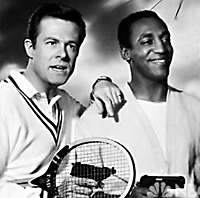 Click to Buy
Robert Culp and Bill Cosby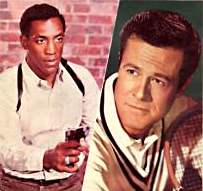 Bill Cosby and Robert Culp