Buy Ironside on DVD
Complete 1st Season
Complete 2nd Season
Complete 3rd Season
Complete 4th Season
Complete 5th Season
Complete 6th Season
Complete 7th Season
Complete 8th Season
Ironside
9/14/1967 – 1/16/1975
NBC 60 minutes
Color – 199 episodes
Sept. 1967 – Sept. 1971
Thurs. 8:30-9:30
Sept. 1971 – Nov. 1971
Tues. 7:30-8:30
Nov. 1971 – Jan. 1975
Thurs. 9:00-10:00
Produced by Universal TV
Syndicated as "The Raymond Burr Show"
Ironside Cast
Raymond Burr as Robert T. Ironside
Don Galloway as Detective Sergeant Ed Brown
Don Mitchell as Mark Sanger
Gene Lyons as Commissioner Dennis Randall
Barbara Anderson as Eve Whitfield (1967-1971) Elizabeth Baur as Fran Belding (1971-1975)
Joan Pringle as Diana Sanger (1974-1975)
Johnny Seven as Lieutenant Carl Reese (1969-1975)
Ironside Tidbits
Robert T. Ironside (Raymond Burr) was a 25 year veteran of the San Francisco Police Department who had risen to Chief of Detectives. An attempted assassination left him paralysed from the waist down and thus wheelchair bound.
Unwilling to accept the infirmity as an end, he persuaded Commissioner Randall (Gene Lyons) to allow him to fight crime as a special consultant. Two former assistants, Sgt. Ed Brown (Don Galloway) and Policewoman Eve Whitfield (Barbara Anderson) joined his team.
A young reformed deliquent named Mark Sanger (Don Mitchell) became his aide and bodyguard. Later, Sanger would become a lawyer.
Ironside would travel and work from a specially modified police van.
In 1971 Barbara Anderson left after a contract dispute and Elizabeth Baur came onboard as Officer Fran Belding.
Dana Wynter appeared in a few episodes as Ironside's love interest and then wife.
In 1993 they did a made for TV movie, "Return of Ironside" which reunited the entire cast, including both Anderson and Baur. By now Mark Sanger is a judge!
Passings
Gene Lyons died in 1974
Raymond Burr died in 1993 of liver cancer
Don Galloway died in 2009 of a stroke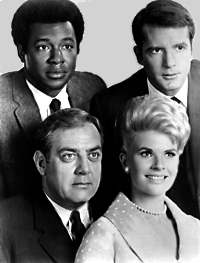 Don Mitchell, Don Galloway
Raymond Burr, Barbara Anderson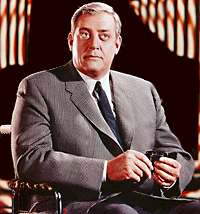 Raymond Burr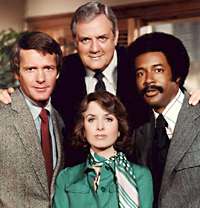 Don Galloway, Raymon Burr,
Don Mitchell, Elizabeth Baur