Buy Land of the Lost on DVD
---
Land of the Lost
September 7, 1974 – December 4, 1976
(43) one half hour episodes (3 seasons)
in color NBC
Created by: Sid & Marty Krofft, Allan Foshko and David Gerrold
Produced by: Sid & Marty Krofft
Theme Music By:
Linda Laurie
CAST
Spencer Milligan
Wesley Eure
Kathy Coleman
Philip Paley
Ron Harper

Ranger Rick Marshall
Will Marshall
Holly Marshall
Cha-Ka
Uncle Jack Marshall
STORYLINE
Land of the Lost was about a family, who while camping one weekend, fell down a waterfall and through a sort of dimensional portal which left them stranded in a parallel world similar to the age of dinosaurs on Earth. Rick, the dad, (Spencer Milligan) is a park ranger so he's pretty good at the survival stuff. His son Will (Wesley Eure) is a fairly handy young man himself and Holly (Kathy Coleman), the young daughter comes up with clever names for all of the weird animals and humanoids they run across.
The series was a Sid and Marty Krofft (H.R. Pufnstuf, Sigmund and the Sea Monsters, Donny & Marie and many more ) production all the way. The Krofft brothers were known bringing high production standards to children's television and variety show programs. They dreamed up most of the odd characters seen in the show and the costumes required to make them happen.
Some of strange new beings they encountered became their new friends. Cha-Ka, played by Philip Paley was an adolescent ape type creature who was adopted by the family. Enik played by Walker Edmiston was an Altrusian castaway, much like themselves trapped in this world.
Despite a relatively short run, the show continued to be aired extensively through syndication and developed a cult following among older teenage and college age kids. Based on that success, a remake of the series began in 1991 and ran for two seasons featuring a new family and slightly different circumstances.
Video Clip of Land of the Lost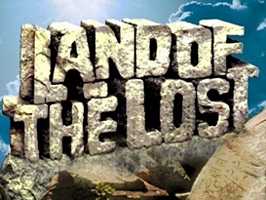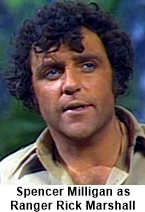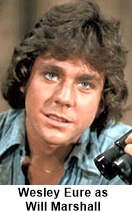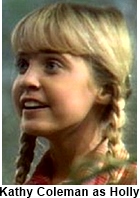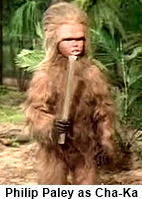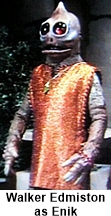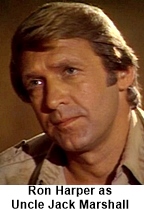 TRIVIA:
Spencer Milligan (Park Ranger Rick Marshall) left the television show at the end of the second season over a royalties dispute with creators Sid and Marty Krofft. Milligan's gripe was a familiar one in Hollywood at the time. Merchandise items bearing the actors likeness (lunch boxes, action figures etc.) were being sold for millions yet he, and the other actors, were not receiving a single dime of it.
To handle his departure, the story line was that his character, Rick Marshall disappeared, having may or may not have returned home, and at the same time, his brother, Uncle Jack (Ron Harper), while searching for the trio, stumbled into the "Land of the Lost" and was reunited with his niece and nephew.